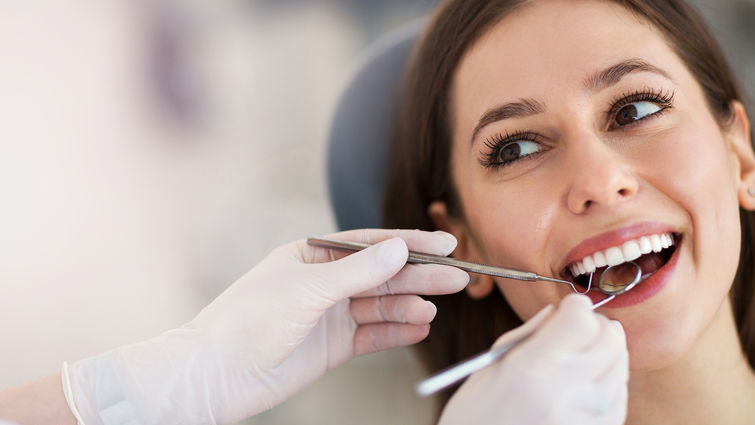 Dental students and dentists at Loma Linda University School of Dentistry have an enhanced process of acquiring veneers — thin covers applied to a tooth to give it a more appealing shape — offering the direct veneer temporization method.
The direct method of applying temporary veneers maintains the integrity of the tooth, better prevents the temporary veneers from slipping, and can carry the patient through to the point where the delivery of the permanent restoration takes place.
Viviane Haber, DDS, assistant professor for the School of Dentistry's Division of General Dentistry, says the direct method enables those looking for a new smile to thrive in the meantime.
"It's a life-changing procedure that is easy for the patient," Haber says. "It's a matter of taking a patient and transforming their smile into the smile they desire."
Haber says the patients she treats often have cosmetic dental concerns including discoloration, spaces and crowding. When a patient wants veneers for a more gratifying smile, patients may opt to move forward with veneers, but the waiting time for a new set can be between two weeks to six months. During that waiting time, the patient will have to wear interim veneers that are affixed using either the indirect method or direct method.
The direct method sculpts the temporary mold on the patient's teeth instead of the indirect method of molding the temporary veneers outside of the patient's mouth and then placing them on the teeth. The direct method also temporarily bonds differently than an indirect method because it uses the bonding agent, which keeps temporary veneers from easily slipping as opposed to a mold that is applied with the indirect method using dental cement.
Having a simple and dependable technique enables dentists like Haber to provide quality care to patients. She says seeing the reaction of her patients when they test their easily applied new smile makes her job worthwhile.                                      
"The immediate gratification is amazing," Haber says.
If you are looking for a way to enhance your smile, please contact the School of Dentistry where the Faculty Dental Practices provide patients a complete range of dental services, including general and restorative dentistry, and all specialties. To make an appointment call 909-558-4960.