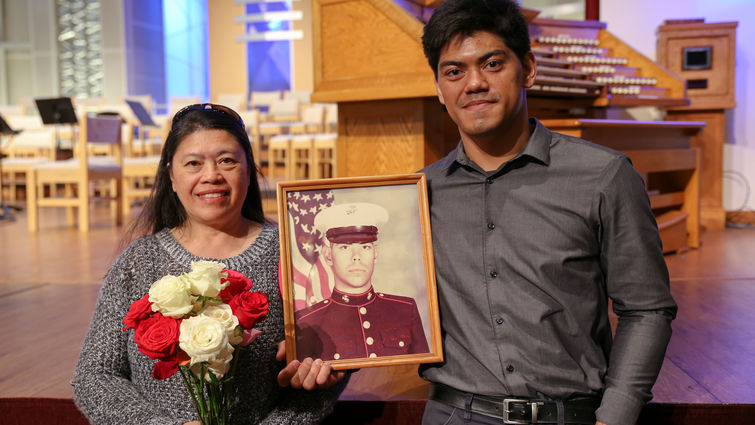 Loma Linda University students from four of the eight schools gathered in the Loma Linda University Church today for a memorial service to honor the lives of the people who donated their bodies to science. Students who have been studying about the human body and its different systems thanked their "teachers" for giving them the invaluable opportunity to learn from their bodies.
Family members and friends of the deceased brought photographs of their loved ones to the front of the church where the students — who came from the schools of Allied Health Professions, Dentistry, Medicine and Nursing — took a moment to thank the donors' families.
Each year since 1995, a memorial service has taken place at Loma Linda University to pay tribute to those who have given the ultimate contribution to science — their bodies.
Pedro Nava, PhD, professor in the Department of Pathology and Human Anatomy at Loma Linda University School of Medicine, is passionate about educating people about the program. "We want to let people know that we take the gift of donor bodies seriously," Nava said.
Loma Linda University is the only university in the Inland Empire with its own whole-body donation program. Founded in the 1940s, the Loma Linda University School of Medicine's Bodies for Science program is also the largest of its kind in the Seventh-day Adventist educational system.
"The opportunity to work on an actual human body is invaluable to the process of educating future clinicians," Nava said. "They're able to develop practical, theoretical and ethical skills."
Darrell K. Petersen, PhD, MBA, director of anatomical services for Loma Linda University School of Medicine, calls donated bodies "precious and irreplaceable gifts." On average, 170 donor bodies are in the program each year, Petersen said.
As the ceremony ended, guests walked to the stage to collect the photo they brought of their loved one. One young man was still emotional from the program as he collected a photograph that showed strikingly similar features. "This was a photograph of my father while he was in the Marines," said Daniel Armentenos, the donor's son.
Daniel shared that his father always had a heart for helping people. "He would always tell me, 'If anyone needs help, be the one to help them,'" he said. Daniel recalled how people in the neighborhood came to know their home as the place people would go for help, saying he had many memories of his father opening their home to the less fortunate.
"He was born in Cuba, but came to America as a political refugee where he grew up in the Bronx with my grandmother," Daniel said. "When he was older, he joined the military, and a few years later, he met my mom. He had a hard life, but he was always honest and always kind."
He passed from idiopathic pulmonary fibrosis, a rare disease that affects 13 to 20 out of every 100,000 people worldwide.
"I didn't know what to expect coming to this memorial service," Daniel said. "But hearing the testimonials from the students was an honor. It's special to know the impact of my father's donation and seeing the gratefulness of the students."