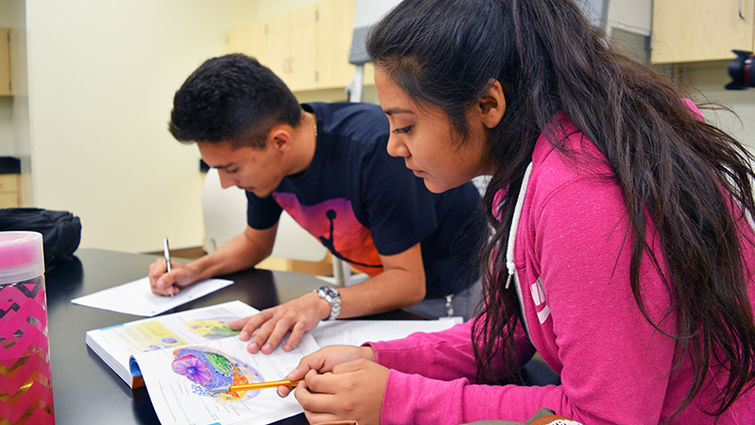 On September 22—less than two years following the Dec. 10, 2014 groundbreaking—orientation for the first class of students in the San Manuel Gateway College was held. Many of the students had watched the facility rise from a littered vacant lot next to the freeway near downtown San Bernardino.
As classes began, the students are being introduced to medical terminology and in labs, they're learning the intricacies of the human cell. These students are graduates of local high schools, and for many, they are the first in their families to pursue a career in health care.
Arwyn Wild, executive director of the college, explains, "One of the main goals of the college pathways is to have viable job opportunities for these local students in the Inland Empire."
According to Wild, the college will offer a patient care assistant program and certificate programs for medical assistants, medical scribes, pharmacy technicians, dialysis technicians, and community health workers.
At Loma Linda University Health – San Bernardino campus, home of San Manuel Gateway College, students will complete clinical rotations along side students from Loma Linda University and physicians in specialty training.
Loma Linda University Health is working with the City of San Bernardino and the San Bernardino City Unified School District on this project. The College would not have been possible without a $10 million gift from the San Manuel Band of Mission Indians.  Additional philanthropic support has provided valuable start-up and scholarship funds.
The San Bernardino campus also houses a Social Action Community (SAC) Health System clinic, which provides primary and specialty care of all types, using 124 exam and procedure rooms, as well as dental care in 24 operatories. Filling out the space is a large behavioral health area with both private and group counseling rooms, a pharmacy, laboratory, and vegetarian eatery, Farmacy Fresh Cafe.
Many of the 700 residents in Loma Linda University Health's specialty training programs are treating low-income patients in the busy clinics, and will interact with the San Manuel Gateway College students who will complete certificate programs each year.
"To my knowledge," says Richard Hart, MD, DrPH, presidentLoma Linda University Health, "Loma Linda University Health — San Bernardino campus is the only educational model in the nation that will house three separate levels of education in one building. This model has the potential to be an example for low-income areas across the nation."
Not only will the campus serve as a clinical and educational facility, it has the potential to become the largest outpatient facility of its kind in the United States, providing health care for 200,000 people each year.
By Nancy Yuen and Larry Kidder