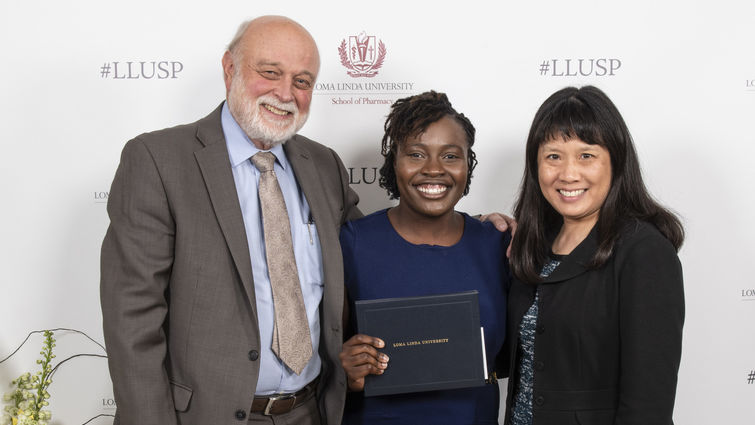 Shawnee Daniel, PharmD, received the President's Award during the Honors and Awards Ceremony for Loma Linda University School of Pharmacy on Wednesday, May 23.
With a love for people and for science, Daniel was drawn to the field of pharmacy early on. As a student at Oakwood University, she served as president for the student pharmacy club. After earning her Bachelor of Science degree in biochemistry in 2014, she began working toward her PharmD at Loma Linda University School of Pharmacy.
Her passion for pharmacy and for helping people quickly became evident, and she received the Charles E. Weniger Fellow Scholarship, which is reserved for students who demonstrate exemplary spirituality, academics, civil service and leadership.
Throughout her time at LLU, Daniel maintained an exceptional GPA, consistently ranking near the top of her class, all while keeping busy with class Bible studies, volunteer work and mission trips.
Daniel always exhibited an eagerness to help others, just as Jesus instructed His followers to do. She volunteered for the Camp Conrad Chinnock diabetes camp three summers in a row and joined mission trips to Sierra Leone and the Dominican Republic to minister to and assist people in those countries.
Daniel also proved herself a great leader. She chaired the School of Pharmacy's contribution to the Script Your Future Campaign for two years and presided over the leadership society Phi Lambda Sigma.
She also served as student pharmacy manager at the Riverside Free Health Clinic, where she established multidisciplinary collaboration between the pharmacy, medical, and nursing departments. Furthermore, she was elected secretary of the LLU Black Health Professional Student Association, treasurer of Rho Chi Honor Society, and inter-professional liaison for Christian Pharmacist Fellowship International. Daniel also wrote as a student blogger for the school's website.