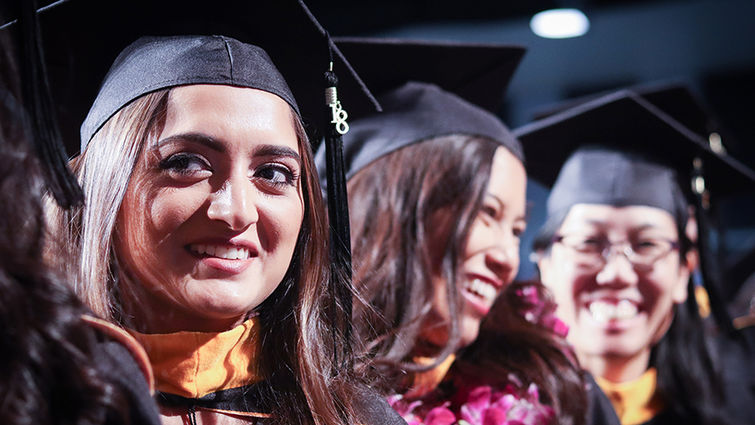 Loma Linda University celebrated its new alumni from the schools of Behavioral Health and Religion with recognition of their accomplishments and a call to use their new degrees in service to others.
The June 10 ceremony saw 108 students graduate from the School of Behavioral Health and five from the School of Religion. 
The religion students each graduated with a Master of Arts in Bioethics. Additionally, the School of Religion plays a role in the success of every graduate from Loma Linda University's seven other schools by providing religious and spiritual education to all students.
The School of Behavioral Health celebrated graduates from its master's degree programs in Social Work, Child Life Specialist, Counseling, Criminal Justice, Gerontology, and Marital and Family Therapy, and doctoral degree programs in Family Studies, Marital and Family Therapy, Psychology, and Systems, Families and Couples.
Awards
During the joint ceremony, the schools recognized graduates, alumni and faculty/staff who were given various awards. 
The School of Religion honored two graduates and one alumnus.
President's Award: Bates Moses, MD, graduated with a Master of Arts in Bioethics. He is a leader in Southern California in the fields of palliative healthcare and medical ethics and has authored a medical textbook.
Dean's Award: Adam Borecky earned his Master of Arts in Bioethics as a dual-degree student also pursuing an MD in the School of Medicine. During his time at the School of Religion, he demonstrated scholarship, professionalism and passion for bioethics and was a graduate assistant for the Center for Christian Bioethics.
University Alumnus of the Year: Brian Brock, who earned a Master of Arts degree at Loma Linda University in 1996, was chosen for the LLU-wide distinction of University Alumnus of the Year award. He is a noted theologian, ethicist, author and editor with current positions as managing editor of the Journal of Disability and Religion and as reader in moral and practical theology at the University of Aberdeen (Scotland). LLU Provost Ron Carter, PhD, said he is a maker of social change who betters understanding of the Christian tradition.
The School of Behavioral Health gave the following awards:
President's Award: Elsie Lobo, who graduated with a PhD in Systems, Families and Couples, was chosen for this recognition for exemplifying the best qualities of a scholar and servant leader. During her time at the School of Behavioral Health, her activities have included helping with the work and research of the Housing Authority of San Bernardino County and serving on a mission trip to Cuba. She has contributed notable scholarly work to her field through efforts including professional presentations, participation in grant-funded projects, and reviewing professional journals. 
Dean's Award, Master's: Tori Dang, who earned her Master of Social Work degree, was noted for her commitment to social justice, community service and international outreach.
Dean's Award, Doctoral: Jeffrey Murray, PsyD graduate, was praised for his student leadership, his bright future in neuropsychology and the scholarship he has already contributed to the field during his time as a student.  
In addition to the student awards, the School of Behavioral Health also bestowed its School Alumna of the Year honor to Marlene Hagen, MSW, class of 1998, who has helped hundreds through her work with the San Bernardino County Department of Children and Family Services, rising through the ranks and now serving as director.  
The School of Behavioral Health also gave School Distinguished Service Awards to staff member Shari Lane and to Professor Emerita Dianna Simon, PhD, MSW.  
Shari Lane is a beloved member of the Department of Psychology staff for the past 22 years. As coordinator of admission and records, she guides prospective students from inquiry to acceptance and is known for providing encouragement and inspiration to those around her.  
Simon served as professor in the Department of Social Work and Social Ecology from 1994 through 2009, when she retired and was given her professor emerita title. Until 2017, she had a busy private practice in Redlands. Now fully retired, Simon lives locally.
Simon is a recognized expert in the treatment of eating disorders. Her storied career also included serving with the Loma Linda University International Behavioral Health Trauma Team, providing leadership in California on mental health treatment and social work education, practicing psychotherapy in LLU School of Medicine's Department of Psychiatry, and training psychiatry residents. 
Colleagues speak not only of Simon's unexcelled ability in clinical practice but of how she used it to serve others and help shape hundreds of social work students and psychiatry residents. 
Commencement speaker: join the great procession
Delivering the commencement address was Daniel Jackson, president of the North American Division of Seventh-day Adventists. 
Jackson congratulated the graduates for reaching this moment of victory, but he also reminded them of their privilege in receiving a higher education that millions of youth around the planet have never had. He encouraged the graduates to join in a divine procession with God as leader to extend hope, grace, dignity and healing to those they will serve. To do so requires courage, daring and commitment to give one's life away in the imitation of Jesus' sacrificial love, he said. 
Jackson concluded:
Jump into the parade. 
Be a participant.
Change your world.
In closing prayer, Beverly Buckles, DSW, dean of the School of Behavioral Health, thanked God for His ever-present help and asked for help for the graduates going forth to serve Him, to serve those in great need, to serve those who are forgotten.