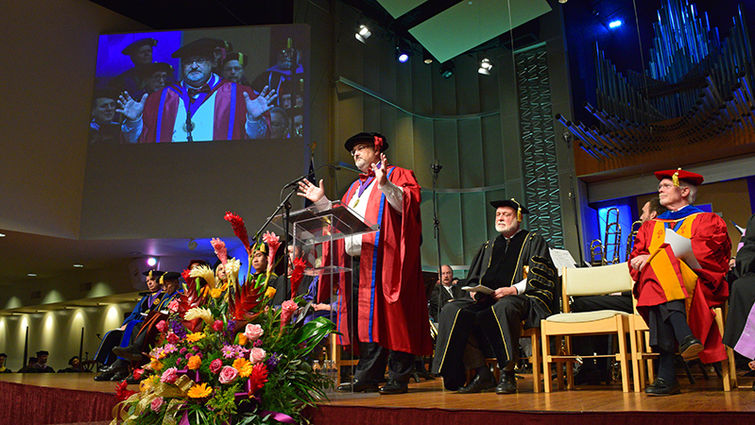 Faculty and graduates, in full academic regalia, were joined by family, friends, and the community for a baccalaureate service on Saturday, May 28, at Loma Linda University Church (LLUC). The service provided a consecration component to the commencement weekend and began at 9 a.m.
The academic procession was accompanied by Andre Campra's "Rigaudon," performed by the LLUC Sanctuary Brass and organist Grace Chung. Six members of the School of Dentistry class of 2016 performed Greg Gilpin's "Agnus Dei" for the offertory.
Six students were featured—each speaking about his or her unique experience at Loma Linda University. Student presenters included Michael Cooley, DDS, School of Dentistry; Andy Lu, PharmD, School of Pharmacy; Carmen Burke, DDS, International Dentistry Program, School of Dentistry; Mary Thompson, PharmD, School of Pharmacy; and Cheyenne Mayfield, dental hygienist, School of Dentistry.
Zravko Plantak, PhD, professor of ethical studies in the Loma Linda University School of Religion, gave the baccalaureate address. Plantak graduated from King's College, University of London, and served for more than a decade as a pastor in London, England. Before joining the faculty at Loma Linda University, he served as chair of the department of theology at Washington Adventist University, located in Takoma Park, Maryland.
Plantak spoke on the topic, "Do Justice, Love Mercy, Walk Humbly," basing his sermon on Micah 6:8.
Richard Hart, MD, DrPH, responded to the sermon and offered a prayer of dedication for the graduates, asking God to go with each graduate as he or she went into the world to share the mission of Loma Linda University Health "to continue the teaching and healing ministry of Jesus Christ."