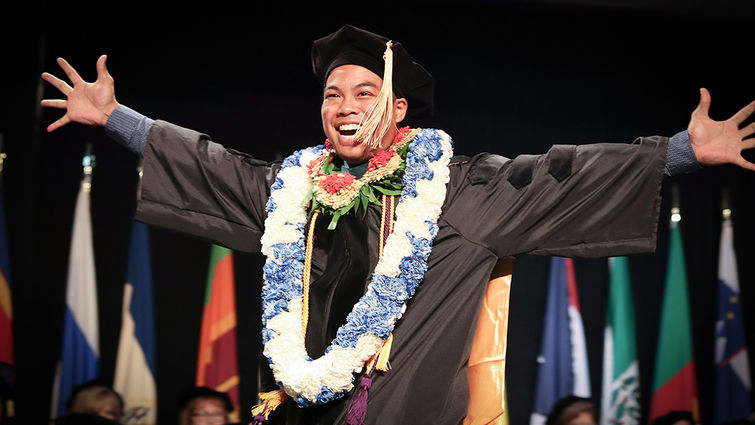 Two schools at Loma Linda University held commencement ceremonies this morning — two ceremonies for the School of Allied Health Professions to honor its 543 graduates, and one ceremony for the School of Public Health to honor its 120 graduates.
This morning, Richard H. Hart, MD, DrPH, Loma Linda University president, welcomed the students of the School of Allied Health Professions, which is the largest of Loma Linda University's eight schools. He said it was a privilege to see the growth and the mission go around the world. "Congratulations, enjoy, and we wish you well as you move on to your various responsibilities."
The first ceremony, at 8 a.m., saw 298 students in Allied Health fields march down the aisle, while the second, at 10:30 a.m., saw 245 graduates from the departments of Occupational Therapy, Orthotics and Prosthetics, and Physical Therapy.
The school's dean, Craig Jackson, JD, MSW, stood to welcome the 2018 class, beginning the procession, led by Ronald L. Carter, PhD, university provost.
At both ceremonies, Timothy J. Gillespie, lead pastor at the Crosswalk Church in nearby Redlands, delivered the commencement address, which heavily leaned on the book he wrote with his late father, Dr. V. Bailey Gillespie, Love Them and They Will Come. Gillespie encouraged graduates through his speech entitled, "The Hope of Beginnings," to show the love of Jesus to their patients as they help restore them, and to help them experience the hope that Jesus gives. "To have hope means that you know things can get better, you can make the change to see your therapies take hold," he said.
Gillespie urged the graduates to recall 1 Corinthians 13:13, "And now these three remain: faith, hope and love. But the greatest of these is love." He shared his admiration for students who get to chart their patients' progress, to see hope in their faces, and leave them feeling loved. "You get to see the light in the eyes of someone who you've changed with your significant impact in their lives. Thank you for the work you are doing. Thank you for bringing hope, because hope does not disappoint."
Gillespie's address encouraged graduates to look forward with hope. "As much as this is an ending, it is also a beginning. Take this ending and revel in it. Take a moment to be proud of your achievement, as we are of you. But, don't linger too long in the ending, because truthfully, every ending marks the beginning of something else, and in the beginning, there is hope."
After citing the authority vested in him by the State of California and the Board of Trustees of Loma Linda University Health, Hart drew excited applause as he asked the graduates to stand, and told them, "Congratulations! You are now alumni of Loma Linda University."
The following individuals were honored by the School of Allied Health Professions during its two morning commencement services.
President's Award — Danielle J. Newcombe: Newcombe has modeled academic excellence — by maintaining a 4.0 GPA — a passion for professional development and unwavering commitment to community service — which reflects the mission of this University "to continue the teaching and healing ministry of Jesus Christ."
President's Award — Claire Nguyen: Nguyen embodies wholeness, service, and the ideals of Loma Linda University — blending excellence in academics with a commitment to community service. Claire's intelligence, diligence, positive outlook, progressive thinking, empathy, and sensitivity to various temperaments are assets that will translate into success in her professional endeavors.
Dean's Award — Kristen Barba: Barba is a graduate of the Masters of Science in communication sciences and disorders program. "Students across the different cohorts are drawn to her positive, accepting demeanor," Jackson said. "Kristen's compassion and service make faculty and administration pound to call her a part of our alumni."
Dean's Award — Mariel Calinog: Calinog has exemplified strong leadership skills throughout the occupational therapy program, participating, and facilitating the creation and continuation of therapy and service programs. She has maintained scholarly excellence, as well as used her leadership ability to solve problems and make positive change.
Community Service Award — Breanna Gonzalez: A compassionate advocate, Gonzalez not only showed energy and passion for service in the classroom but by supporting aid, translation services and service learning in the community. Her active engagement and problem-solving skills demonstrate her exceptional commitment to service.
Distinguished Service Award — Nicceta Davis: Respected and highly esteemed by students and colleagues, Davis has been making significant contributions to Loma Linda University for nearly a quarter of a century. Beyond academic excellence, research, and community service, Davis is especially passionate about advancing the cause of Jesus Christ. Her broad scope of compassionate service and her depth of commitment to our global mission over many years of service to the institution and the community impact students and faculty alike.
Alumna of the Year — Ruby A. Hayasaka: Hayasaka was recognized for her numerous contributions to her field through service as an officer in professional organizations and as an active member on professional committees. She was selected for this honor due to her outstanding performance in the field of nutrition and dietetics, which reflects the motto of this health sciences institution, "to make man whole."
Faculty of the Year Award — Julie Kugel: Kugel has actively employed her knowledge, skills and expertise in diverse venues. She has been the first author on numerous publications focusing on the role of occupational therapy in addressing childhood obesity through community interventions, and on wellness programs as seen through the eyes of youth and their parents. Kugel has shown consistent outstanding performance and made significant contributions to occupational therapy education.
Global Service Award — Benjamin J. Siapco: Siapco accepted the challenge to peruse global service in 14 countries. Siapco was honored for benefiting not only local communities but for challenging and inspiring others to a lifetime of service.
The third commencement ceremony of the day — held at 1:30 p.m. — honored 120 graduates from the School of Public Health.
Helen Hopp Marshak, PhD, dean of the school, stepped to the podium once the candidates marched in, welcoming attendees and inviting the audience to join her in welcoming the school's class of 2018 to the event.
After Seth Wiafe, PhD, MPH, assistant professor and director of health geoinformatics, offered the invocation, Hart, the university's president, greeted the soon-to-be-graduates, their family members and friends and announced that this marked the sixth commencement service at the university this graduation season. Hart, who is both a graduate and former dean of the school, also announced that the students honored in the ceremony hail from 25 different nations, adding that diversity in the student population enhanced the richness of the learning environment.
After Hart's remarks, Dean Marshak and Ronald L. Carter, PhD, the university provost, invited several individuals to the podium to receive awards. The honorees included:
Dean's Award, Master of Business Administration — Perry Ashilevi: Ashilevi, who received an MBA degree in healthcare administration later in the ceremony, was announced as winner of the Dean's Award because of his commitment to community service activities. He serves as president of the Loma Linda University Health Management Club, and served as assistant volunteer coordinator for the LLU Children's Hospital Gala. He champions the values of Loma Linda University Health.
Dean's Award, Master of Public Health — Annette Costa: Costa, who received her MPH degree in research epidemiology later in the ceremony, was announced as winner of the Dean's Award because of her commitment to keeping people from dying from preventable diseases. Born in Angola, Costa has worked in a variety of positions in Africa and the Inland Empire to end human trafficking, reduce pollution, and enhance the quality of life for neonatal infants.
Dean's Award, Doctoral — Danjuma Daniel: Daniel, who received his DrPH degree in health policy and leadership later in the ceremony, is a healthcare professional who specializes in operations and finance for faith-based, non-profit healthcare systems. His backgrounds in business administration and public health have helped him navigate complex situations at hospitals in developing countries. He is a project manager for Adventist Health International.
Alumnus of the Year Award — Adam Tahiru: Tahiru, who received an MPH degree in international health from the school in 2003, models a mature understanding of the principles and practice of public health and preventive medicine. Currently a commander in the U.S. Public Health Commissioned Service Corps Services, he is a senior public health analyst, management and program officer. Tahiru is known for being an effective, caring and dedicated health professional. 
Distinguished Service Award, Faculty — Sujatha Rajaram: Rajaram, an associate professor of nutrition, has served the school with distinction for the last 24 years. For the last 18 years, she has served as chair of the doctoral program in nutrition. She has also served as chair of the school's doctoral committee since 2015, and as chair of the scientific program committee for four editions of the International Congress on Vegetarian Nutrition, the largest scientific conference in the Inland Empire.
Global Service Award — Elie Honore: Honore, who is acclaimed for his passionate commitment to Adventist healthcare, has served as president of Adventist HealthCare Services-Inter-American Division, an association of 14 Seventh-day Adventist hospitals and 24 clinics, since 2010. During that time, Honore coordinated with Loma Linda University to develop an MHA degree program for hospital administrators and a leadership professional certificate for administrators, medical directors, treasurers, nursing directors and chief accountants.
Distinguished University Service Award — Kenneth J. Breyer, MS: Breyer, who worked at several Loma Linda University Health entities from 1983 until his retirement as assistant vice president for construction and architectural services in 2017, was cited for significant contributions to campus life through construction and renovation of physical spaces. Breyer, who is a registered civil engineer in both California and Oregon, continues to volunteer his services with Adventist Health International, assisting with facilities upgrades, development and expansion. 
President's Award — Marissa Lee: Lee, who received an MPH degree in nutrition later in the ceremony, was announced as winner of the President's Award for the School of Public Health on the basis of her superior academic performance and dedication to community service. Lee was cited for working to improve living conditions for migrants during an internship with the United Nations in Switzerland.
For the ceremony's keynote address, Michael B. Kelly II, senior pastor of the Mt. Rubidoux Seventh-day Adventist Church in nearby Riverside, told several stories to inspire his audience to know the importance of making a difference in the world. "I actually believe that you all can make the world better," Kelly said. After citing the contemporary realities of sexual harassment, rising suicide rates, and a multitude of other social inequalities, he told the students that God doesn't magically wave His hand in order to make things better. "He works together for good through the graduates of the School of Public Health," Kelly said, invoking Romans Chapter 8.
Some of the happiest moments of the service occurred when each graduate's name was called and they marched across the stage to receive their diploma from Dean Marshak and President Hart. One graduate was so excited he forgot to shake hands with Hart, who elicited broad laughter from the audience by grabbing the man's sleeve and hauling him in for a warm embrace.
Now in its 51st year, the school has graduated 7,461 health professionals since its founding in 1968.
The School of Public Health is the only Loma Linda University school whose graduates currently serve as faculty members in all eight of the university's schools.
The three ceremonies were the first of five to be held today on campus at Drayson Center. Three other schools — Dentistry, Medicine and Pharmacy — held commencement ceremonies two weekends ago.