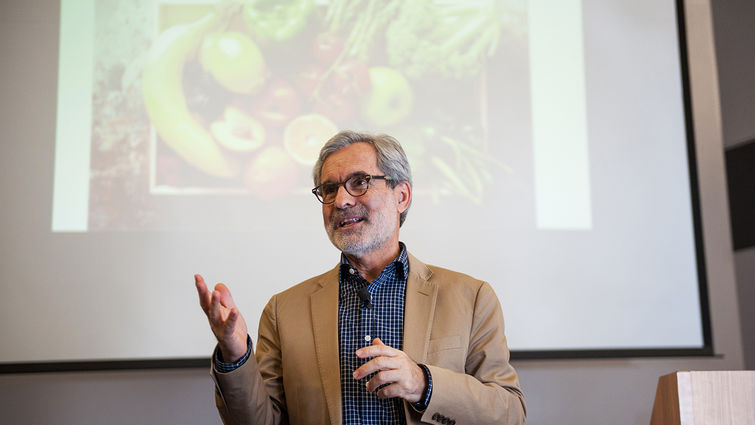 A Loma Linda University professor has been named to the federal government's 2020 Dietary Guidelines Advisory Committee.
Joan Sabaté, MD, DrPH, a professor at the LLU schools of Public Health and Medicine, was announced as a member of the committee last week when U.S. Secretary of Agriculture Sonny Perdue and U.S. Health and Human Services Secretary Alex Azar released the names of 20 nationally recognized scientists who compose the committee.
The committee's review will help develop the 2020-2025 Dietary Guidelines for Americans. In announcing the committee, Perdue and Azar said the guidelines, which are updated every five years, serve as the cornerstone of federal nutrition programs and policies, providing food-based recommendations to help prevent diet-related chronic diseases and promote overall health.
Secretary Perdue said the committee is tasked with ensuring that the guidelines are data-driven and based in scientific fact. "The committee will evaluate existing research and develop a report objectively, with an open mind," Perdue said.
Secretary Azar said the committee "will conduct a rigorous examination of the scientific evidence on several diet-related health outcomes, including the prevention of cancer, type 2 diabetes, and cardiovascular disease."
One of only three California scientists named to the 2020 committee, Sabaté sees broad significance for the committee's findings.
"We have the opportunity to craft improvements in the diet and health of Americans, and since many other countries look to America for guidance, we also have an opportunity to influence the eating patterns of people around the world," he said.
" We have the opportunity to craft improvements in the diet and health of Americans,"Joan Sabaté, MD, DrPH
Born in Barcelona, Spain, Sabaté moved to this country in the early 1980s to study public health nutrition. He currently serves as director of the Center for Nutrition, Lifestyle and Disease Prevention at Loma Linda University School of Public Health. He has authored more than 150 research articles in scientific journals and is widely recognized as an authority on Mediterranean, sustainable, and plant-based diets.
"I'm very happy to have been called to this task, but I'm also humbled because there will be thousands of pages to read, many trips to Washington to make, and many discussions with my peers," he said.  
Helen Hopp Marshak, PhD, dean of the School of Public Health, said Sabaté is the first Loma Linda University faculty member to be named to the committee.
"We are delighted to see Dr. Sabaté recognized for his expertise in the field of nutrition. Selection to this committee represents the culmination of decades of study on the part of Dr. Sabaté and his team. His research in vegetarian and plant-based nutrition over the years has ranked him as one of the country's leading authorities on nutritional epidemiology. We see this also as a recognition of excellence for over 50 years of prevention research at the School of Public Health," Hopp Marshak said.