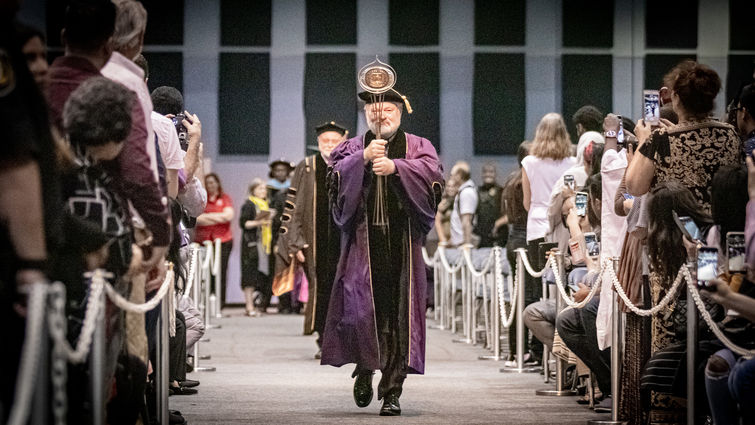 Nearly 100 graduates from Loma Linda University School of Public Health were honored today during the school's 2019 Commencement exercises, highlighting student achievement in the school's programs: Master of Business Administration, Master of Public Health, Master of Science, Doctor of Public Health, and Doctor of Philosophy.
Graduates marched up the aisle to applause and were welcomed by Loma Linda University President Richard Hart, MD, DrPH; Provost Ron Carter, PhD; and Dean Helen Hopp Marshak, PhD. 
Several awards were presented during the ceremony:
President's Award
Jennifer Martinez was chosen to receive this award in recognition of her strong academic performance and outstanding leadership, exemplary service, and active community engagement. She is a reservist in the United States Airforce and worked as an environmental scientist in Texas before enrolling in the Epidemiology Master of Public Health program in the School of Public Health. She served as financial vice-president for the School of Public Health Student Association, volunteered with Careers in Public Health an experience program for prospective students, and assisted with community health fairs while on a mission trip to Cuba.
As part of her practicum, Martinez traveled to Chad to implement a grant-funded potable water project. After graduation, she will travel to the Central African Republic to support Water for Good in their efforts to end water poverty by maintaining wells and providing clean water to communities in need.
Distinguished Faculty Service Award
Seth Wiafe, PhD, serves as the director of health geoinformatic sciences and assistant professor for the Center for Health Strategy and Innovation at the school. He is deeply committed to the mission and values of Loma Linda University. 
Wiafe has consistently promoted the institution's mission and scholarship by demonstrating the value of Geographic Information Systems (GIS). Working with the late Dr. Samuel Soret, he helped grow the area of health geoinformatics at the university at a time when few public health programs recognized the value of GIS. 
Besides applying health geographic solutions internally, Wiafe also forged external relationships with state and local entities to foster ongoing partnerships and learning opportunities at the Environmental Systems Research Institute (ESRI) — the leader in geospatial software and information systems. 
Wiafe currently uses his expertise as an investigator for research projects such as the Ghanan Breast Health Study, mapping cancer screening adherence for the Pettis Veterans Affairs Healthcare System; and an oral health education project for elderly populations in San Bernardino County.
University leaders said he models humility, dedication, selflessness, and willingness to work with anyone, regardless of power or position, to accomplish the larger goals affecting the whole system.
School alumna of the year
Celeste Philip, MD, MPH, health officer for Sonoma County of Health Services, previously served as Florida's surgeon general and Secretary of Health, with more than 10 years of total service with the Florida Department of Health. 
As Florida's surgeon general, she directed a staff of over 13,000 with a $3 million budget. She also led Florida's Zika virus response to successfully limit mosquito-borne transmission in south Florida and oversaw the state's public health and medical activities during five hurricanes. In addition, she chaired the state health improvement planning process with over 30 partner organizations and coordinated multiagency efforts to address challenging issues such as opioid overdose, prevention, and treatment.
Philip serves on the board of directors for the Public Health Accreditation Board and the National Forum for Heart Disease and Stroke Prevention.
School officials presented her the alumna of the year award for her outstanding contributions to Public Health, her invaluable leadership in times of emergencies, and her active involvement in bringing about change for the community.
Jayakaran S. Job, MD, DrPH — Distinguished Academic Award
Job has modeled excellence and unwavering commitment in his service at the Loma Linda School of Public Health for almost three decades. As public health educator and scholar, his efforts focused on tobacco smoking prevention and control, global epidemiology, maternal and child health, human resource development, control of infectious diseases, population dynamics and demography, and medical and public health.
As a researcher and scholar, Dr. Job served as coinvestigator for a nationwide, long-term ($3.2 billion over 25 years), federally funded study in 2010. Unprecedented in scope, the study focused on and tracked 105,000 children — 1,000 of whom reside in San Bernardino County — from birth to age 21. The research shared insights for improving medical practice and guiding government policy on issues relevant to childhood obesity, autism, birth defects, diabetes, heart disease, and other growing health concerns in the country. In addition, he has influenced health policy through his active leadership and involvement in local and international health organizations.
Dean's Award — Anthony Gittens (MPH), Priya Bhat-Patel (DrPH), and Lynnley Huey (DrPH).
School Distinguished Service Award (Staff) — Stephen Sledge.
Merrit C. Horning Award for Outstanding Research — Noara Alhusseini, Kushinga Bvute, Tony Jehi, and Tyler Sura.
Randall Lewis Fellowship Award — Charles Saseun.
Wiesseman Doctoral Award — Brenda Koranda, Chanell Grismore, and Katie Viehmann-Wical.
SPH Student Association Awards
William Dysinger Excellence in Teaching —Sujatha Rajaram.
Charlie Liu Award — Thien-An Nguyen.
Ruth White Outstanding Student Award — Anthony Gittens.
Wil Alexander Whole Person Care Award — Holly Kendahl and Craig Buckholtz.
Willard and Irene Humpal Award — Jonquile Williams.