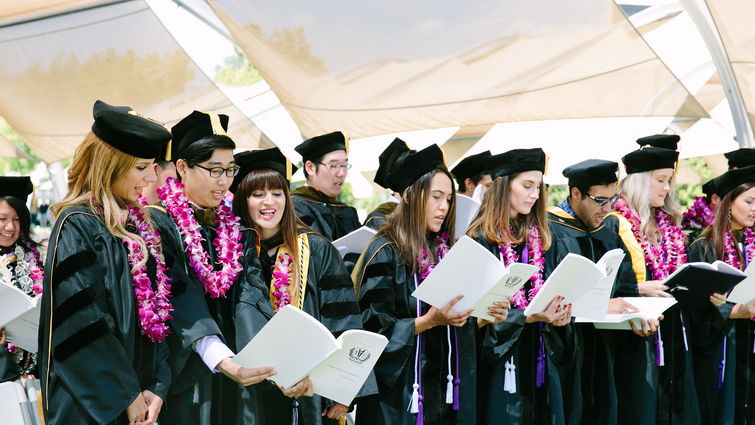 Black robes, gold tassels, purple orchid leis and smiles. Beaming smiles.
It is the moment these 80 students have been looking forward to since they first embarked on their journey at Loma Linda University (LLU) in 2014, all with one common goal in mind — to devote themselves to a lifetime of service to others through the profession of pharmacy.
Dean Noreen Chan Tompkins presented students and faculty with awards:
Lisa Hong, PharmD, BCPS, received the Junior Faculty Award. The scholar and researcher was recognized for her significant impact on global service and the local community and for her outstanding contribution to the academic pursuits of LLU.
Willie L. Davis, PhD, was given the Distinguished Service Award for his many years of exemplary service, which have provided opportunities for optimum learning and student growth, as well as for his contributions towards maintaining quality education.
Scott D. Glenny was presented with the School Alumnus of the Year. He was acknowledged for his exemplary service to others and his commitment to improving patient care.
Joseph L. Kuti, PharmD, associate director of clinical and economic studies at the Center for Anti-Infective Research and Development at Hartford Hospital, addressed students on finding balance in their life and career as a pharmacist. He related life's challenges to the lessons of learning how to ride a bike.
"Every time we fall we must get back up," Kuti said. "You have to be determined and resilient to accomplish something that seems impossible."
Kuti told the graduating class that as pharmacists, "You have a responsibility to your patients, co-workers employers and students — but to not forget you have a responsibility for yourself." He encouraged students to be active outside of work, with family, friends, and extra-curricular activities.
"These interactions will make you whole and allow you to find more value in life…and will allow you to enjoy your work," he said.
Huyenytran Tran, PharmD, assistant professor of pharmacy practice, then led the class of 2018 in the Pharmacy Oath.
LLU Provost Ronald Carter, along with Hart, handed out the diplomas to the newest School of Pharmacy graduates, who, as mentioned by Hart, represent 13 different countries.
—This story is part of our comprehensive coverage of Loma Linda University's 2018 Commencement. View more Commencement coverage.