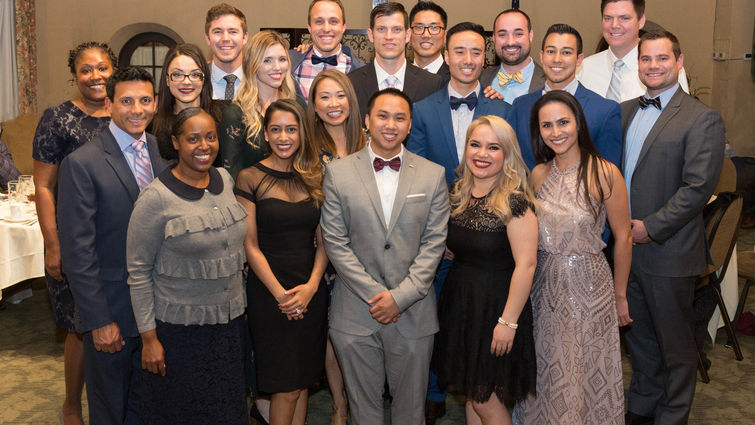 Loma Linda University School of Nursing's Certified Registered Nurse Anesthetist (CRNA) Class of 2018 has become the school's second consecutive class to achieve a 100 percent first-time pass rate on the National Certification Examination (NCE), and the first class to do so with a zero percent attrition rate. 
The CRNA program is one of the School of Nursing's most competitive graduate programs. The curriculum presents each cohort with a two-and-a-half-year continuous schedule of advanced performance and time demands, requiring discipline and commitment on an intense level even for a standard graduate program.
"This is a major accomplishment for the School of Nursing," said Nurse Anesthesia Concentration Director Vanessa Jones-Oyefeso, DrPH, MSNA, CRNA. "The students have had many long days of studying and providing high-quality care, which led to their success, and we celebrate with them."  
Since the program's beginning in 2011 — resulting in the first cohort of graduating seniors in 2014 — graduates of this program have been steadily increasing to a 100 percent pass-rate within those four years. Additionally, there has been a zero percent attrition rate for the 2018 class.
"This achievement of a 100-percent pass rate of all students and employment for all is outstanding," said Elizabeth Bossert, PhD, RN, dean of the LLU School of Nursing. "The faculty have developed an excellent program and delivered it with both high expectations of the students and a strong desire for their success."
In addition to this accomplishment, 100 percent of students graduating from the CRNA program found employment within six months of graduation.
Although the program is still relatively young, a reputation for the excellence of its graduates is becoming well known both in the local area and beyond. 
"Securing that first employment as a CRNA is extremely important, as it helps the graduate in the transition from student to full membership in the healthcare team," Bossert said.
For more information about the CNRA program, visit nursing.llu.edu/graduate-programs/bs-dnp/certified-registered-nurse-anesthetist-crna.