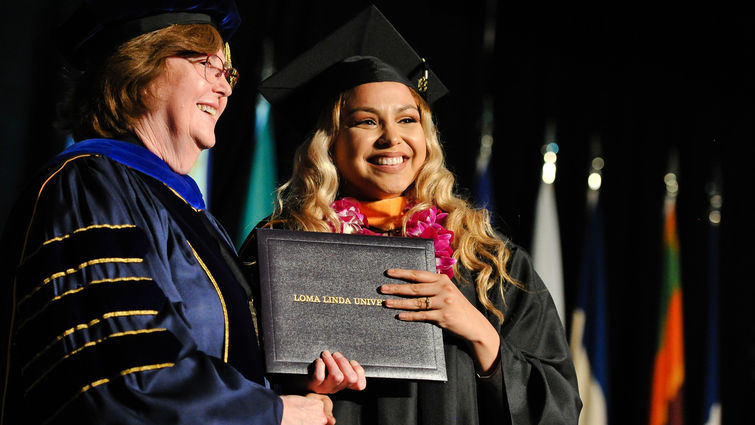 An explosion of digital fireworks accompanied first-generation college graduate Alyssa Vega as she marched across stage to receive her diploma from the School of Nursing during commencement June 10. Vega became the School of Nursing's milestone 10,000th graduate in addition to receiving her Bachelor of Science in Nursing degree.
The class of 2018 comprised 210 students receiving bachelor's, master's or doctoral degrees. They are the 112th class to graduate from the School of Nursing, which, founded in 1905, is the eldest school at Loma Linda University. 
Four awards were presented during the ceremony to graduating students of the school:
President's Award — Lauren Ochs: The President's Award is the highest honor a school can give to a student. Ochs, who graduated with her Bachelor of Science in Nursing, is known among her faculty, peers and colleagues as a role model and leader committed to integrity, excellence and serving others. She works as a registered nurse at Loma Linda University Children's Hospital. 
Dean's Award, Graduate, Doctor of Nursing Practice — Cheary Shelim: Shelim works at Redlands Community Hospital. Her doctorate focused on interdisciplinary teams working together to reduce costs for patient care. She enjoys teaching and is considering a career as a professor. The award was given to her in recognition of distinction in academic achievement and professional performance. 
Dean's Award, Graduate — Lida Odet Salcedo: Salcedo has worked as a Registered Nurse in Home Health, in the maternal field medicine clinic, and as a diabetes educator. She looks forward to working in the field of adult gerontology, as well as working with families, minorities, and those who are financially challenged. 
Dean's Award, Undergraduate — Chane' O'Bannon: O'Bannon earned a Bachelor's of Science in nursing and a Master's of Science in anatomy. She plans to earn a Doctorate of Nursing Practice with a focus on mental health. She also plans to open clinics in underserved areas and develop procedures to improve mental health screenings and services.
Additionally, the university-wide Community Engagement Award was presented to Dynnette and Kenneth Hart during the ceremony. This award is bestowed by all of Loma Linda University to individuals or organizations who exemplify LLU's mission.
Dynnette (Dee) Hart, DrPH, and Kenneth Hart, MD, MPH, were honored for their combined legacy totaling more than 100 years of service on two continents. Married in 1967, the Harts served three mission appointments during the 1970s and 1980s on the African continent — first in Zambia, then Tanzania and finally Kenya. The Harts permanently returned to the United States in 1987. In the 21 years since, the couple has served the campus and community in various capacities. Dee Hart is associate dean emerita (retired) at the School of Nursing, and Ken Hart is medical director of SAC Health System's Norton clinic. 
Being a nurse is a great gift, said commencement speaker Betty Ferrell, PhD, director of nursing research and education and professor of nursing at City of Hope Medical Center.
She urged the day's bachelor's degree graduates to, from day one of their careers, never accept the status quo of how things are done but to rather always look for ways to innovate to provide better service to patients and families.
To those graduates who earned master's or doctoral degrees, Ferrell urged them to charge forth in their various capacities as leaders, whether in providing advanced-practice care, shaping healthcare delivery as clinical nurse leaders, or conducting research to ever build and improve upon evidence-based practice. 
Nursing is both a science and an art, she said, encouraging them to honor both those roles.  
"I wish every one of you only the very best of this very, very sacred work," Ferrell concluded. "Thank you."