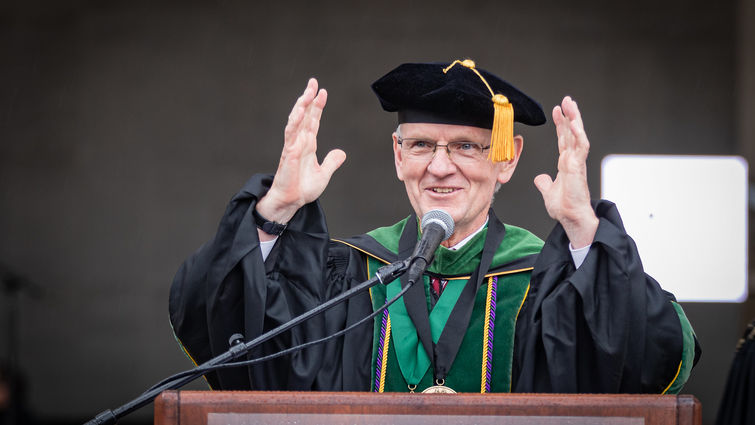 Loma Linda University's School of Medicine's commencement service, held May 26 on the campus mall, honored the academic excellence of a new generation of 190 physicians and medical researchers who have completed this phase of their academic journey. The University also presented a Lifetime Service Award to H. Roger Hadley, MD, who is concluding 16 years of service to the institution as Dean of the School of Medicine and Executive Vice President for Medical Affairs.
Hadley is part of a long line of physicians on both sides of his family. His career has centered on quality care for patients while nurturing an effective practice environment. Roger Hadley's service as dean is one of the longest tenures as dean of a school of medicine in the nation. 
While choosing to step down as dean, Hadley will continue to practice urology, assist with alumni relations and serve as a campus advisor in various areas.
Additional Honors
A number of School of Medicine and Loma Linda University Health awards were announced during the commencement ceremony. Honorees include:
David Edward Ruckle, MD, President's Award:Ruckle earned honors in every course and clerkship while at Loma Linda University. He is one of six students inducted into the Alpha Omega Alpha Honor Society in his junior year, an honor typically reserved for senior medical students. Ruckle co-authored eight manuscripts during his medical school years. Four of those papers have been published in peer-reviewed journals. Following his graduation, Ruckle will continue his medical training in the Orthopaedic Surgery Residency Program at Loma Linda University Health.Ruckle received his award at the School of Medicine's Senior banquet on May 21.
Robert J. Wagner, MD, University Alumnus of the Year:Wagner was honored For his exemplary service and his contributions to obstetrics and gynecology education and practice at Loma Linda University Health. Kevin Balli, MD, chair of the Obstetrics and Gynecology department, callsWagner "the embodiment of the mission of the OB/GYN Department — healing patients, and educating young physicians." Wagner is an early pioneer in gynecologic oncology and was one of the first specialists in that field.
Bradley P. Gilbert, MD, University Meritorious Service Award:Gilbert has served as chief executive officer for the Inland Empire Health Plan for more than 10 years. One of the largest not-for-profit public health plans in California, Gilbert oversees the needs of 1.24 million members and more than 5,000 health care providers. Gilbert is a leader in healthcare reform and has led the IEHP into many partnerships with Loma Linda University Health, enhancing both organizations' ability to deliver healthcare to the region.
Bruce Steffes, MD, and David C. Thompson, MD, University Meritorious Service Award:Steffes and Thompson were honored for their leadership in improving healthcare quality and surgical education in developing countries. Steffes served as executive director for the Pan African Academy of Christian Surgeons from 2006-14. Through his leadership, PAACS became a leader in the international surgical world. He has also volunteered in Haiti, Belize, Guatemala, Brazil, Kenya, Uganda, Ghana,Togo, Benin, Zambia, Sierra Leone, Liberia, Angola, Papua NewGuinea, Afghanistan and Uzbekistan.
When Thompson was serving as a surgeon in Gabon, Africa, he saw the region's needs would soon overwhelm his capacity. He approached Loma Linda University about partnering in surgical education, a program that ultimately impacted 11 Christian hospitals across Africa.
Henry Lamberton, PsyD, University Distinguished Academic Award:Lamberton was honored for his service and contributions to academic excellence and achievement of the organization's mission. Lamberton first served at Loma Linda University as a faculty member in the School of Religion. In 1994, he was appointed associate dean for Student Affairs in the School of Medicine. Along with teaching religion courses, Lamberton sponsored the University's Healthy Neighborhoods Project and chaired the university's Global Mission Appointment Committee. 
Clifton and Sandra Reeves, University Distinguished Humanitarian Award:The Reeves were recognized for their service and philanthropy, and for inspiring others to model the Loma Linda University Health missions. Following his graduation in 1960, Reeves became the first chief surgical resident at Riverside General Hospital. He served that facility for 40 years, including 25 years as chief of surgery. Reeves also served as chair of the School of Medicine's admissions committee for 30 years. He led in the founding of the first student tuition aid fund and completed the first endowed chair of surgical education in the department of surgery — the Clifton and Sandra Reeves Endowed Chair for General Surgery. The couple provides many hours of volunteer service to their local church and have participated in a number of mission and teaching international trips.
David J. Baylink, MD, University Distinguished Investigator Award: Baylink's research has led to numerous contributions in the area of metabolic bone diseases. During his five decades of research, he has contributed to more than 650 peer-reviewed publications and authored more than 800 abstracts. He has secured tens of millions of dollars in external grant funding. Baylink generously shares his expertise, which has contributed to important contributions in the fields of insulin-like growth factor and growth hormone, osteoporosis and genetics, Vitamin D and autoimmunity, fracture healing and mechanical loading. His current research interests are in stem cell and gene therapy.
Kimberly Payne, PhD, University Distinguished Investigator Award:Payne received the award for her contributions to pediatric research and education. Payne is research director for the Pediatric Cancer Research Program and as the director for Translational Research for the Cancer Center and the School of Medicine. In these capacities, she mentors graduate and medical students, supports clinical fellows in their research, and facilitates faculty members with the application of their research. 
William C. Patton, MD, School Distinguished Service Award:Patton has been a faculty member in the School of Medicine's department of gynecology and obstetrics since the mid-1970s. He has received numerous prestigious awards from professional societies and has published more than 50 papers in peer-reviewed journals. He is also actively involved in the Riverside-San Bernardino Obstetrics and Gynecology Society, serving as president from 1979 to 1981.