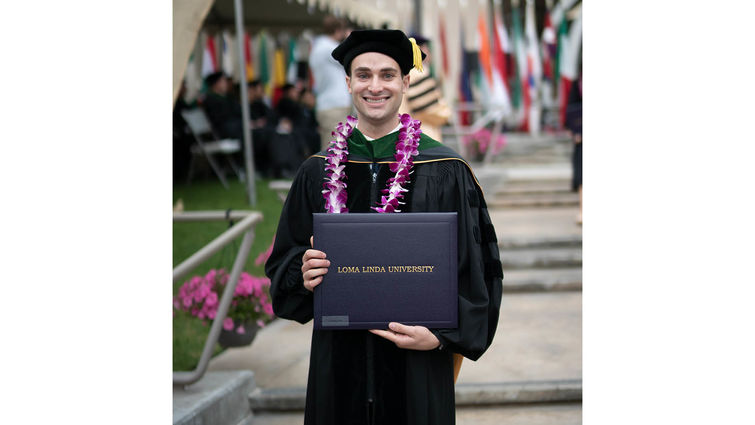 Finding something to do on an airplane has a new meaning for Dean LaBarba, MD, who earlier this month traveled from Zurich to Los Angeles on a 12-hour flight and ended up saving the life of a fellow passenger after she abruptly collapsed. 
LaBarba, who graduated last month from Loma Linda University School of Medicine, was returning home with his wife, Ivy, after a celebratory trip to Sicily. It was on this trip he met his extended family for the first time. Overjoyed at the opportunity to spend time with his family, LaBarba was also looking forward to coming home and beginning his new journey as a medical professional. He just didn't imagine he would begin so soon. 
Approximately two hours into the Swiss International Airlines flight, LaBarba was watching the movie Justice League, when all of sudden his wife was alerted by a passenger next to them that the female passenger sitting to the left of them was leaning over. She indicated to another male passenger she did not feel well, and before she could get up to the restroom she collapsed. 
It didn't take more than seconds for LaBarba to put on his new MD hat and leap into action. He crawled over his wife and immediately tended to the passenger, shouting at her, asking if she was okay. He could find no pulse and her body was cold to the touch. As she was unresponsive, LaBarba performed a sternum rub — commonly used on individuals who are unconscious or incapacitated in order to get a response.
"The sternum rub is never a comfortable thing, but because I was unable to get a pulse from her I had to try," LaBarba said. 
With the help of a male passenger, LaBarba made a makeshift bed out of the airplane seats and laid the passenger down. With no pulse in sight, LaBarba asked the flight attendant to retrieve a defibrillator. 
He quickly began chest compressions shouting each count out loud. After a total of six chest compressions, the passenger began to regain consciousness.  
She was weak and very tired as she slowly sat up. LaBarba ran through her medical history, asking everything from "Do you have hypertension?" to "Did you take any medications this morning?" to "Do you have a history of diabetes or a heart attack?"
Both LaBarba and the flight attendant, also a nurse, took the passenger's blood pressure and glucose to make sure she was not hyperglycemic. Her blood pressure was considered low. Without the proper equipment, LaBarba was unable to diagnose the passenger with complete certitude and had to make decisions based on what he saw. 
"I remained at her side continually checking on her and asking if she felt any abdominal pain, chest pain, nausea or leg cramps," LaBarba said. "It's hard to say what happened in those 15 seconds after she collapsed, but I think she may have experienced a syncope episode."
A syncope is described as a drop in heart rate or blood pressure, ultimately resulting in fainting. 
The passenger and both LaBarba and his wife were moved up to business class. It was here where LaBarba kept a close eye on the patient. He checked on her every hour, ensuring her blood pressure remained steady. 
The flight's captain asked LaBarba if he needed to ground the plane in order for the passenger to receive additional help. It would be hours before they reached North America from over the Atlantic Ocean. As all of her vital signs and symptoms had stabilized, LaBarba said he determined she could make the rest of the flight. 
He noticed the passenger was a bit emotional following her collapse. LaBarba took it upon himself to ask her if she wanted to pray with him. She welcomed his prayers with open arms. 
"After we prayed, she was calm and able to regain her composure," LaBarba said. "Thanks to my training at Loma Linda University, I had the confidence to pray with a patient who was in need and address her spiritual needs."
During the flight's mid-air commotion, LaBarba's wife reveled in her husband's quick actions and bravery to help the passenger. 
"I was so proud to the point of tears," Ivy said.
Ivy recalls the other passengers gasping with fear as the situation went on, with many of the passengers standing up to see. "I did my best to be his assistant and move things as needed," Ivy said. 
When the flight arrived in Los Angeles, LaBarba and his wife were greeted with rounds of appreciation. He was thankful that the passenger did well throughout the flight and would safely be escorted from the plane and met by her son. There, they parted ways with the patient, who was to be safely ushered from the plane separately from the other passengers.  
"She was so grateful for my help in saving her life," LaBarba said. "Honestly, it was fate." 
LaBarba said he was the only physician aboard the Boeing 777 flight carrying more than 300 passengers that day. He had even requested the flight attendant to address the cabin to ask if there were any other medical professionals on board, but came up empty. LaBarba had just re-certified his Basic Life Support and Advanced Cardiac Life Support training prior to graduation, which every School of Medicine graduate receives. 
The new doctor encourages people to receive CPR training in case of an emergency such as this. According to LaBarba, every second counts in saving a person's life. "If more people were trained in the basic life support techniques, it would help immensely," LaBarba said. 
He began his residency in internal medicine at Kaiser Los Angeles on July 1. As he prepares for his program, he said he will always remember this particular day.
"It confirmed my calling and desire to help people," LaBarba said.