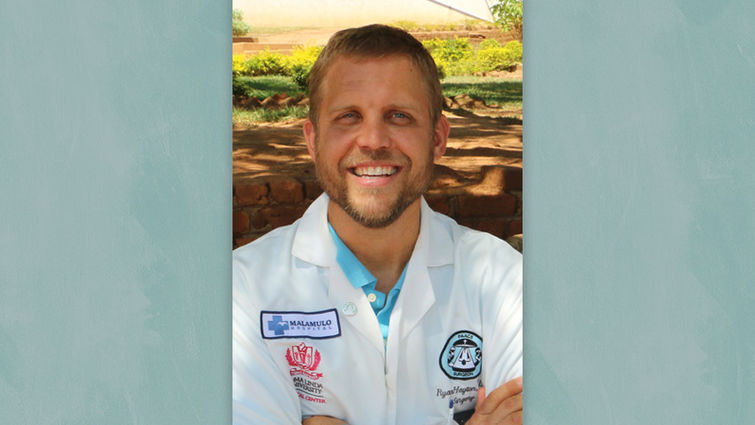 Posted by: Courtney Haas
Written by: Jason Blanchard, hospital administrator of Malamulo Adventist Hospital
The Surgical Association of Malawi (SAM), at its April 1, 2016, meeting voted to elect Loma Linda University School of Medicine alumnus, Ryan Hayton, MD, class of 2005, as its secretary and treasurer.
Hayton grew up in a missionary family, living in Malawi for years, where he serves today as the chief of surgery at Malamulo Adventist Hospital — a facility that is both an Adventist Health International (AHI) site as well as the first field station for Loma Linda University Health.
Working as a general surgeon, Hayton showcases his ability to combine his God-given surgical skill with his desire to teach others to be competent, committed, and Christ-centered surgeons to work in low-resource settings.
"Ryan's dream was always to return to the place of his childhood. Upon completing his surgical training, he headed to Malamulo Adventist Hospital in Malawi and started redeveloping the surgical services there," says Richard Hart, MD, DrPH, president of AHI and Loma Linda University Health.
In 2010, Hayton, along with his wife, Sharlene, and son Benson moved to Malawi as missionaries under Loma Linda University's deferred mission appointee program. The couple has since been blessed with the additions of sons Hudson and Jett.
With his interest in medical education, Hayton made plans to establish a rotation for surgical residents from Loma Linda University, and in 2013, Malamulo Adventist Hospital was recognized by the Accreditation Council of Graduate Medical Education as its first international site. With support from AHI, Malamulo next became a training site for the Pan-African Academy of Christian Surgeons (PAACS), a program that focuses on training African surgeons to meet the ever-growing surgical needs of the continent.
Hart expressed his joy in the recognition, saying, "Ryan has been central to these efforts and I am delighted he is being recognized locally for the contributions he has made in Malawi."
The surgical team at Malamulo Adventist Hospital is currently training three African doctors through the Loma Linda-accredited PAACS program. Its goal is to add one additional resident to the program each year.
In accepting the position of SAM secretary and treasurer, Hayton said, "I think it will add recognition and awareness of Malamulo Adventist Hospital and Malamulo-PAACS in and among the surgeons and physicians in Malawi."