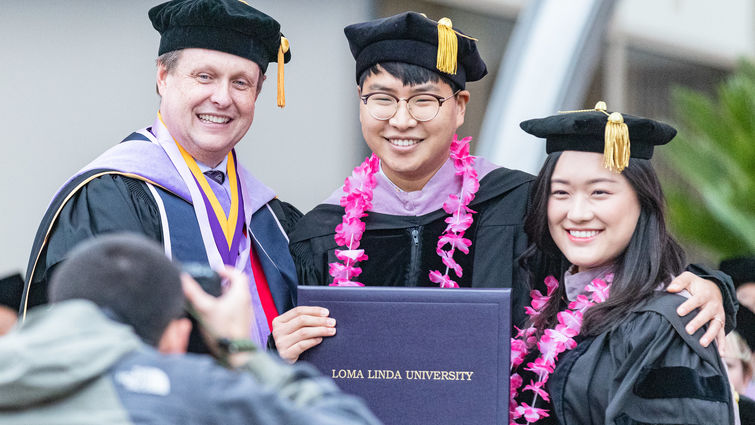 It was a sea of caps and gowns as Loma Linda University School of Dentistry students donned their commencement regalia in celebration of graduating. Families, friends and faculty gathered on Loma Linda University's campus mall on Sunday, May 26 to honor the outstanding achievements of the graduates in the programs of doctor of dental surgery, dental hygiene, international dentist program and eight different advanced dental education programs. 
Richard Hart, MD, DrPH, president of Loma Linda University Health, joined Dean Robert Handysides, DDS, faculty members and guests to celebrate and honor the classes of 2019. Students were full of joy as they looked forward to the next chapters of their lives after they received bachelor's, master's and doctoral degrees. 
During the ceremony, faculty, staff and students were presented with the following distinguished awards. 
Michael Steven Chan, DDS, President's Award: Chan comes from a strong lineage of Loma Linda University School of Dentistry graduates. His father graduated in 1988, and his brother graduated in 2017. Chan graduated first in his class and was the recipient of the Wil Alexander Award for outstanding commitment and involvement in whole person care. Throughout his academic career at the School of Dentistry, Chan maintained his position on the Dean's list every quarter and participated in over 200 hours of local and international service.  
John W. Leyman, Director of Koppel Special Care Dentistry Center, School Distinguished Faculty Service Award: Leyman has been serving the School of Dentistry for more than 30 years since joining Loma Linda University in 1980 as a faculty member and program director in the Advanced Dental Education Program in Dental Anesthesiology. For more than a decade he served as director of the Koppel Special Care Dentistry Center. Leyman has served as treasurer, vice president and president of the American Society of Dentistry Anesthesiologists, and served as a consultant for the American Dental Board of Anesthesiology, the California Dental Association and the State of California.
Deborah R. Catino, Department of Endodontics clinical manager, School Distinguished Service Award: Catino's service as clinic manager for the School of Dentistry spans over 40 years. Her mission has been to help and support students in their quest for higher education and development of high patient-care ethics. She used her problem-solving skills, dynamic leadership and positive influence to help the school achieve its mission. She was honored for her exemplary unselfish service that goes beyond expectation and her positive Christian influence.
Jaime L. Lozada, Program Director for the Advanced Education Program in Implant Dentistry and the department of Restorative Dentistry, School Distinguished Research Award: Lozada has been serving the School of Dentistry for more than three decades as a researcher whose findings resulted in significant innovations in the field of implant dentistry. He has been awarded for his research contribution by the American Academy of Implant Dentistry Research Foundation, the Academy of Fixed Prosthodontics and the Journal of Prosthetic Dentistry. He has also served as past-president of the American Academy of Implant Dentistry of the American Board of Dental Specialties, a member of the Editorial Board of the Journal of Oral Implantology and was a fellow of the American College of Dentists. He currently serves as the president of the American Board of Oral Implantology/Implant Dentistry.
Mary L. Clement, Distinguished Service Award: Clement joined the School of Dentistry's Office of Admissions as a volunteer in 1996 and two years later gained a permanent position. She then served in the school of dentistry for six years. Her husband Dr. Robert J. Clement was a faculty member at the School of Dentistry after serving in the United States Air Force. Before his passing in 2002, he received the Faculty Distinguished Service Award. In 2008, Clement joined the University's department of public affairs as a tour coordinator and guide for visitors, students, patients and guests from around the world.