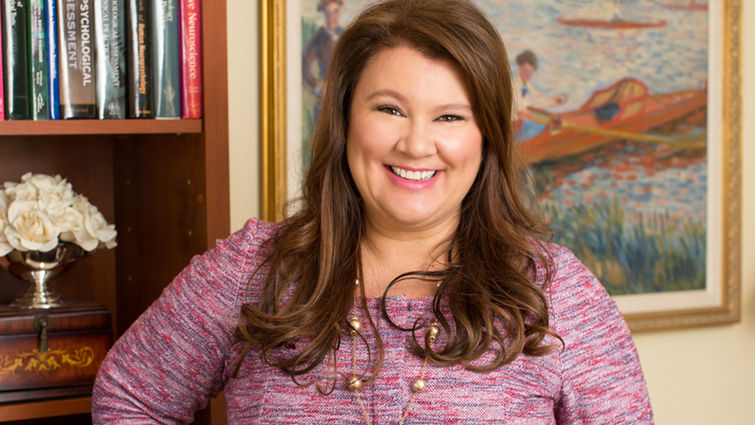 Annette Ermshar, PhD, is a busy professional who divides her time between providing psychotherapy to clients in her private practice, conducting psycholegal evaluations in the jails and prisons, testifying in high-profile forensic cases, consulting for Hollywood screenwriters and producers, and conducting neuropsychological evaluations for children, adolescents and adults. She has expanded the definition of a working psychologist, and in every arena of her practice, she is committed to excellence, rigorous ethics and human dignity.  
Ermshar is part of a multigenerational line of Loma Linda University graduates. Her father and both grandfathers received their MD degree, her mother a dental hygiene degree, and many cousins and extended relatives have all graduated from Loma Linda University. This close-knit family's quest for knowledge and high standard for achievement set Ermshar on a path she willingly embraced.   
"At Loma Linda University I enjoyed mentoring relationships with both Dr. Jan Sonne and Dr. Kiti Freier," Ermshar recalled. "Both were instrumental in molding me as a professional and setting the stage for my future career trajectory. Their commitment to my development was extraordinary and I really value the training I received from both of them."
Ermshar received a PhD in Clinical Psychology from Loma Linda University in 2000 after having received her BA in Psychology from Pepperdine in 1994. During graduate school, Ermshar declared a minor in neuropsychology/neuroscience and this specialty has continued throughout her career. 
"The best advice I can give is to take any and every opportunity given to you, as you never know when it will open doors and lead to extraordinary possibilities for the future," Ermshar said.
She went on to complete a Postdoctoral Fellowship in Forensic Psychology at Patton State Hospital. While working at Patton from 2005 to 2014, Ermshar established the neuropsychological assessment services program hospital-wide and the Psychology Practicum Training, supervising more than 120 pre-and post-doctoral students during her tenure.  
Ermshar went on to additional education, receiving a postdoctoral Master's of Science degree in Clinical Psychopharmacology. Additionally, she completed the rigorous process of receiving board certification in forensic psychology by the American Board of Professional Psychology (ABPP), qualifying her as a Diplomate in Forensic Psychology. Currently, less than 5 percent of all licensed psychologists are board certified by ABPP, a testament that Ermshar is at the top of her profession. 
As a Board Certified Forensic Psychologist, Dr. Ermshar has served as an expert witness in numerous court cases within the Federal Court, California Superior Courts, and California Juvenile Court over the past 15 years. She has served as a consultant to television shows and motion pictures in the areas of criminal psychology, neuropsychology and mental illness. 
Her passion for research has been extensive throughout her career. Ermshar was the principal investigator for a large-sale, CA state-approved IRB study involving the nature of psychopathy and executive functioning among forensic patients. She has several publications and has recently co-published a chapter in a wide-selling book on frontal lobe functioning. 
She started her private practice in Pasadena in 2002, and now has several associates and assistants, all providing a wide range of outpatient clinical services. She has inpatient hospital staff privileges at a psychiatric hospital in the Pasadena area where she sees clients in an inpatient setting, and has been a professor at numerous universities, both undergraduate and graduate, most recently as an associate professor at Alliant International University. She also served as a member-at-large for the California Psychological Association Board, Division 5 in the area of clinical psychopharmacology. 
Ermshar also co-founded an in-residence psychological treatment center in Pasadena, CA, where she is a co-owner of a program specializing in more severe psychiatric conditions, bridging the gap between inpatient hospitalization and transition back into the community. 
In addition to her clinical work, Ermshar gives back to the community through serving as president of the Foundation Board of Directors for Adventist Health Glendale; governing board member for Adventist Health Glendale; vice-president of the Board for the Pasadena Symphony and Pops; member of the Board of Directors for the Los Angeles Master Chorale at the Los Angeles Music Center; member of the Twilight Club; and member of the Blue Ribbon of the Los Angeles Music Center.  
"I am committed to and interested in the impact of generosity on physical and mental health and incorporate volunteering, giving back to the community and philanthropic giving to my own personal life," Ermshar said. "I feel generosity is so critical for a healthy person and a healthy community. 
Between her work and philanthropy, Ermshar enjoys traveling with her husband, Dan Monahan.