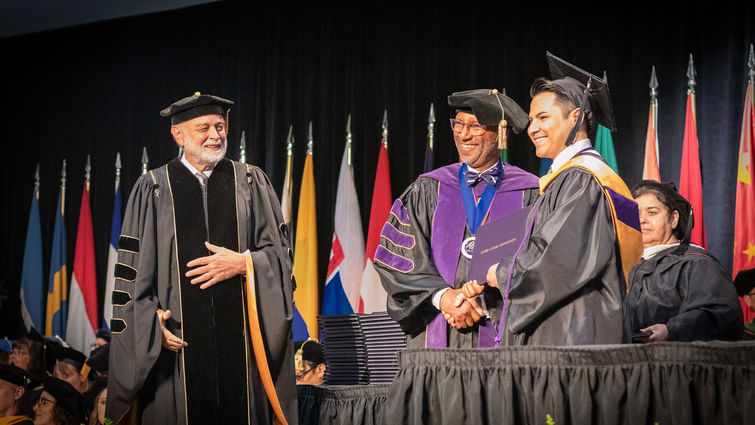 Loma Linda University School of Allied Health Professions held two commencement ceremonies on June 26th at the Drayson Center. The first was held at 8 a.m. for Allied Health programs, recognizing students from the following: Allied Health Studies, Cardiopulmonary Sciences, Clinical Laboratory Science, Communication Sciences and Disorders, Health Informatics and Information Management, Nutrition and Dietetics, Physician Assistant, and Radiation Technology. The second ceremony held at 10:30 a.m. honored those from Occupational Therapy, Orthotics & Prosthetics, and Physical Therapy.
Richard H. Hart, MD, DrPH, president of Loma Linda University, welcomed the graduates. Provost Ron Carter, PhD, and Dean Craig Jackson, JD, MSW, led the presentation of Schoolof Allied Health Professionals awards.
The following individuals were recognized the during the commencement ceremony.
President's Award
Hoa Nguyen was chosen to receive this award in recognition to his dedication to wholeness, service, and excellence. An embodiment of Loma Linda University values, Nguyen showcases what an individual can achieve when they are not discouraged by their personal journey. Nguyen was college drop-out with a GPA of 1.8 and had worked as an automotive technician for many years. Despite enjoying his job, Nguyen developed an interest in physical therapy and committed himself to taking night classes while working in the day. He was accepted into the Doctor of Physical Therapy program with a prerequisite science GPA of 4.0.
Nguyen has demonstrated passion for service while at Loma Linda University through his involvement with Horses & Lambs, a program working with children who have disabilities; Street Medicine, a program working with the underinsured individuals; and Global Mobility, a program to fit and distribute donated wheel chairs those in need in Tijuana. He continued to promote LLU's mission by working along with other PT students organize a fundraiser for a mission trip to Haiti to build a kitchen for an orphanage. While there, he providedcontinuing education workshops for Haiti's rehabilitation technicians on the evaluation and treatment of low back pain, and provided free physical therapy service for patients at Adventist Hospital in Port-au-Prince.
Dean's Award
Intrigued by the idea that God desires to have a personal relationship with humankind and that language is one of the main vehicles He provided for us to communicate with Him, Chantel Harrison is a graduate of the Masters of Science in communication sciences and disorders program. Blending her fascinations, faith and dedication to community service — including her most recent ongoing youth programs for a Spanish SDA church — Harrison is a vibrant representative of Loma Linda University's values in excellence, academics and community service. 
Dean's Award
Samantha Parrnelli is a graduate of Occupational Therapy. Growing up as a military child, Parrnelli has a fostered a sense of truth in how she defines service and serving others. While at LLU, she served as the vice chair for community service for the School of Allied Health Professions. 
Community Service Award
Spencer Cutting is graduate of the Masters of Science in orthotics and prosthetics. A compassionate individual with a deep-rooted interest in biomedical technology, Cutting participated in a multitude of service opportunities while at LLU including working with local clients in Loma Linda and San Bernardino, as well as in Ethiopia. In his final quarters, his passions led to the development of a novel 3D-printed prosthetic arm to be utilized in lesser developed countries. 
Distinguished Service Award
Eric Johnson, PT, DSc, MS-HPEd is the first in his family to earn a college degree. Johnson developed a deep appreciation for the value of education, first pursuing a bachelor's in life science, later a master's in physical therapy, and later a doctorate in physical therapy. His enthusiasm for education continued in his work as a faculty member where he provides service to the physical therapy department as the associate program director, director of the Neuroscience Research Laboratory, and Neurology Track coordinator. In addition to the department service, Johnson has also contributed at the school and university levels including recently serving two-year terms as chair of the University Faculty Council.  
Alumnus of the Year
Eric Désarmé, who received his Master of Science in orthotics and prosthetics in 2017, exemplifies the motto "to make man whole" through his personal and professional endeavors. Désarmé was recognized for his numerous service contributions, including his work at Walter Reed Army Medical Center; assistance in aiding a wounded warrior to qualify for the U.S. Paralympic team; providing prosthetic services to the people of Haiti after the 2010 earthquake; and participation as a member of an LLU service outreach team in Ethiopia. 
Faculty of the Year Award
Rodney Roath is recognized for his outstanding leadership, scholarship, commitments to the University and contributions to his profession. Roath joined the university as a clinical training coordinator for chemistry in 1990 and made his debut as a classroom instructor for Applications Programming for Computers where, for the first time, students were taught word processing and spreadsheets. In 1991, Roath became a supervisor and systems manager of the Medical Center Laboratory; in 1998, he added the responsibilities of program director for the University's Clinical Laboratory Science program. 
Since 2005, he has taught management, chemistry, and instrumentation courses. He was appointed department chair in 2006. Roath organized the First Annual Board Review Series for the Loma Linda University Medical Technology Alumni Association, and also served as the association's president. In addition to his leadership at the university, Roath has led in the following professional organizations: president of the American Society for Clinical Laboratory Science-California; president of the California Society for Medical Technology and president of its Inland Empire Chapter; and president-elect of the California Society for Clinical Laboratory Science. 
Trailblazer Award
A lifelong innovator, ElizabethRogers has been trailblazer in physical therapy since joining Loma Linda University in 1969. She was instrumental in elevating the university's physical therapy program from the bachelor's to the master's degree, and developed the Physical Therapist Assistant Program. She was the co-editor of AIDS and the Allied Health Professions, the first textbook to address AIDS for health care professionals. She founded the Physical Therapy Mission Project providing new graduates with opportunities to volunteer globally, and accompanied the first two missionaries to Yuka Hospital in Zambia, Africa, to establish a leprosy rehabilitation program. The project grew to include Mexico, Thailand, Japan, Taiwan, and Vietnam.
Rogers leadership philosophy is, "Success occurs when you build a team of the most talented individuals you can find. Leaders should surround themselves with individuals who have the credentials or expertise they lack — don't be afraid of outstanding talent."