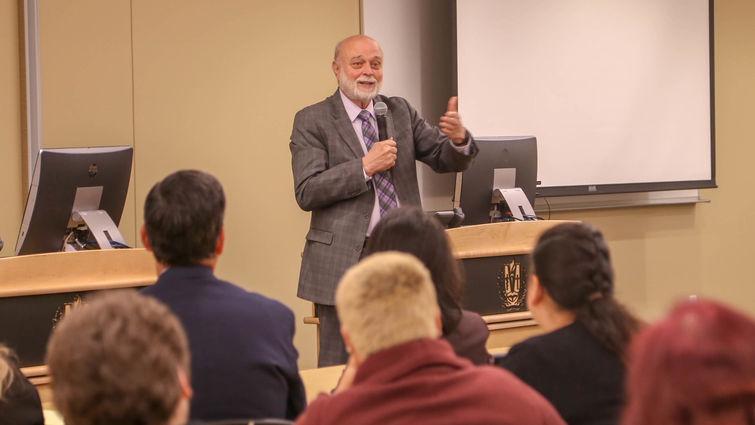 Loma Linda University Health – San Bernardino has introduced an integrated method of grand rounding that includes medical care providers from numerous specialties and disciplines, a move that is allowing students and providers to learn together and offer a more comprehensive understanding of a patient's needs.
The campus — home to the outreach SAC Health System clinic and San Manuel Gateway College — is using the new integrated method every month to bring together physicians, nurses, dentists, physical therapists, residents and students to learn about every aspect of their patients' needs.
Unlike the traditional top-down training — where fellows teach residents, and residents teach students — the new rounds are an open forum, allowing community health workers and students to educate physicians and faculty on elements of cases in which their
background may make them more knowledgeable about how each discipline can contribute.
"I think these particular grand rounds are eye-opening," said Bonnie Chi-Lum, MD, an attending physician at SAC Health System who participated in the inaugural grand rounds. "As a physician, I tend to look at things very medically, but this model encourages looking at more — like the social determinants and the risk factors physicians aren't trained to see."
At the San Bernardino campus, San Manuel Gateway College entry-level learners are joined by Loma Linda University Health graduate students and medical residents to develop clinical skills through the SAC clinic, a non-profit that works closely with Loma Linda University Health registered to see Medi-Cal or Medicare patients.
Many of the San Manuel Gateway College students are from diverse, low-income backgrounds, enabling them to relate to patients who share similar experiences. As education has developed in the United States, a growing recognition of interprofessional education (IPE) grows with it. An IPE refers to having students and professionals work together in a collaborative manner, showing that there is value in having individuals from different disciplines — and from different life experiences — learn together.
The key to these community grand rounds is to discover how — through integration — the patient can be put at the center of disciplines working together, with not only physicians and nurses, but community health workers who are in the unique position to advise attending physicians on what a patient's hidden needs might be. They can advocate for those in their communities in ways typical healthcare providers cannot.
Horizontal integration, which is being deemed as increasingly important by accrediting bodies, encourages different schools to work with other disciplines to fully understand one another. Vertical integration combines the different stages of healthcare needs, highlighting the importance for each certificate-level training program and specialty training. The new model with all disciplines present combines both horizontal integration and vertical integration — a practice that will be presented at WASC, which is a major accrediting body, in April 2018.
Many universities accredited by WASC are highly siloed, making it difficult to take certificate programs and put them into a true higher education environment.
"We are trying to pull together community colleges, research-oriented universities and universities of all sizes, as well as health science institutions so that we can all work together in the IPE form," said Ronald Carter, PhD, provost of LLU and executive vice president for university affairs.
Richard H. Hart, MD, DrPH, president of Loma Linda University Health, said healthcare is more than just a diagnosis in the clinic. "It is about a person's environment, and everything that comes together to make healthy communities and healthy people," he said.