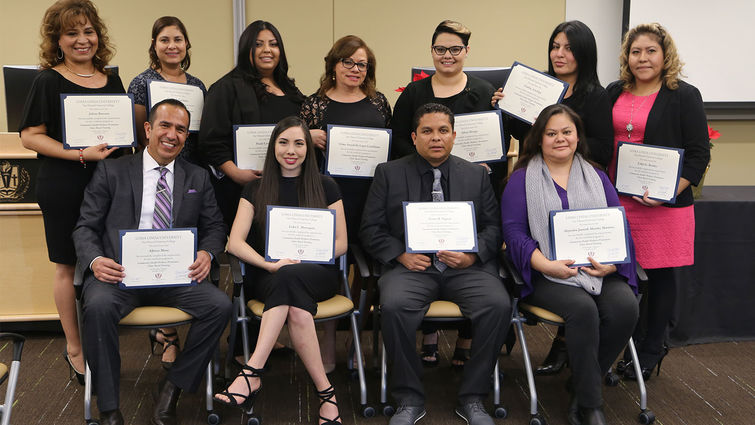 Fourteen students graduated from the clinic-based community health workers pilot program at San Manuel Gateway College in San Bernardino on Dec. 18 — 10 months after the Promotores Academy moved its home to the facility.
The Promotores Academy — a partnership between Loma Linda University Health and El Sol Neighborhood Education Center at San Manuel Gateway College — recruits community health workers who are actively engaged in creating and sustaining healthy communities. Enrolled students receive training in individual and community capacity building, health promotion, disease prevention, cultural mediation, advocacy and home visitation.
Clinic-based community health workers serve as liaisons between the community and a health care team, building rapport and trust in patients through their lived and shared experience. 
Workers have the ability to improve a patient's health literacy, motivation and adherence to health plans by addressing the barriers — using patients' individual strengths to help them build and sustain individual capacity.
Of the fourteen graduates, eleven were alumni of the basic community health worker program who graduated from San Manuel Gateway College's first graduation in June. 
"I am eager to help eliminate health disparities in my community," said Cinthia Arechiga two-time Promotores Academy alumnus. She chose to continue her education through the clinic-based community health worker program to strengthen her knowledge of behavioral health and disease prevention. "The program has given me the confidence and skills I needed to pursue a career in a field that I am passionate about," she said. 
A week prior to her graduation in December, Arechiga accepted a position at Arrowhead Regional Medical Center, where she will work within an interdisciplinary team to train clinicians on the roles of clinic-based community health workers. 
The ceremony's keynote speaker, Stacey Belliard, DPT, instructor and physical therapist at Loma Linda University Children's Hospital, welled with tears as she noted the graduates' accomplishments and impact they will have in their local community.
"You are something new, different and wonderful to the world of health care," Belliard said. 
Community health workers play a crucial role in addressing the social determinants of health. They connect the community with various health and social services and work to achieve the Institute for Healthcare Improvement's Triple Aim objectives: improve patient experience, increase population health and reduce the per capita cost of health care.
Belliard concluded her commencement address with a series of graphically-represented metaphors. "When utilized to your full potential you become: ambassadors — enabling both parties to succeed by allowing each to be heard and understood; mirrors — reflecting compassion to patients; and bridges — providing pathways to and from the community."
"Be a living tree bridge — firmly rooted in the community, connecting those you serve to health care — but always remember your roots."