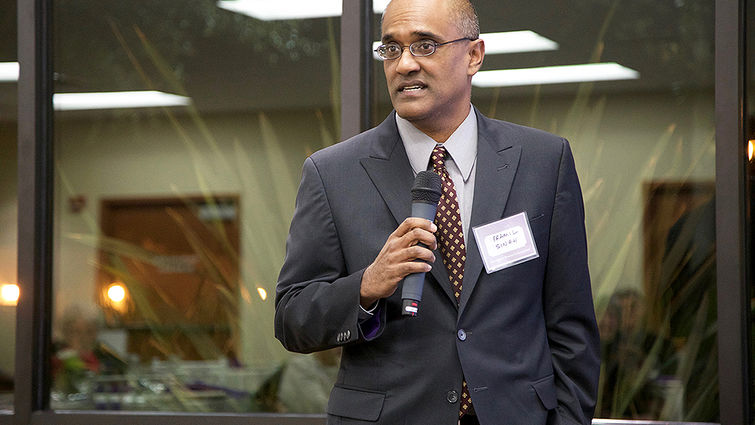 Three prominent researchers from Loma Linda University School of Public Health delivered an overview of what their research is doing to help improve the health of individuals, populations and the planet at a special dinner last month for donors to the school.
Helen Hopp Marshak, PhD, dean of the school, and Richard H. Hart, MD, DrPH, president of Loma Linda University Health, thanked the donors for their faithfulness in supporting research at the school. The program, held at the Tom and Vi Zapara Rehabilitation Pavilion at Loma Linda University Medical Center East Campus consisted of reports by three prominent researchers: Gary Fraser, MB ChB, PhD, Joan Sabaté, MD, DrPH, and Pramil Singh, DrPH.
Fraser, who is a professor at the LLU schools of Medicine and Public Health, is principal investigator for the long-running Adventist Health Studies and has been awarded many grants for his investigations on how diet, exercise and other lifestyle issues affect the human body. In addition to more than 200 scientific articles in peer-reviewed journals, he has also authored two popular books, Preventive Cardiology, and Diet, Life Expectancy, and Chronic Disease, both published by Oxford University Press.
With more than 96,000 participants from the United States and Canada, the Adventist Health Studies have yielded several significant findings, including the fact that vegetarians are more likely to live longer and enjoy better health than their meat-eating peers.
At the dinner, Fraser hinted at a study he recently completed that found sharp differences in cardiovascular health outcomes between protein derived from meat and protein from nut and seed sources. He declined to reveal too many details of the study pending the April 3 release of an article in the International Journal of Epidemiology, but did hint that vegetarians will be pleased with the outcome. He also provided a summary of thinking about the future of the Adventist Health Studies, including the use of online questionnaires, opening the study to new enrollees, and the need to embrace the study of so-called "big data" such as genomics and metabolomics.
Sabaté, who is executive director of the Center for Nutrition, Healthy Lifestyle and Disease Prevention, serves as a professor at the LLU schools of Medicine and Public Health and as director of the International Congress on Vegetarian Nutrition, told attendees that contemporary nutrition researchers stand on the shoulders of giants, referring to pioneers like Mervyn G. Hardinge, DrPH, PhD, U.D. Register, PhD, Roland Phillips, MD, DrPH, and Patricia K. Johnston, DrPH, MS, RD.     
Sabaté thanked the donors for their support of research on vegetarian nutrition and underscored the need for continued funding going forward. He discussed the recently concluded Walnuts and Healthy Aging study — a randomized clinical trial that tested whether eating a handful of walnuts per day supports cognitive function and retinal health in older adults — and announced that he is about to launch a new study into whether regular avocado consumption is useful in combating obesity.
Sabaté summarized the results of decades of research on vegetarian nutrition at the school by comparing the situation in earlier days when vegetarians struggled to convince their peers that plant-based diets were adequate to today when, after countless studies at research institutions around the world, the nutritional superiority and planetary-scale sustainability advantages of vegetarianism are widely recognized.
Singh, who serves as director of the Center for Health Research and associate professor at the school, reported on his $1.4 million NIH grant to develop new research methods for enhancing the effectiveness of tobacco-control programs in Cambodia, Laos and Mongolia, where young children are sometimes encouraged to smoke to decrease their appetite for food, he said.
The grant will enable Singh and his colleagues to develop mobile applications to enable a task force of 33 tobacco-control scientists and staff members to compile a list of where smokers are buying cigarettes. The database will help Singh's team provide information to the governments of the three countries — each of which ratified the World Health Organization's Framework Convention on Tobacco Control Treaty — about patterns of tobacco sales and use in their respective nations.
Singh also briefed the audience on a landmark, Pfizer-funded study of more than 700 smokers in Mongolia, for which he is serving as principal investigator. The study will test whether a plant-based smoking-cessation aid called cytisine provides affordable pharmacotherapy to help low- and middle-income adult smokers kick the habit.
"Almost 80 percent of the world's 1 billion smokers live in low- and middle-income countries, and have no affordable pharmacotherapy products for smoking cessation," Singh said.