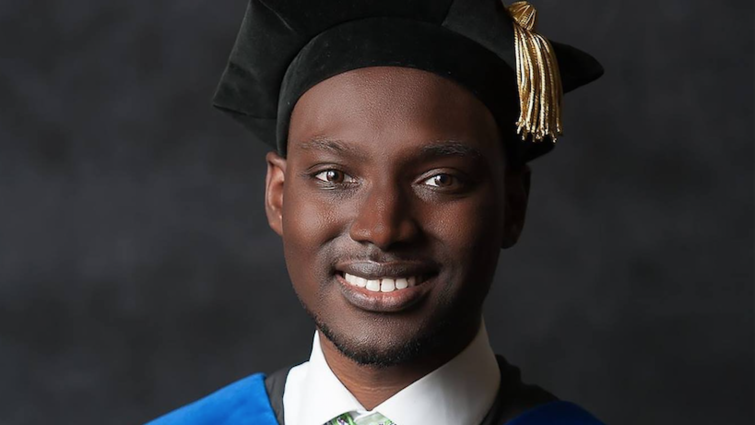 Brandon Dixon received the Loma Linda University President's Award on Friday, May 26, at the School of Medicine's Basic Sciences Consecration and Hooding Ceremony.
Loma Linda University honors one student from each school every year with the award, signifying high scholastic achievement and service in the student community, within the framework of Christian commitment.
After earning a bachelor's in biomedical sciences at Oakwood University in Huntsville, Alabama, Dixon came to LLU to join the laboratories of Dr. Jiping Tang and Dr. John Zhang, where he studied neurosciences.
Dixon focused on therapies to help infants recover from an intrauterine stroke. Results of the study he participated in showed that interferon beta treatment could help reduce damage caused by lack of oxygen to the brain. He also contributed to 18 peer-reviewed published articles.
For his achievements he received an "Outstanding Student Researcher" award and a Neuroscience Scholar Associate Fellowship among other awards.
Other students often chose him to serve in roles at both local and national levels of the Student National Medical Association because of his strong leadership skills. 
While at Loma Linda University, he was a volunteer tutor to inner city youths at a local church, and organized student events on campus. Among them was the St. Baldrick's Head-Shaving annual fundraiser for research and treatment of cancer in children.
He credits his drive to excel and help others to the love and encouragement of his parents, Roy and Ada, and his wife Nichelle.
Dixon has met every challenge with gratitude and good humor. In 2013 he was deeply immersed in his studies and hadn't had time to blog for a while.
"Contrary to popular belief, I am still alive," he wrote in an April student blog post that year. "Although the semester may have been difficult at times, I really thank God for leading me and guiding me through it."
Early in his university medical training he faced a long, drawn out first examination. He shared his thoughts on the test at the time on his student blog.
"The teacher did warn us that the test would be pretty long," he wrote. "But when he wrote '3 hours remaining' I never imagined the test would really be four hours long!"
Dixon dove into the test with the same high energy and enthusiasm he has shown in all of his life's endeavors. "Surprisingly there was a smile on my face at the end. 'It's over now … and I did my best' was what I remember thinking."
Dixon is currently continuing his research as a physician scientist at Medical University of South Carolina.