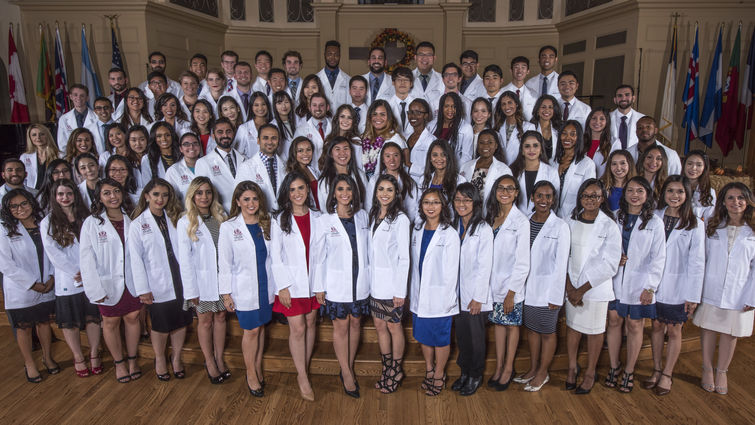 There was an excitement in the air at Campus Hills Church on November 10 as countless cameras, smartphone selfies, and the friends and families of 81 first-year students eagerly awaited the gift of the evening.
Each of the class of 2021 students of Loma Linda University School of Pharmacy were to be adorned with a white coat — a symbol of their upcoming education and career in health care.
Linda Williams, MS, associate dean for the School of Pharmacy, welcomed the full congregation to the celebration.
"This ceremony is a special event for these students because it is tangible evidence of their commitment to a profession in pharmacy," Williams said. "These students come with a common desire — to study in a faith based institution whose motto is 'to make man whole.'"
Williams said the new class comes from varied backgrounds and 16 countries, from Cuba and South Korea to Mexico and Trinidad and beyond.
Each student was coated by a faculty member of the School of Pharmacy and received the gift of a Bible from Noreen Chan-Tompkins, PharmD, dean of the School.
"The white coats are symbolic of professionalism and reaffirming of the community support that prepares these future pharmacists for their careers that are ahead of them," Chan-Tompkins said.
As they walked off stage, students each signed a poster showcasing the pharmacy professional pledge.
The class was then led by class president Nabhan Jankeel in the reciting of the pledge, in which they promise to help their "patients achieve wellness in every aspect of their lives," and to devote time to their communities through service because "compassion comes with experience.
Of the next four years, Jankeel said he is hopeful that the class of 2021 is successful.
"I want to start new activities that encourage students to relax and meditate after their classes," Jankeel said. "I look forward to working with the students to build a safe and strong learning community."