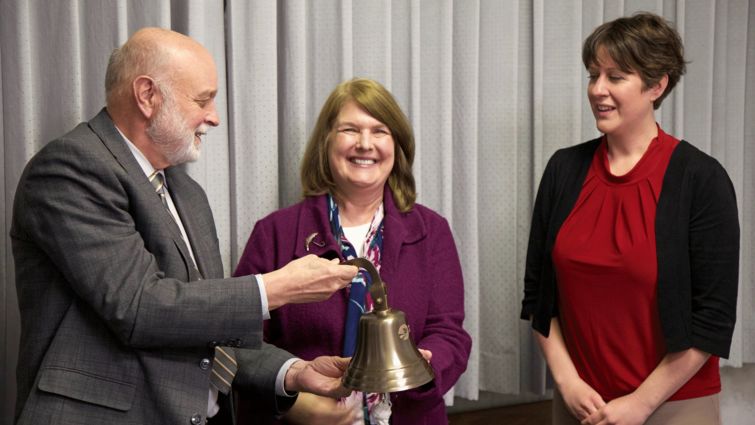 A gift from the Peace Corps made a resonant and ringing impression when Richard H. Hart, MD, DrPH, president of Loma Linda University Health, presented it to officials of the School of Public Health during President's Council on Wednesday, Feb. 13.
The gift — a bell weighing approximately 6 pounds and measuring 10 inches tall by 6 inches wide — was sent from the Peace Corps' Washington, D.C. headquarters on Feb. 5 with a letter from La'Teashia Sykes, MSW, director of the Corps' office of university programs.
Hart said the collaboration began approximately 20 years ago when the Corps contacted him to propose a partnership involving discounted tuition for returned Peace Corps volunteers who wanted to obtain a master of public health degree.   
Hart added that the arrangement attracted a special type of scholar. "These are students who come back, usually with some incredible experiences at the ends of the Earth," he said.    
Hart read the letter from Sykes in which she expressed appreciation for the university's long-standing participation in the Paul D. Coverdell Fellows partnership. The letter also explained the significance of the bell.
"One cherished tradition in many Peace Corps countries is the ringing of a bell at a volunteer's Close of Service. It signifies completion of a volunteer's service assignment and forthcoming transition back to home and life in the U.S. Thank you for investing in our volunteers as they return home and preparing them to transition into their professional careers," Sykes wrote.
The Coverdell Fellows program places returned Peace Corps volunteers in internships at underserved communities in the United States in exchange for financial assistance in graduate school. The Corps says more than 5,000 returned volunteers have participated in the program nationally.
Helen Hopp Marshak, PhD, dean of the School of Public Health, said the school also participated in the Peace Corps' master's international (MI) graduate school program, which was launched in 1987 to pair graduate students with Peace Corp volunteer opportunities in this country in return for educational assistance. Although the Peace Corps officially retired the MI program in 2016, Marshak said the Coverdell program continues at the school today.
In addition to Hopp Marshak, Hart invited Marci Andersen, MPH, the school's practicum director, to come forward and receive the bell. Since Andersen is in charge of the collaboration between the Peace Corps and the school, Hart invited her to give the bell its first ring.