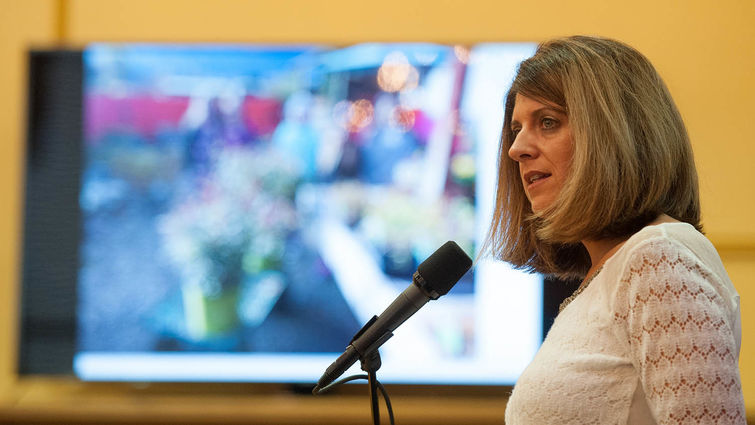 Educational leaders from the Oregon Conference of Seventh-day Adventists visited Loma Linda University Monday to thank executives for a group training program for school teachers that boosts the delivery of STEM instruction, an initiative that local church leaders say has helped stabilize enrollment in denominational schools and boosted instructional enthusiasm.
Nearly 800 K-12 teachers have been trained in over the past seven years through the Loma Linda University program, called Excellence in STEM Experiential Education (EXSEED). Instructors have taken part in numerous hands-on workshops, offering mission-focused and integrative activities that can be implemented in their own classrooms.
EXSEED enhances integrated science, technology, engineering and math (STEM) education in Adventist K-12 schools by bringing together teachers for one-week training sessions during the summer. The goal of EXSEED is to support and empower K-12 educators to apply the STEM disciplines within a mission-focused learning environment.
Gale Crosby, MS, vice president of education for the Oregon Conference, has worked closely with Loma Linda University to challenge teachers in the Adventist school system to help prepare their students for careers in the medical, science and technology fields. The impact is already visible, even after just two years of participation, Crosby said.
"Following our conference participation in EXSEED, enrollment has stabilized in our schools and our churches are showing signs of growth," Crosby told a group of Loma Linda University executives, deans and faculty on Monday.
Crosby proudly introduced members of his team and teaching staff as they shared the progress of project-based learning, problem-based learning and how the EXSEED program has impacted their students and the classroom.
Former participants and their students shared how they have applied what they learned.
Angela White, associate superintendent for the Oregon Conference, touched on the importance of their instructors incorporating the four c's—critical thinking, creativity, communication and collaboration. She reminded the group that learning has to be a constant for students and that the greatest student outcomes result from collaboration.
"Every child in the classroom matters," White said. "We have to ensure every student has learned what they personally need to learn to be the maximum person God created them to be."
Some of the project-based learning opportunities Oregon has incorporated include ergonomic living, farm-to-table, playground design and building, earthquake preparation, services for homeless teenagers, and numerous parents' nights out to see presentations highlighting what their children and peers are learning.
"We're opening a world of possibilities for our students with the help of EXSEED," said Elizabeth Ann Fish, teaching principal at McMinnville Adventist Christian School.
Fish incorporated the STEAM approach to learning at her school and presented to Loma Linda University leaders wearing a conductor's hat to emphasize how her teaching staff are ready to move "full steam ahead" in helping their students achieve success in science, technology, engineering, art and math. This is the second year Fish has implemented a Family STEAM night for both students and parents to get engaged.
Heidi Kruger, principal and 6-8-grade teacher at Riverside Christian School shared how her students embraced new project-based learning activities, including outdoor building and gardening, building interactive floats of the 50 states, dressing up as famous characters and "menu" book reports.
"It helps me to be a lot more creative," said one middle school student who talked about the fun she's been having with her classmates working on collaborative projects and a new, fun way of thinking about book reports and other essays.
Richard H. Hart, MD, DrPH, president of Loma Linda University Health, said EXSEED is a way to integrate the education resources of the Adventist Church that can benefit a variety of schools, such as the two-room school he attended in Northern Idaho as a child.
"There are still a lot of schools like that, and they are still just as much a part of the Adventist educational system as everyone else," Hart said. "We're wanting to empower teachers to teach STEM who may not have that strong of a background in those subjects."
"Our goal is to have the entire system working together to train our young people," he added. "Careers in STEM are developed as early as the sixth grade."
Attendees of Monday's event included Hart, other executives, faculty, five school deans, and Ron Carter, PhD, Loma Linda University provost, who opened the meeting. 
"Loma Linda University and the EXSEED program have been in a partnership that has focused on a special week during the summer that typically focuses on the sciences," Carter said. "With the Oregon Conference of Seventh-day Adventists, we were able to have a comprehensive group of teachers and a third of pastoral staff to focus on STREAMS. STREAMS integrates the arts, religion and service with STEM and provides an integrated approach to obtaining 21 Century learning skills."
The EXSEED program received significant philanthropic support from Tom and Vi Zapara, said Rachelle Bussell, MA, CFRE, Loma Linda University Health senior vice president for advancement. Tom Zapara was also in attendance at the meeting on Monday. Zapara, a life-long learner, encouraged the Oregon leadership group and EXSEED planning group to continue innovation and stay faithful to the mission of Adventist education.
"The Zapara's have had a lifelong concern for nurturing and encouraging K-12 teachers," Bussell said. "Their philanthropic support has created a teacher support program that is a model for the Seventh-day Adventist Church, and by extension, can be such to many school systems."
For more information about EXSEED, visit llu.edu/exseed or email exseed@llu.edu.