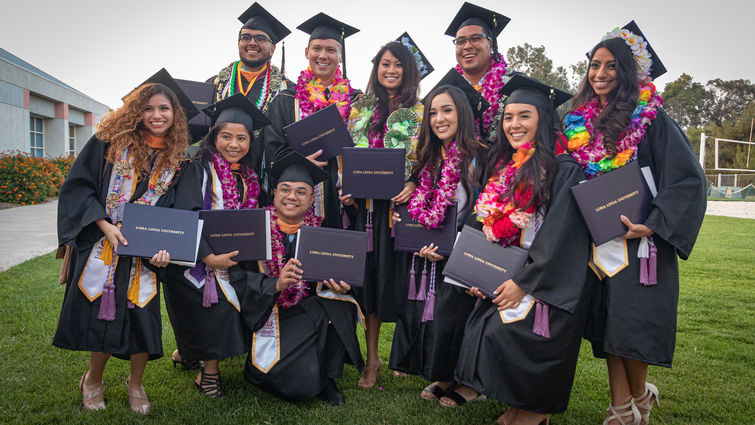 Loma Linda University School of Nursing graduates collected their degrees at a commencement ceremony on June 16, with their families cheering them on from the audience. The class of 2019 graduates received bachelor's, master's or doctoral degrees. They are the 113th class to graduate from the school since its founding in 1905. 
The academic procession began as the crowd of families and friends found seats and students enjoyed their few final moments together before starting on the next chapter of their lives.
As the graduates began to file into the Drayson Center, the University Church Brass Ensemble began a prelude. Ronald L. Carter, PhD, University Grand Marshal, carried the university mace ahead of the members of the President's Party and and LLU Administrators. 
Commencement speaker Keri K. Medina — who serves as an assistant professor for the school, said "We chose nursing because we have the heart of one. Because we can change the world."
Medina also urged graduates to step up and become part of a greater, world-wide nursing family. "Find a mentor or two from within this nursing family to help you thrive, and also be a mentor to one or two others, so that the family will continue to grow," she said.
Qualities of service, academic excellence and innovation were celebrated in a number of graduates who received awards during the ceremony:
• Dean's Award, Undergraduate Degree: Joel Larsen.
• Dean's Award, Graduate: Ye Ji Shin.
The President's Award — the highest honor a school can give to a student — was given to Cherie Pefanco, who graduated today with her PhD in nursing. Pefanco came to the United States from the Philippines in 2004 to study cardiovascular nursing. Pefanco worked as a resource nurse and then joined the Community Regional Medical Center in Fresno, known in part for its high volume of cardiovascular surgical cases. Pefanco worked with state, national and international experts in cardiac surgery risk prediction, becoming a trailblazer in risk prediction modeling in cardiovascular nursing. Pefanco has displayed excellent academic performance, passion for innovation and genuine interest for growth. 
After the awarding of diplomas, Undergraduate Senior Class Co-Presidents Joel Larsen and Louiedette Maling led the graduates in the nurses' pledge, which said in part: 
"I will do all in my power to make and maintain the
highest standards and practices of my profession.
I will hold in confidence all personal matters committed
to my keeping in the practice of my calling.
I will serve as a loyal member of the health care team
and will devote myself to the welfare of my patients, my
families, and my community."