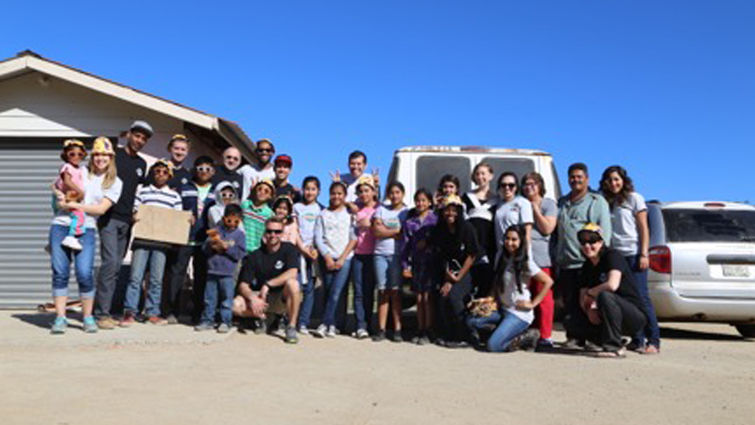 At 4:30 a.m. on Feb. 27 a group of Loma Linda University Health students and faculty, piled into two eight-passenger utility vans outside of the Councilors Student Pavilion at Loma Linda University Health.
Where were they going so early in the morning? Mexico. To the Mount of Olives Children's Village in Ejido Urapan Ensenada, to be exact.
For many years Loma Linda University's Students for International Mission Service (SIMS) offered students the opportunity to not only take part in short-term mission trips ranging from one week to three months, but also the option of going on weekend trips to Mexico.
The trips were put on hold in 2010 when travel warnings were issued for Mexico due to safety concerns and drug cartel activity. But today, upon completing multiple site assessments and receiving Loma Linda University Health administrative approval, SIMS has made plans to restart the trips and rekindle the relationships that were built so many years ago.
For this first trip, students and staff scouted a variety of locations. The group of 14 joined together to observe, take part in church services, play with the children of the village and determine the needs of the surrounding area while also completing a site assessment for future trips.
"We hope that by re-establishing our partnerships in the Baja California area of Mexico, we can provide amazing opportunities for those students and staff who cannot necessarily afford to take a week, month or year off to experience service learning," Ed Drachenberg, director of SIMS, shares. "We want to reignite the flame that we once had with the SIMS Mexico mission service trips, and this scouting trip is just the beginning."
The trip was a success, according to Drachenberg. The group was able to work together to connect with the local community and determine the needs based on conversations, observations and meetings with community members and facilitators at the Mount of Olives establishment.
"I was so happy when I heard that this trip was approved and many more Loma Linda students will get a chance to serve at this incredible site," says trip participant Arti Desai, MPH, a student in Loma Linda University School of Medicine as well as Loma Linda University Student Association president. "I strongly believe that my school and program can benefit from this trip by serving as mentors, advisors, friends and supporters of these children along with providing care, counseling, ministry, and assistance in program implementation when and if the need arises for education or awareness on relevant topics."
The Mount of Olives staff spoke on behalf of the community and indicated that the need for SIMS services is both desired and welcomed. They expressed that by providing recurrent assistance, these trips could bring about community resilience and contribute to overall positive health outcomes.
SIMS is well underway with planning upcoming trips, with the next departures taking place in August and September.
To learn more about these trips and more, please visit lluglobal.com/SIMS and see how you can experience service.