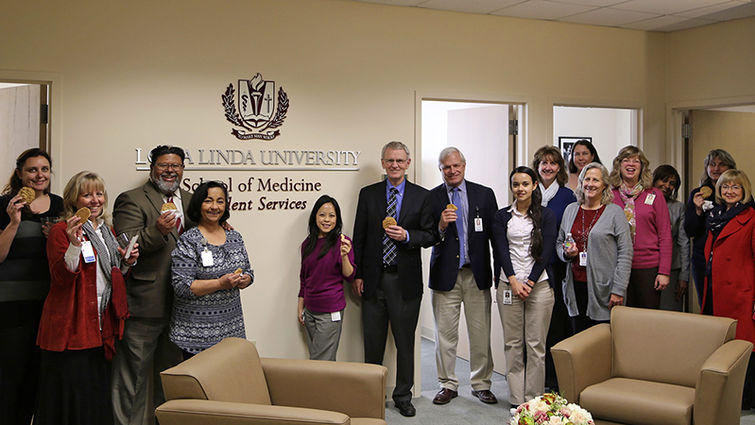 The grand opening of the new Student Services Center of Loma Linda University School of Medicine, held on Wednesday, May 30, in Room 1113 of the Coleman Pavilion, highlighted the fact that students will now be able to access a host of important services in one location.
A new distance-learning center will allow them to connect with other students for group study sessions using the new Zoom video conferencing technology. Zoom will also allow students to receive one-on-one or group tutoring from qualified instructors in any part of the world.
The center also brings together the offices of four individuals with unique expertise to offer students: Daisy De Leon, PhD, assistant to the dean for diversity; Daniel Wongworawat, MD, assistant dean for career advising; Loretta Johns, PhD, assistant professor for medical education; and Ingrid Wahjudi, MD, director for academic achievement.
According to Roger Hadley, MD, dean of the School of Medicine, having the four faculty members together in one place makes it a lot easier for students who no longer have to go to several different locations to meet with them.
"Dr. De Leon's new office represents the first time we've ever had an official diversity office in the School of Medicine," Dr. Hadley observed. "And each of the other offices are just as vital to meeting student needs. Dr. Wongworawat counsels students on selecting a medical specialty that best suits their interests and abilities, Dr. Johns, our learning specialist, helps students maximize opportunities through a variety of tutoring and counseling services, and Dr. Wahjudi specializes in helping students learn better ways to study more efficiently. Put them all together in one place and we think this represents a real step forward for our students."