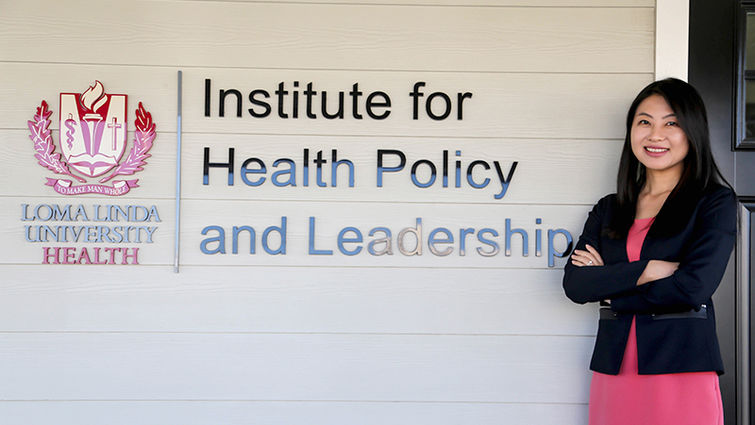 Wonha Kim, MD, MPH, has been appointed director of Loma Linda University Health's Institute for Health Policy and Leadership. She began her service in January 2017, after serving for two years as the Institute's senior research scholar and then for a year as the Institute's associate director. She succeeds Gerald Winslow, PhD, who was the Institute's founding director in 2012.
In her new role, Kim plans to continue the Institute's mission of providing education, leadership and research regarding policies aimed at preventing disease, promoting wellness and restoring human wholeness. At the same time, she sees the Institute's work as being focused on research and education rather than advocacy. 
Currently the Institute has three major strategic initiatives—oral health, hunger as a health issue, and integrating mental and behavioral health into overall health policy.
"We are able to bring together scholars from across the campus to contribute to our work in these areas," Kim said. "The Institute has a Faculty Scholars Program, which brings full-time faculty from different Schools on campus to engage in dialogue and collaboration." Currently 11 Loma Linda University Health faculty members serve as Scholars in this program.
"Our mission is to serve the whole LLUH entity," Kim said. "This allows us to tap into the various talents that are here. We also have a great team here at the Institute."
One of the Institute's early initiatives was a program to educate health care providers about the Affordable Care Act and the Covered California health insurance exchange program. An outgrowth of that early education effort has been the establishment of regular "Spotlight on Health Policy" programs held at least three times per year on the Loma Linda campus.
"It's important that our campus population is aware of these significant health policy issues," Kim said. "Our programs have included information about California's End of Life Option Act, recent ballot initiative that legalized marijuana, and integration of mental health into primary care among other topics."
The Institute regularly produces publications, policy briefs, and other documents on significant health issues which are available on the resources page of the Institute website. They also publish a blog to raise awareness about relevant health policy topics and conduct conferences with community leaders. Much of the Institute's output can be found on their website.
Along with her role as Institute director, Kim is Assistant Professor of Pediatrics and of Preventive Medicine in the Loma Linda University School of Medicine and Assistant Professor for the School of Public Health. She earned her medical degree from Johns Hopkins University and obtained her masters in public health at the Johns Hopkins Bloomberg School of Public Health. Her undergraduate degree is from Princeton University's Woodrow Wilson School of Public and International Affairs.
As she was completing her post-graduate work at Hopkins, Kim was anticipating serving the Seventh-day Adventist Church internationally. Those plans changed—at least for the time being.
"A woman promoting support for international orphanages visited my local church in Baltimore," Kim recalled. "After that visit, the woman connected me with Dr. Hart because of my interest in medical missions."  While very much aware of Loma Linda University, Kim had not considered moving to California as an option.
"But you know how Dr. Hart is," Kim said. "Very persuasive." Hart had the heads of the pediatric, preventive medicine, and public health areas contact her. Then she received a phone call from the head of the Institute for Health Policy and Leadership. After talking to Winslow and praying about it, Kim said, "I felt God wanted me to do this."
Clearly, Kim's days are full as she teaches, sees patients and provides leadership to the Institute. But her dream of serving internationally is still something she sees in her future.
"God has a special plan," she said. "I've realized that while I'm here at Loma Linda, I am creating a network and meeting people who have a similar vision. What I'm doing for Loma Linda is part of my path to becoming a medical missionary."