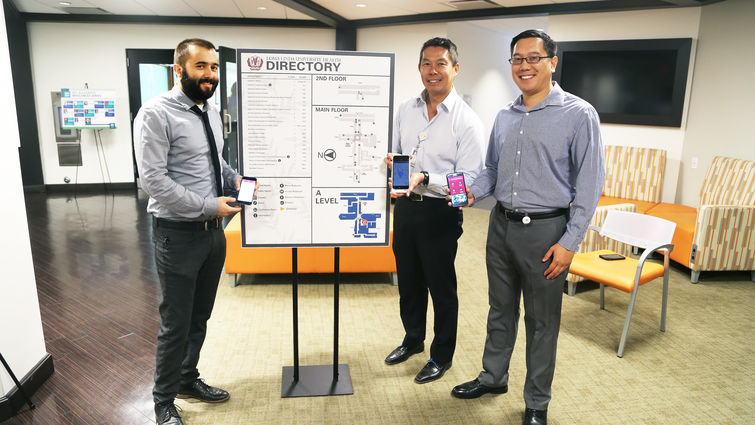 For decades, students, faculty and guests have found it challenging to navigate one of Loma Linda University Health's most intriguing buildings — Nichol Hall.
"When I was a student," says a recent School of Public Health graduate, "some of my classes were at night. In Nichol Hall it wasn't easy finding the way to class for those who weren't very familiar with the building."
The maze of hallways and peculiarities that make up the historic building are a result of two additions to the original structure that once housed the first Loma Linda University hospital according to historian Richard Schaefer, who has studied the origins of many of the buildings on campus. In fact, locating a classroom in the 1953 section requires going through a room built in 1924. And that's after entering Nichol Hall, going down a floor and attempting to follow room numbers that rise before suddenly, without explanation, going the opposite direction.
The history is fascinating ­— Loma Linda University Health was just a teen in 1920. That year the 19th amendment, providing for women's suffrage, was adopted into the U.S. Constitution, and in November, mass media was born when the first commercially licensed radio station began broadcasting live results of the presidential election.
The same year, medical students at Loma Linda University, determined to escape the unrelenting summer heat, were given permission to build a swimming pool on the hill that is the highest point on campus. The hill is now home to Nichol Hall.
According to Schaefer, they both funded and built Loma Linda University Health's first swimming pool, on the south side of the building that is now Nichol Hall. The pool was an upgrade from a local irrigation reservoir that had served as the students' previous swimming place.
Helping to complicate today's arrangement of classrooms and labs that students in the Schools of Public Health and Allied Health Professions now use was the construction in 1953 of a clinical lab building where the swimming pool had been. Separate from Nichol Hall, the old lab building now houses the School of Allied Health Professions' department of nutrition and dietetics and the Center for Leadership in Health Systems for the School of Public Health.
Then, in 1928, construction began on the 200-foot-tall middle section of the building. It was completed in 1929 and when it opened, the building was renamed Loma Linda Sanitarium and Hospital.
In 1948, construction on the east wing of Loma Linda Sanitarium and Hospital was completed. In 1949, patient care in the facility began. That same year the antibiotics oxytetracycline and neomycin were developed and the first Emmy Awards were handed out.   
"According to Loma Linda University board minutes of Nov. 7, 1968," says Schaefer, "the old Loma Linda Sanitarium and Hospital was renamed the Francis D. Nichol Building — present day Nichol Hall."
An era ended in 1970 when patients were moved out of Nichol Hall (some in moving trucks), into the new facility which was then named Loma Linda University Hospital. Groundbreaking for the familiar cloverleaf building where Loma Linda University Children's Hospital and University Hospital/Adult Services are now located had taken place in 1964 with grand opening tours held during commencement weekend, 1967.
According to Nicholas Yu, mobile wayfinding pilot project manager, Loma Linda University Health, new technology, with the increasing use of smart phones is making it possible to provide a new way to help visitors navigate the building. The process has been overseen by a wayfinding task force.  
"Nichol Hall," says Yu, "was selected for its size, dense population of students and faculty, and complexity to navigate."
After reviewing the top providers, Phunware, who provides services to health care, retail and sports and entertainment companies, was chosen. After a process that included collecting information about Nichol Hall including photos and installing a series of Bluetooth low energy (BLE) beacons placed in the hallways of Nichol Hall to triangulate users' indoor location, the app was ready for its debut on the first day of class for the Schools of Allied Health Professions and Public Health. Marcus Chapman, director of communications, School of Public Health, assisted with the project and took dozens of photos that are now being used to help users find the classroom, lab or office they are looking for.
According to Yu, the app is being tested through Nov. 17. If it is successful, it may be implemented in additional areas on campus, including Loma Linda University Medical Center.
Helen Hopp Marshak, PhD, dean, School of Public Health, is pleased. "We are excited to have this wayfinding technology in Nichol Hall for our students, faculty, staff and visitors," she says. "Our building houses two schools at the University and has gone through many changes over the years, making it challenging to figure out where to go, even for longtime employees. This mobile app was ready to use this fall term with our incoming students, helping them to more easily find their classes, service and instructor offices during their first week of school. We were glad to be part of a pilot site for this project, and look forward to seeing this technology expanded for the entire campus."
Kent Chow, Marcus Chapman and Nicholas Yu are excited about the possibilities made possible by the new technology. "Wayfinding is the art of orienting and directing people to where they need to go using a variety of tools such as maps, signs, cues and mobile apps. Our goal is to have a seamless enterprise solution that combines scheduling and directions in a single application for patients, employees and students alike." Chow is a member of the wayfinding committee, and is financial officer for School of Allied Health Professions.
"The purpose of our pilot is to demonstrate the technology, learn from our experience, and start crafting a mobile wayfinding strategy for the entire campus.
"Our dream is to have a robust app that will help guide our customers all the way from their homes, through campus, parking, entrances, stairs and end directly where they need to be. All in real-time. The next phase is to add a campus map to help minimize the stress of finding the appropriate parking lot and finding the right building."
Note: The Wayfinding Committee at Loma Linda University Health formed in 2012 with an estimated eight-year commitment. The organization's plan for wayfinding included an internal/mobile piece that could be implemented as a pilot. While the School of Allied Health Professions initially agreed to fund the pilot, chief information officers for Loma Linda University and Loma Linda University Medical Center joined the pilot.