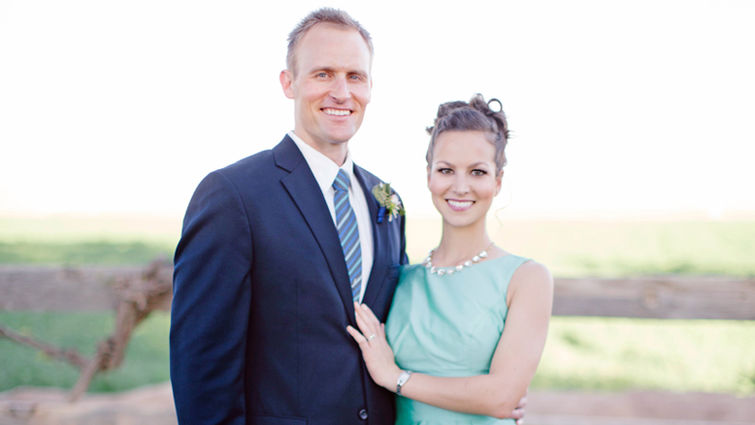 As Michael Cooley, 2016 President's Award recipient for the School of Dentistry, researched various professions, "One of my biggest priorities," he says, "was always to have a family. I wanted to choose a field that would allow me to spend time with my family."
While no one in his immediate family works in health care, Cooley began to explore medical careers. "First, I shadowed doctors," he says. "I also talked to my future father-in-law, a dentist." When Cooley discovered that dentistry had made it possible for Rich Burkholder, DDS, to spend time with his children, "I shifted focus," he recalls. "I began to volunteer in a dental clinic."
Cooley, who had been a college football player, applied to Loma Linda University (LLU). "When my girlfriend, Nasira Burkholder-Cooley, learned that LLU is only one of two universities in the Western United States to offer the doctor of public health degree in nutrition, she applied to the School of Public Health." The couple married after she entered the program in 2012.
Cooley, who had been raised in a Christian home and had attended Christian school from kindergarten through high school, wasn't immediately accepted to Loma Linda University School of Dentistry. The high achiever, who had received Chapman University's Biological Sciences Academic Scholarship and the Academic All-American Award, as well as the Scholar-Athlete Award from National Football Foundation & College Hall of Fame, remained determined to attend Loma Linda University.
When he wasn't granted an interview, Cooley remembers calling the admissions office weekly; he also attended the school's Careers in Dentistry program and scheduled visits with the school's admissions office. As the 2012 school year began, "I'd been accepted to University of Southern California," Cooley says. "Their program begins one week before Loma Linda's. Three days before starting school at USC I received the call that I had been taken off Loma Linda's wait list."
After verifying that Loma Linda University had accepted him, he notified USC of his decision.
The first day of dental school, during orientation, the class of 2016 learned that on average the GPA of first-year dental students drops by a half a point. "The faculty were doing their best to impress upon us how serious dental school is," he says. "I made it a point not to let that happen; I made the most of my time during the four years of dental school." He would go on to earn a higher GPA in dental school than he had during his undergraduate studies. "The faculty provide a strong support system," he says. "They understand because they've been there themselves."
At Loma Linda, I remember sitting in class thinking 'how fortunate I am to be in a place where professors pray before class, at the postgraduate level.'Michael Cooley
Once a week during the third and fourth years of dental school, he joined dental students volunteering in Compassion Clinic, providing dental service to the homeless in Riverside and San Bernardino. The clinic is student-led, and Cooley became part of the core group of student leaders. He recalls the words often spoken at the clinic by one of his mentors, Mark Carpenter, DDS, assistant professor, dental education services: "We treat patients as if we are treating Jesus Himself." "That's what it is all about," says Cooley. "At Loma Linda, I remember sitting in class thinking 'how fortunate I am to be in a place where professors pray before class, at the postgraduate level.'"
Cooley received the President's Award from Richard H. Hart, MD, DrPH, president, Loma Linda University Health, during the School of Dentistry senior banquet on May 18. "I love dentistry with its combination of art and medicine, and interacting with people," he says. "It is a wonderful balance."
Cooley is humbled by the recognition. "Many in our class deserve this award. We feed off of each other's strengths." After receiving his DDS degree on May 29, he will join his father-in-law's dental practice, and looks forward to spending his spare time outdoors, playing football and working out and gardening.
Cooley is married to Nasira Burkholder-Cooley, a classical ballet dancer for 14 years, having danced with the Pacific Northwest Ballet in Seattle, Washington, and the University of Arizona School of Dance in Tucson, Arizona. She will graduate on June 12 with a doctoral degree in nutrition from the School of Public Health where she will receive the Dean's Award. Burkholder-Cooley is owner and registered dietitian of Nasira's Nutrition Kitchen; she serves as consulting dietitian for Fashion Isle Smiles dental practice and a medical weight loss center. She has a passion for nutrition research, education and counseling, and conducted research as part of the Adventist Health Study-2 while attending LLU.