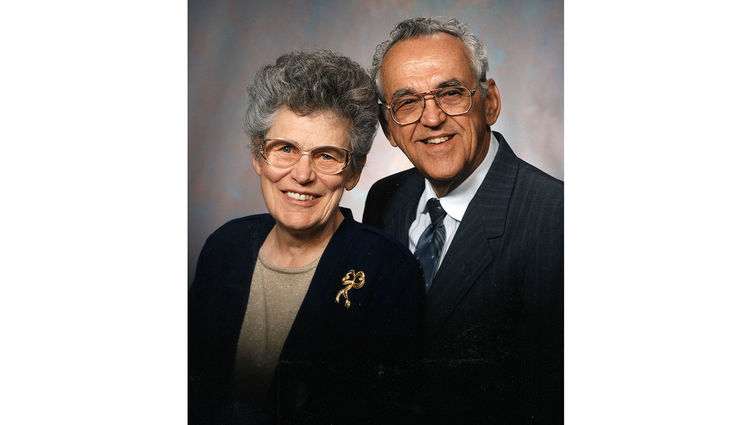 William C. Swatek, MD, a physician and philanthropist who donated to numerous projects at Loma Linda University Health, including the funding of what became the Swatek Anatomy Center in Centennial Complex, died on Oct. 13. He was 97.
In addition to the anatomy center, Dr. Swatek and his late wife, Rose Larson Swatek, contributed to the establishment of the Founders Plaza and other campus projects, and endowed several scholarships at the schools of Medicine and Nursing.
Shortly after his 1949 graduation from the College of Medical Evangelists (the precursor to Loma Linda University School of Medicine), Dr. Swatek made a promise to his brother-in-law, the late Raymond Ryckman, PhD, former chair of microbiology at the School of Medicine. "Someday, I'm going to come back and show my appreciation to the school," Dr. Swatek vowed.
He kept his word. The Swateks began donating to Loma Linda University Health in 1986.
"Their generous support will impact this institution for generations to come," said Richard H. Hart, MD, DrPH, president of Loma Linda University Health. "Their transformational gift for the Centennial Complex came at a time when this building was just a dream in our minds, and it was the critical impetus to push forward. Bill and Rose were hardworking, unpretentious, and were committed to the values of Loma Linda University Health."
William Cyril Swatek was born January 10, 1920, in St. Louis, Missouri, and decided in his teens that he wanted to become a doctor. His father squelched the idea, however, insisting there was no money for higher education.
Undaunted, the young Dr. Swatek refused to relinquish his dream. Shortly after graduating from high school, he found a Reader's Digest article about three colleges in the South that allowed students to work their way through school. When the first two turned him down, Swatek applied to the third, a Seventh-day Adventist college in Madison, Tennessee. He was accepted and spent a year-and-a-half there before transferring to another Adventist school in Chestnut Hill, Tennessee.
In the early 1940s, Dr. Swatek was inducted into the U.S. Army and assigned to the medical laboratory. While in the Army, he passed the national board in medical technology and applied for a government project to sponsor promising students into medical school. He was later ordered into the pre-med program at Stanford University.
When he completed that program, Dr. Swatek transferred to the College of Medical Evangelists to begin medical school. He and Rose married in 1946.
Dr. Swatek finished his studies in 1948, but in those days, diplomas were handed out a year later, making him a graduate of the Class of 1949. He took a three-year residency in pathology in Loma Linda, followed by a general internship at Nashville General Hospital in Tennessee. Upon completion of that program, the couple moved to Washington, D.C., where Dr. Swatek was sworn in as a First Lieutenant at the Armed Forces Institute of Pathology. While there, he served as a urology researcher under the tutelage of legendary urologic pathologist, F. K. Mostofi, MD.
For most of the next 40 years, Dr. Swatek enjoyed a long and distinguished career as a pathologist at eight hospitals and county facilities in Maryland, Massachusetts, Michigan and Mississippi. He often joked about specializing in states that started with the letter M.
In 1988, the Swateks returned to Loma Linda, California, with the goal of retiring. However, Dr. Swatek took over a pathology medical office where he continued practicing medicine for an additional seven years before retiring in 1995.
After his retirement, the couple enjoyed spending summers at their cottage on Georgetown Island, near Bath, Maine. Rose liked to garden along the rockbound coast, while Dr. Swatek spent his time doing carpentry and cement work on the property.
Survivors include his daughter, Pam, in Loveland, Colorado, and four grandchildren. He was preceded in death by his son, Claude, in 2014, and wife, Rose, in 2015.
A memorial service is scheduled for Saturday, November 11, at 3 p.m. in the fourth-floor conference room of the Centennial Complex on the campus of Loma Linda University Health. The complex is located at 24760 Stewart Street in Loma Linda.