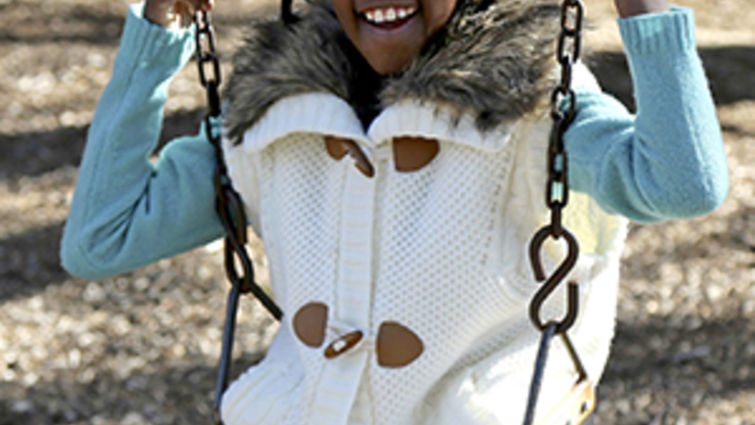 In many respects, Nia Imani is a typical 10-year-old child. She loves her family, loves her friends, loves her church and school, loves playing musical instruments, and just generally loves being a kid.
But in two significant ways, Nia differs substantially from most kids her age. First of all, most kids don't have a professional advocacy organization named after them. Nia does. As spokesperson for the Nia Imani Heart Association (NIHA), she seeks to help other children born with congenital heart defects access helpful health and social services resources to make their plight easier.
Second, despite her youthful innocence and sweet disposition, Nia knows firsthand the effect multiple surgeries and extended hospitalization can have on a kid. Before she was born, Nia was diagnosed with not one, but four serious heart conditions.
"She was born with tricuspid atresia, hyperplastic right ventricle, transposition of the great arteries, and Wolff-Parkinson-White syndrome," Mia McNulty, MPA, MEd, NIHA founder and CEO remembers. "I was six months pregnant when we came in for a consult at the International Heart Institute at Loma Linda University Health. That's when we first met Dr. Bailey."
Nia had her first surgery at the ripe old age of two weeks. "Dr. Bailey, Dr. Razzouk, and Dr. Scott did the operation," Mia shares. "It lasted six hours and afterward, Dr. Razzouk said her artery was in a place where they could fully complete the operation. We were very relieved."
Unfortunately, it would not be her last operation. The second surgery occurred when Nia was six months old and the third came between her third and fourth years of life. She spent her first six or seven months of life in the hospital.
During one of her procedures, Nia required intubation. Since she couldn't speak with the tubes in her mouth, she was taught sign language to communicate.
Fortunately, the surgeries were successful and Nia lives a healthy life today. "She has to go in for a catheterization procedure every three years," Mia adds, "but overall, she's doing very well."
At this moment, Nia is acting uncharacteristically quiet. Instead of her usual outgoing personality, she seems shy today, preferring to hide behind Mia, refusing to make eye contact, and demurring to answer questions directly.
"Answer the question," Mia instructs when Nia says nothing after being asked what she wants to be when she grows up."
Nia, however, just looks at her mom in silence. A moment later, Mia explains that Nia wants to be a doctor.
That gets a quick response from Nia. "A firefighter," she signals by sign language.
Last November, Nia required a fourth surgery—this time unrelated to her heart.
"She had spinal fusion surgery," Mia says, adding that her daughter's reserved demeanor today is due to the fact that she's still coping with the somewhat lengthy process of recovering from the lumbar procedure. "She goes for her three-month post-operative check up the end of this month."
Mia founded NIHA five years ago. In 2014, the group solicited funds and toys for a Christmas toy drive for pediatric heart patients on the Leonard L. Bailey Cardiac Intensive Care Unit at Loma Linda University Children's Hospital. Because of Nia's hospitalization during November of last year, Mia asked Tracie Montgomery, a member of the NIHA board, to spearhead the toy drive in 2015.
"Tracy did a great job," Mia observes. "She launched a massive social media campaign on Facebook and reached out to friends, family members, and members of the community to support the event. Toys began arriving by mail from Canada and throughout the United States. "We want to thank all the people, churches, and schools that got behind this and sent toys or money to make the event such a success," Mia remarks.
"Another board member, Rosa M. Mosely, donated eight handcrafted teddy bears for the toy drive," she continues. "We met in San Bernardino on Friday, December 18, 2015, to wrap toys and prepare 50 Christmas bags."
The evening wasn't all about the work, however. Mia reports that afterward, the volunteers enjoyed warm chili and coconut cake. "The evening concluded with the reading of a poem titled, 'Unlikely Hero.' It was donated to the organization by one of Tracie's colleagues, and everyone received a copy of the poem as a parting gift."
The following Wednesday, December 23, 2015, Mia, Tracie, and Jackie Corina, NIHA president, delivered the toys to the child life department at LLU Children's Hospital. In addition to teddy bears and dolls, the group delivered bicycles, games, and other goodies to brighten the holidays for the kids on the unit.
Jackie and Nia share a very special grandmother/granddaughter relationship. When Jackie arrived a few minutes after the interview started, Nia almost immediately began coming out of her shell. Now, as the party moves outdoors to take photos on the playground, Nia's eyes light up and she suddenly finds her voice.
"Can I sit on the swing?" she asks? As the photographer grants permission, she hurries over and plops down on the seat, smiling from ear to ear.
A moment later, she heads to the other side of the playground to join her mom and grandmother for a photo at the slide. As Johnny Corina, Jr., her grandfather, drives up, Nia waves him over to get in the photo, too.
The four of them hug tightly, revealing the strong love and family solidarity that enabled them to face all the challenges they've endured and come through triumphantly.
When the photographer composes the picture, Nia comes over and gives him a big hug. Once again, the ebullient, positive, and wonderful side of Nia shines forth from the love in her heart.
Whether she becomes a doctor, a firefighter, or whatever she chooses, this little girl is going to make a big difference in the world. As the patients at Loma Linda University Children's Hospital can attest, she already has.