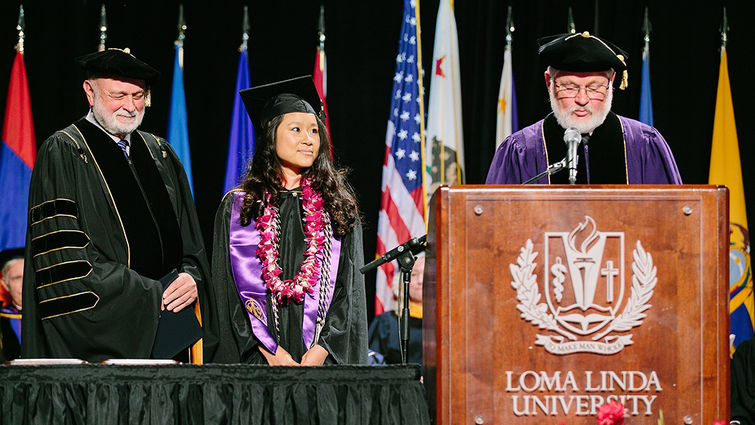 Marissa Lee received the 2018 President's Award from the Loma Linda University School of Public Health in recognition of her superior academic performance and commitment to community service. The award was presented by Richard H. Hart, MD, DrPH, president of Loma Linda University Health, during commencement ceremonies for the School of Public Health on Sunday, June 10.
Each year, Loma Linda University honors one student from each of its eight schools with the President's Award for exemplifying the highest ideals of the university.
In 2017, Lee was named a Duke University Global Policy and Governance Fellow, a position that included an internship at the United Nations Migration Agency in Switzerland. While there, she assisted in the preparation and presentation of documents on tuberculosis among migrant children, and the Libyan refugee health crisis in Tunisia. Recently, she published a peer-reviewed article with the World Health Organization on elderly nutrition.
That same year, she served as health expo coordinator during a Students for International Mission Service (SIMS) trip to Zimbabwe, where she helped develop curriculum and lecture materials and assisted with health screenings, assessments and interventions. During a SIMS trip to Honduras, she provided leadership in nutrition education and medical nutrition therapy for malnourished orphans. 
Closer to home, Lee served as a research-project manager and research fellow at the Institute for Community Partnerships on the Loma Linda University campus. With a focus on improving the health of marginalized and incarcerated populations in Southern California, Lee managed graduate student teams in community-based participatory research, facilitated focus groups, and wrote and presented materials for scientific publications and professional presentations.
As President of the Loma Linda University chapter of the Phi Upsilon Omicron national honor society, Lee coordinated the Operation Christmas Child shoebox drive for Samaritan's Purse, which provides gifts and supplies for the children of developing countries.
Nutrition was not Lee's first choice when she enrolled in the school. But faced with the challenge of making a long-term career commitment, she felt increasingly drawn to nutrition and changed majors her first year. Lee said she is glad she followed her calling to provide nutritional care on a global level and grateful to God for guiding her to LLU and for all the opportunities, blessings and people she has experienced during her time at the institution.