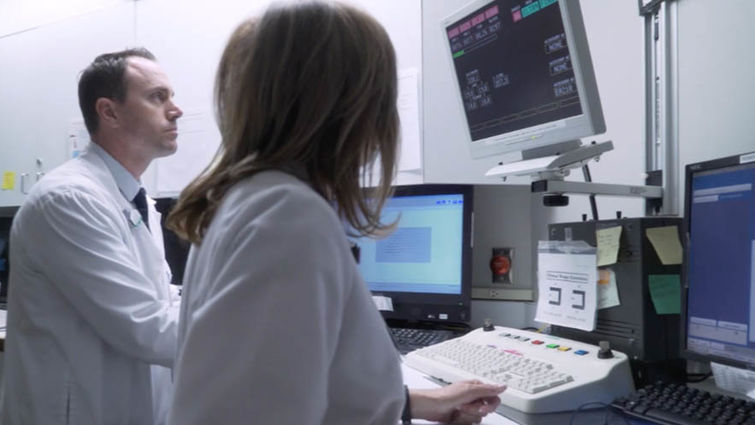 Loma Linda University's School of Allied Health Professions has established a bachelor's degree in radiation therapy to better serve health care professionals in the field of radiology, with incomparable hands-on instruction, progressive technology and the ability to practice proton therapy.
Radiation therapy employs ionizing radiation to treat cancer and control malignant cell growth. It's often combined with other forms of treatment for cancer, such as surgery, chemotherapy and hormone therapy.
Radiation therapists serve as highly skilled professionals, certified at national and state levels. They are required to apply critical thinking, judgement and the ability to work efficiently in various environments, while providing care and support to patients.
"Students are able to rotate through excellent clinical sites and observe the variety of ways that ionizing radiation is applied in the treatment of malignant disease, using advanced technology, such as a proton accelerator," says program director Carol A. L. Davis, PsyD, DrPH, RTT.
Students in the new bachelor degree program learn first-hand proton particle therapy, as well as conventional therapy using linear accelerators at Loma Linda University's James M. Slater, MD Proton Treatment & Research Center. Proton treatment is an advanced form of radiation beam therapy serving as one of the most precise and non-invasive ways to treat cancer. In 1990, Loma Linda University Medical Center became the world's first hospital-based dedicated proton center.
Loma Linda University's radiation therapy degree is either a 24-month or 21-month program (depending on entrance qualifications) composed of both classroom and clinical education. Each week students spend approximately 60 percent of their time with face-to-face coursework, and clinical work and about 40 percent online.
The comprehensive program offers students the opportunity to rotate in multiple affiliate hospitals or clinics for additional hands-on training.
"Our students get a variety of clinical experience throughout the Inland Empire, with over 1,600 clinical hours to meet board requirements," says Dolly Kisinger, BS, RTT, clinical coordinator at Loma Linda University's School of Allied Health Professions.
Applications will be accepted beginning Oct. 1 2017 until April 1, 2018 for the full-time program. There are two ways to apply to the program. I) Non ARRT – The program is 24 months long and is open to qualified applicants with at least an AS degree in nursing, other allied health professions or a natural science. II) ARRT – The program is 21 months long for radiographers who seek additional specialization.
"It's important that students are taught to understand not only the intellectual and scientific aspects of radiation therapy, but also the psycho-social challenges that both patients and staff face when involved in the treatment of cancer," Davis said.
In addition, the bachelor's degree in radiation therapy allows for students to:
Train with expert faculty in a didactic learning environment…
Gain a larger understanding of whole person care…
Network with alumni employed in various clinical sites for guidance.
"The program at LLU provides a multifaceted approach to 'making man whole' while focusing on values such as compassion, integrity and excellence, alongside technological advances of cancer treatment," says Sherita Tate, BA, RT(R)(T) (ARRT), instructor at Loma Linda University's School of Allied Health Professions.
Starting annual salaries range from $85,000 to $105,000 for radiation therapists.
Loma Linda University also offers a medical dosimetry certificate, applying mathematics, physics and the biological and medical sciences to treat cancer. The program is a full-time 15-month program beginning in autumn. It's designed to train students in the discipline of dosimetry within a radiation oncology environment, and prepare for the Certificate in Medical Dosimetry (CMD) Examination.
With a shortage of training programs in the field, the unique program is aimed at increasing the demand of well-trained dosimetrists to meet the needs of radiation oncology facilities in the local area.
For more information, email studyradsci@llu.edu.
Radiation Therapy from Loma Linda U on Vimeo.