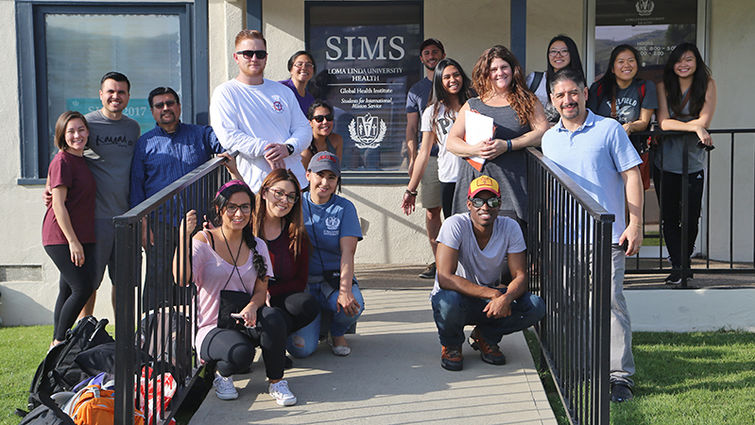 As he looks back at his time at Loma Linda University (LLU) Shawn Smith, a student in the School of Pharmacy, says, "I often tell people that there is no institution I would rather be attending because of the people who practically live out the teaching and healing ministry of Jesus Christ. The experiences I've had here could not be replicated at any other school of pharmacy in the country."
Smith, in his fourth year at LLU, came to Loma Linda after having played offensive line on the football team at a powerhouse program in the heart of football country — Bloomsburg University in Pennsylvania.
At LLU, Smith joined a medical mission trip to Romania. "I was completely humbled by the grace and love of God," he said, "and later trips with Students for International Mission Service (SIMS) to Belize and Brazil continued to produce in me the zeal for the gospel of Christ."
This week during spring break, Loma Linda University students left for short-term mission trips to Brazil, China and Zimbabwe. Next week a group will travel to Mexico.
In 2017, additional SIMS trips are planned for Brazil, Cuba, Ethiopia, Honduras, Madagascar, Mexico, Nigeria, Peru, Sierra Leone and Thailand.
With so many choices and with limited time and personal resources, how do students choose which trip to join?
At Loma Linda University, SIMS has designed student mission trips for four decades. SIMS Director Ed Drachenberg describes the process of planning the short-term missions as intentional.
"Each trip incorporates national standards for best practices for short-term missions," he said, "including the development of well-established, mutually beneficial partnerships at strategic sites around the globe."
Students from the university's eight schools learned about the sites that will be visited in 2017 during International Night. "Presenters at booths answered questions and helped spark the fire of service in the students," Drachenberg said.
At the sites, Loma Linda University students will interact with the community during health fairs, health assessments and care. They will also give presentations that address chronic diseases, including diabetes and cardiovascular disease."
During the SIMS mission trips, individuals in need of further care are referred to hospitals and clinics which have partnered with Adventist Health International.
According to Drachenberg, International Night proved to be so successful that registration for two of the 2017 mission service trips filled within 24 hours.
One of the SIMS trips in June, a group of approximately 50 students and professionals, will travel to West Africa. They will serve at two sites simultaneously, meeting the needs of communities in Jos and Jengre, Nigeria.