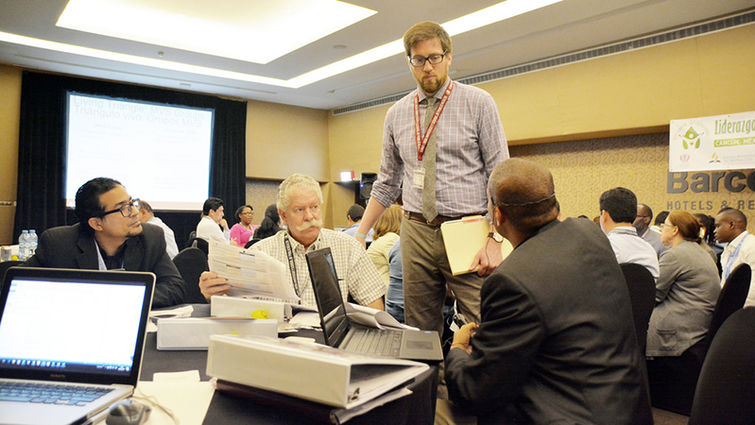 Educators at the Loma Linda University School of Public Health are working to strengthen the management of Seventh-day Adventist hospitals in Latin America through a healthcare leadership development program that was created to strengthen administrative oversight in the region.
A certificate program — which is also sponsored by Adventist Health International, the denomination's Inter-American Division, and Montemorelos University in Mexico — is focused on healthcare leaders in the region who have backgrounds in business, education, finance or ministry, but lack formal education in healthcare administration.
The certificate program brings professional educators and health care leaders from Loma Linda University and Adventist Health International together with participants from hospitals for three, week-long training sessions in Cancun, Mexico — one each in May, July and November.
Elisa Blethen, MBA, program director for the MBA in healthcare administration at the Loma Linda University's School of Public Health and project leader for the certificate program, said leaders are gaining key skills and knowledge that will strengthen the delivery of healthcare in their region.
"It's exciting to see people learning, growing and applying the concepts to themselves and their organizations," Blethen said.
Elie Honore, MD, MPH, MHA, healthcare ministries president for the Inter-American Division, said the program was conceived as part of the Institutional Development program of the division's Adventist Healthcare Services. He also cited its value as a pilot program.
"One very important expectation of this training program is the plan to initiate immediately an undergraduate healthcare management program at Montemorelos University," Honore said.
Honore said the Adventist Church in the division operates 14 hospitals and that administrators, finance managers, and medical and nursing directors from each are attending the classes. There are also 24 additional medical and dental clinics.
The Adventist Church's Inter-American Division includes Mexico, Central America, the Caribbean and the five northernmost countries of South America.
Blethen says Montemorelos University is providing English-Spanish translation services, the division is handling logistics and funding, and Loma Linda University and Adventist Health International are preparing and presenting the curriculum, which is based on a competency model.
Curriculum topics include strategic planning, financial management, human resource management, conflict resolution, communication, cross-cultural leadership and a strengths-deployment tool designed to foster self-awareness and reflection.
In addition to the theory, skills and knowledge integrated into the curriculum, Blethen says the self-awareness and spiritual aspects of leadership have had a profound impact on each participant and team. She also noted that participants engage in online discussion groups and meetings and complete homework assignments between sessions.
Besides Blethen, presenters have included:  
Kevin Carrington, MBA, administrative director of the Neuropathic Therapy Center at Loma Linda University Medical Center
Peter Gleason, PhD, a psychologist and assistant professor at LLU School of Public Health
Rafael Molina, MEd, assistant professor and chair of the digital learning committee at the School
Shaunielle Abreu, Human Resource Director for Loma Linda University Health, and
Andrew Hibbert, manager of business development at Loma Linda University Medical Center.
Blethen says feedback from participants has been positive. Several of them have expressed satisfaction that lessons learned in class are applicable to situations they encounter in their careers. Others have applauded the formation of support networks formed during the classes, which they believe will become increasingly important once the program comes to an end in November. One participant said a session on succession planning was useful in protecting institutions from the void that can occur when a leader unexpectedly leaves.
Blethen said it has been gratifying to see how willing presenters have been to help students work to resolve problems. She cited the example of psychologist Peter Gleason who held an intervention session for a participant dealing with a difficult situation at her hospital. "It was amazing to see how well it worked," Blethen said.
As she looks forward to the final week of classes in November, Blethen says she is happy to be part of the program.
"It is a privilege to make this come to life and become a reality in order to strengthen the healthcare work in the Inter-American Division," she said.