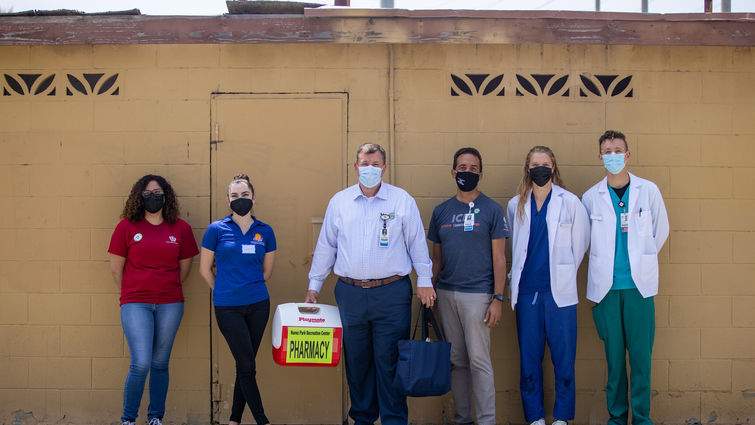 Loma Linda University School of Pharmacy has been recognized nationally for the school's community outreach during the pandemic, receiving the "Rookie Award" at the 10th annual 2021 Medication Adherence Team Challenge.
The award is part of the national Script Your Future public awareness campaign coordinated by the National Consumers League (NCL) with support from its partners and the Challenge sponsors — the American Pharmacists Association (APhA), National Association of Chain Drug Store Foundation, and the National Community Pharmacists Association. The contest saw participation by 78 health profession schools in 13 states, and teams directly counseled nearly 150,000 patients nationwide.
Established in 2011, the Team Challenge encourages health profession students and faculty across the nation to develop interprofessional initiatives and raise public awareness about the importance of medication adherence in improving health outcomes and reducing total healthcare costs. Vaccine confidence and adherence were included in this year's challenge given the anticipated availability of COVID-19 vaccines, which presented an opportunity to address vaccine hesitancy and also improve immunization health literacy.
The challenge leadership team, led by Lisa Hong, associate professor at LLU School of Pharmacy, was composed of faculty and students from the School of Pharmacy, School of Allied Health Professions and School of Public Health. Many other professional programs across campus also took part in the outreach efforts.
An NCL representative said Loma Linda University School of Pharmacy led and conducted "astonishing outreach" for their first year participating in the Team Challenge. During the Team Challenge period, from February to April, the interprofessional LLU team helped alleviate vaccine hesitancy through patient education, distribution of fliers addressing common myths, delivery of vaccine-related information in community food boxes, and creating radio messages in English and Spanish.
In total, the LLU team participated in 15 vaccine clinics and one student-run free clinic for homeless men reaching an average of 1,087 individuals per clinic. At these clinics, their team communicated with the public about their medications and provided medication wallet cards to improve adherence.
Over the course of the Team Challenge, the LLU team successfully counseled over 63,000 patients and inoculated over 60,000 individuals against COVID-19 in their community. The team also observed an impressive high rate of return for the second dose of the COVID-19 vaccine, where 85% and 96% of patients who received the Pfizer and Moderna vaccines, respectively, returned to complete their vaccine series.
Michael Hogue, PharmD, FAPhA, FNAP, dean of LLU School of Pharmacy, said he was proud of the school's achievement during its first year of participation in the Team Challenge. "We are committed to providing opportunities like these for our students, to nurture adherence-minded values in future generations of pharmacists entering the workplace," he said.
American Pharmacists Association Executive Vice President and CEO Scott J. Knoer, MS, PharmD, FASHP, said APhA continues to be impressed by the creative efforts of the student pharmacists and health professional students participating in the Script Your Future Medication Adherence Team Challenge. "In the midst of the COVID-19 pandemic, these students vaccinated thousands of patients and counseled them on their medications and the importance of medication adherence," Knoer said. "The Team Challenge demonstrates the value of interprofessional care in improving patients' health. We congratulate the winning teams and all of the students for a job well done!"