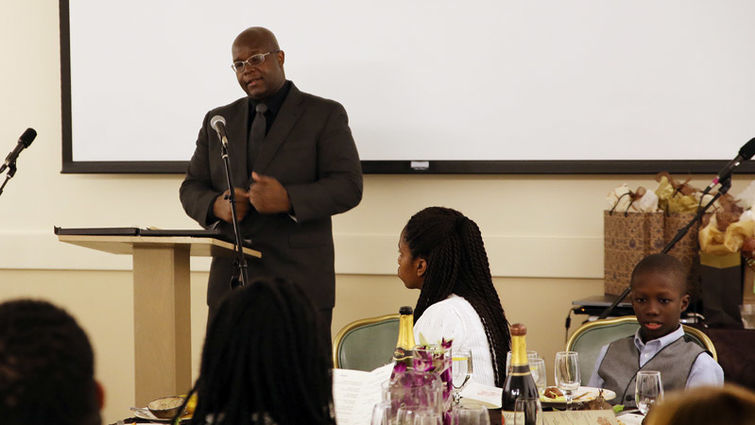 More than 70 students attended the vespers, which was sponsored by the School of Medicine office of diversity.
Joining Roger Hadley, MD, dean, School of Medicine in welcoming the students were faculty presenters Penelope Duerksen-Hughes, PhD, associate dean for basic sciences and translational research; Daisy De Leon, PhD, assistant to the dean for diversity and Marino De Leon, PhD, director, Center for Health Disparities and Molecular Medicine (CHDMM). Also addressing the students were Carlos Casiano, PhD, associate director, CHDMM; Henry Lamberton, PsyD, associate dean, student affairs and Tammi Thomas, MD, vice dean, academic affairs.
The keynote speaker for the evening was Garth Jon Olango, MD, PhD. Olango graduated from the School of Medicine in 2007 and is now practicing child and adolescent psychiatry at Kern Medical Center.
During his presentation, "Peace or pieces, " Olango gave a thrilling presentation about the deeper meaning of several of Christ's miracles, including feeding the 5,000 from a boy's lunch of five loaves and two fish, walking on water and healing the man who was paralyzed at the pool of Bethesda. "You've experienced miracles during your time here at Loma Linda," Olango told the students. "Tests, tuition — don't carelessly grab the gift of an education that you've been given; consider the deeper meaning. You were hungry, you came to Loma Linda for bread; God gave you miracles and responded, 'I am the bread of life.'"
Dr. Olango concluded by saying that graduating from Loma Linda University wasn't the students' first accomplishment, and that it wouldn't be their last. "God gave you miracles, and He will continue to be there for you," he concluded.
Special music for the evening was presented by students including Ivana Alicea, a basic sciences PhD student; Team Praise, a musical group; and Julio Vega and Hiel Rutanhira, basic sciences PhD students.