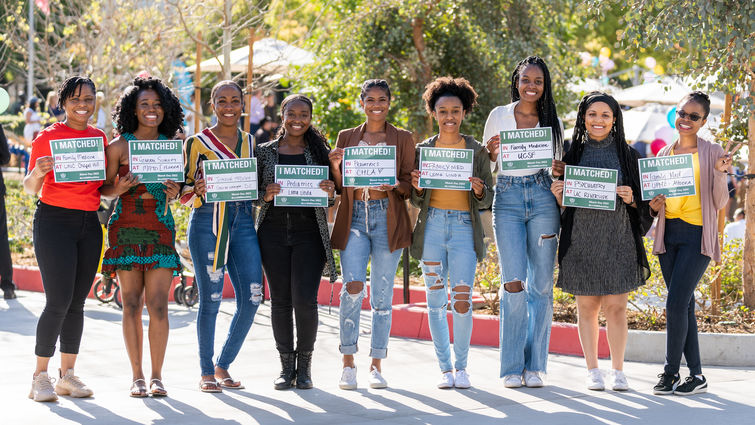 Loma Linda University School of Medicine fourth-year medical students and other future physicians across the country learned today where they will start their residency training after graduation as part of Match Day, held annually on the third Friday in March.
Students from Loma Linda University School of Medicine's class of 2022 will start their residencies at numerous programs across the nation, including AdventHealth Orlando, Cleveland Clinic, Kettering Health, Mayo Clinic Rochester, UCLA, University of California San Francisco, Walter Reed National Military Medical Center, and Yale New Haven Hospital to name a few. 
"I am so proud of our students, and to see all of them match to a position is outstanding," said Tamara Thomas, MD, dean of Loma Linda University School of Medicine. "We are happy for them as they will soon start residency, and we wish them continued success in their specialties."
The first in-person Match Day celebration since 2019 was held on campus, outdoors at the Randall L. Roberts Amphitheater at Loma Linda University Church. The theme was based on the animated film, "Up," and the school deans dressed up as some of the characters.
The program included remarks from deans and student leadership before an official countdown was held to find out where the medical students will be assigned for the next three to seven years, depending on their medical specialty.
At precisely 9 a.m., students opened their envelopes to read letters from the National Resident Match Program to see where they would be spending their next few years training to become surgeons, pediatricians, or physicians in other specialties. 
The future physicians competed for a residency program with 42,000 other students across the country. Kevin Codorniz, MD, associate dean of clinic education, who graduated from the school in 2005, addressed students and their families, saying that 72% of LLU medical students will remain in California and another 44% will work as a resident at Loma Linda University Health. 
Watch a replay of the Match Day livestream on the School of Medicine's Facebook page.