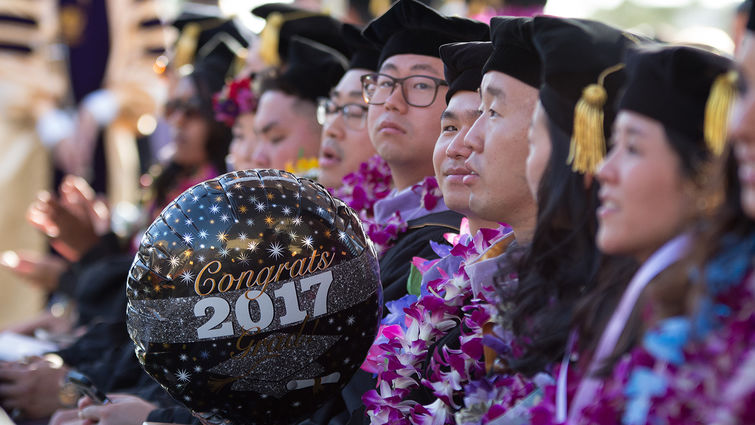 The atmosphere on the Loma Linda University campus mall was jubilant the early evening hours of May 28 as 164 students were awarded degrees and professional certificates during the conferring of degrees ceremony for the School of Dentistry.
Dozens of colorful flags, many representing graduates' countries of origin, graced the stage as Ronald L. Carter, PhD, university commencement marshal, led the academic procession to begin the ceremony following a prelude by the Loma Linda Academy Wind Symphony.
The audience was filled with graduates' family members and friends, and during the conferring of degrees nearly 30 School of Dentistry alumni were invited to the platform to participate as a family member received his or her degree.
In his commencement address, Jim Wood, DDS, shared with the graduates that 34 years ago, he was accepted to eight dental schools and that his choice to attend Loma Linda University helped shape the trajectory of his life. Dedication to service led him to become a member of the Healdsburg Planning Commission, Healdsburg City Council and in 2014, he was elected Assemblyman, California State Assembly District 2 where he has worked improve efficiency and the availability of California's health-care system. In addition, dedication to lifelong learning led him to study forensic dentistry;  he was called as a member of a national emergency response team to the World Trade Center after 9/11 and to New Orleans following Hurricane Katrina.
Wood said that while many of the graduates' future patients will have the ability to take care of their health and teeth, some will be in poor health and may not want to smile. "You can give them back their smiles, you can send the message to them that they matter. The world needs the gift that you've been given," he said. As they face new challenges in their careers, Wood encouraged the graduates, quoting the words of Nelson Mandala: "I never lose. I either win or learn."
Following the commencement address, Victoria Kha, president of the class of graduating dental hygienists, and Evan Agnetta, president of the class of graduating dentists, gave the response for graduates.
Addressing her classmates, Kha thanked her professors who she said had spent hours away from their families helping her class prepare for boards. She then thanked her classmates for motivating each other, providing clarity as they pushed their limits while completing the dental hygiene program.
Agnetta spoke for his classmates, thanking spouses in the audience who were patient and an inspiration to them. He thanked the faculty members who had overseen the students' work, addressing it not as a rough sketch, but as a work that over many attempts became a work of art.
The audience cheered as Richard H. Hart, MD, DrPH, president of Loma Linda University, addressed the 2017 graduates for the first time as alumni.
Awarded for service
During the ceremony, Edwin L. Christiansen, DDS, PhD, was presented with the School Distinguished Research Award. Christiansen, who is a professor in the school's department of radiology and imaging sciences, was chosen to receive the award in recognition of his outstanding scholarship and for his invaluable contributions to the dental profession in the field of head and neck research and treatment.
The School Distinguished Service Award was presented to Yiming Li, DDS, MSD, PhD. Li is associate dean for research and is director of the Center for Dental Research. He is also professor, department of basic sciences, School of Medicine and is a member of the university's faculty of graduate studies. A prolific researcher, Li has generated more than 300 publications and has given more than 139 presentations worldwide. He was selected to receive the School Distinguished Service Award in recognition of his outstanding scholarship and invaluable contributions to the field of dentistry.
Robert E. Lemon, MDiv, was awarded the honorary doctor of humanitarian service degree for his exemplary financial leadership and outstanding service that have benefited the Seventh-day Adventist Church, and for his significant support of the mission of Loma Linda University Health — to continue the teaching and healing ministry of Jesus Christ.
Throughout his career, Lemon has modeled faithful stewardship and effective financial leadership as union auditor, conference and division treasurer, under-treasurer, and treasurer of the General Conference of Seventh-day Adventists from 2000 to his retirement in 2015. Today, he serves as a consultant for more than a dozen boards, including those of Loma Linda University and the Loma Linda University Medical Center and as finance committee chair for both entities.
During the commencement ceremony, Ronald Young, DMD, assistant professor, was presented with the Teacher of the Year award for his impact on students; and Leif Bakland, DDS, received the title distinguished emeritus professor of endodontics.
In the days leading up to the May 28 conferring of degrees ceremony, 68 awards were presented to graduates, including the President's Award, which was given to Michael Anthony C. Siy.
The School of Dentistry conferring of degrees ceremony took place at 5 p.m.; it followed ceremonies for the School of Medicine, which began at 8:30 a.m. and the School of Pharmacy, which took place at 1:30 p.m.
Mission focus
The previous day, Randy Roberts, DMin, Loma Linda University Health's addressed the school's graduates in a baccalaureate ceremony, urging graduates to give of themselves in a way that money could never repay, finding a way to serve that energizes them, and awakening their deepest gladness while addressing the world's greatest sadness.
Seven graduates shared reflections about their participation in service learning projects and how what they learned will impact their work and lives after graduation.
Loma Linda University's remaining five conferring of degrees ceremonies will be held Sunday, June 11, in the Drayson Center, 25040 Stewart St, Loma Linda, CA 92354.
To view a video of the commencement ceremony for the School of Dentistry or to download a copy, visit the Loma Linda University commencement website: llu.edu/commencement.