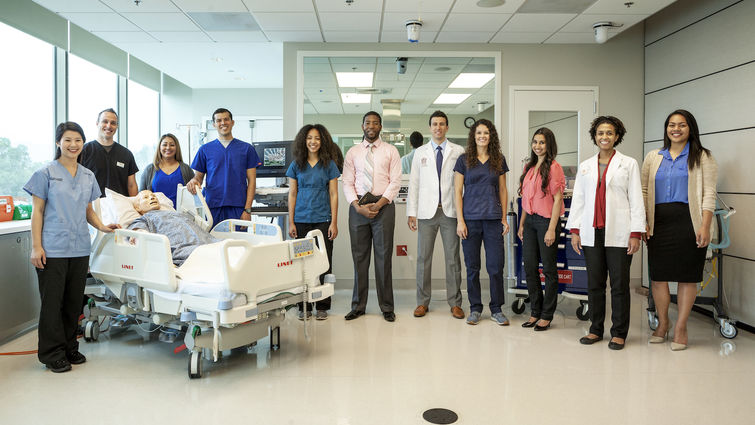 Loma Linda University has been recognized as one of the 2019 "Great Colleges to Work For" and as an Honor Roll Institution, according to a new survey by "The Great Colleges to Work For" program led by ModernThink. Released today in a special insert of The Chronicle of Higher Education, this recognition places the university among the top places to work in the nation. 
Loma Linda University was also named an Honor Roll Institution, winning honors in six categories: professional/career development programs, compensation & benefits, job satisfaction, work/life balance, confidence in senior leadership and respect & appreciation. This is the university's second year in a row to receive both accolades.
Richard H. Hart, MD, DrPH, president of Loma Linda University Health, said this is one of the highest honors because it reflects the organization's commitment to what is important: its employees.
"Loma Linda University is nothing without the faculty and staff who truly live out the mission of the institution, day in and day out," Hart said. "This is why we invest in making this organization a great place to work."
Ronald Carter, PhD, provost of Loma Linda University, echoed Hart's comments.
"For more than 100 years, faculty, staff and students have worked together to serve mankind faithfully through Christ-centered, whole person care while innovating healthcare science to serve mankind," Carter said. "This commitment binds us in service and keeps us working positively together for student and patient success. A commitment to Christian service is the glue that keeps us happily working together."
The results are based on a survey of 236 colleges and universities, 85 of which achieved "Great Colleges to Work For" recognition for specific best practices and policies. 
Results are reported for small, medium and large institutions, with Loma Linda University included among the medium universities with 3,000 to 9,999 students.
The survey results are based on a two-part assessment process: an institutional questionnaire that captured employment data and workplace policies from each organization and a survey administered to faculty, administrators and professional support staff. The primary factor in deciding whether an institution received recognition was the employee feedback.
"Great Colleges to Work For" is one of the largest and most comprehensive workplace studies in higher education. 
For more information about Loma Linda University, visit llu.edu, or for career opportunities at Loma Linda University, search Find a Job.