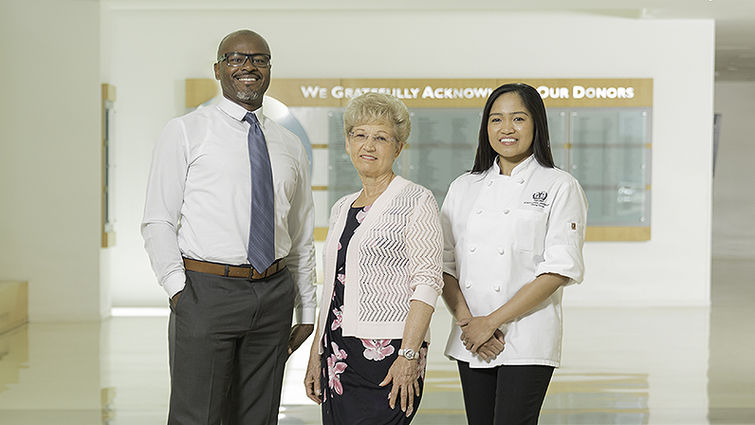 A leading trade publication for colleges and universities says Loma Linda University is a great college to work for.
The results, released July 17 in The Chronicle of Higher Education's 10th annual report on The Academic Workplace, are based on a survey of more than 45,000 people from 232 colleges and universities. Of that number, 79 institutions made the list as one of the "Great Colleges to Work For." Results are categorized by small, medium and large institutions, and LLU was included among the medium-sized schools with 3,000 to 9,999 students.
LLU was honored in five categories this year:
Confidence in senior leadership
Job satisfaction
Professional/career development programs
Supervisor/department chair relationship, and
Work/life balance.
In acknowledging the honor, Richard H. Hart, MD, DrPH, president of Loma Linda University Health, said the faculty and staff offer outstanding teaching and dedicated service to the approximately 4,500 students in the university's eight schools.
"Our entire university team shares a strong commitment to extending the teaching and healing ministry of Jesus Christ," Hart said. "I am so grateful for the passion, excellence and the commitment to our values each of them exhibits. Their devotion to sharing their knowledge and expertise with our students inspires me."
In addition to attractive medical and dental benefits, Loma Linda University Health —the parent organization of Loma Linda University — offers employees a retirement plan, paid leave and sick leave, educational and adoption benefits, an onsite free gym and a variety of services through the Living Whole wellness program. The program fosters health and wellbeing by providing free services and resources to aid employees and their families in the journey toward optimal health and wellness. The program includes health screening and programs for weight loss, smoking cessation, nutritional support, exercise, personal health coaching and financial wellness. Free counseling services are also available through the employee assistance program.
Lizette O. Norton, MBA, vice president for human resource management, said the mission and values of Loma Linda University form the core of why employees choose to work for the organization.
"We are committed to continually providing an environment where our employees can thrive and live their passion every day," she said.
In addition to offering competitive benefits and compensation, the University maintains a connection with employees so they feel their opinions matter. "Each one of our employees knows that they make a difference in the lives of our students," Norton added.
Two employees of the University — one a faculty member, the other a professional support staff member — recently shared their thoughts on the campus work environment.
Aaron Moesser, MOT, OTR/L, assistant professor and academic coordinator of occupational therapy at the School of Allied Health Professions, says the role of senior leadership cannot be overstated in making the University a great place to work. Moesser graduated from the School in 2010 and since then, has observed senior leaders working to improve cooperation between schools and departments.
"I think that's important because it demonstrates to students that once they graduate, they should be able to work together as a team of medical professionals," Moesser said. "Recently, I've also seen how responsive they are to concerns of employees and faculty members."
Moesser plans to take advantage of the university's generous program of educational benefits by pursuing a doctoral degree in occupational therapy. He described his department chair as "phenomenal."
"She's very supportive of my opinions and of our field work program," Moesser said. "She is also concerned with my overall wellbeing, and I really appreciate that."
Ann Bradshaw, office manager of the Center for Health Disparities and Molecular Medicine, exemplifies the way many professional support staff members feel about working for LLU.
Bradshaw, who started working at the University 30 years ago, identified three factors that contribute to her very high level of job satisfaction: great educational opportunities for employees to pursue professional growth; a safe and positive work environment; and a faith-based culture that attracts students, faculty and staff who want to make the world a better place.
"I could never see myself working anywhere else!" Bradshaw said, adding that she has had numerous opportunities to work elsewhere.
Because of a passion to help people overcome substance abuse, Bradshaw seeks balance in her life by volunteering an average of two hours a week at Drug Alternative Program, a Christian recovery program for men, where she facilitates a monthly support group and provides counseling services. She has volunteered for the program as long as she has worked at the university.
Her favorite thing about working at LLU is the people. "Oh, my goodness, I love the people I work with!" she exclaimed. "I love my boss, I love my coworkers, I love the students. And this is amazing to me, I actually feel that they love me."
The Chronicle's survey results are based on a two-part assessment process: an institutional audit that captures demographics, benefits, communication, and workplace policies, and a survey administered to faculty, administrators, and professional support staff. A primary factor in deciding whether an institution receives recognition is the employee feedback. 
Ronald L. Carter, PhD, provost of Loma Linda University, said "We appreciate the dedication of each and every one of our more than 3,200 employees. Visitors, particularly the many accreditation teams that visit our campus, remark on the palpable sense of unity – a family of faculty, staff, and students who are glued together by whole person care, academic excellence, and service to the world. We are small enough to know each other, and large enough to impact our community – both regionally and globally."
—Additional reporting by Briana Pastorino