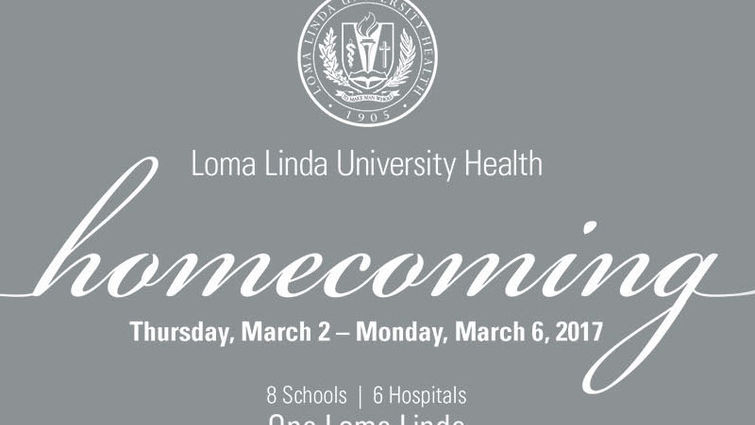 Alumni from Loma Linda University's eight professional schools, LLU-La Sierra graduates, and all current and former Medical Center and University staff members are invited to come together for a weekend of celebration, fellowship and continuing education opportunities March 2 – 6, on the Loma Linda University Health campus.
While Loma Linda University's Schools of Medicine, Nursing, Dentistry, Pharmacy, Public Health, Allied Health Professions, Behavioral Health and Religion will each hold functions for their individual alumni, the 'One Homecoming' weekend will include many activities which will bring the groups together for joint activities and receptions.
The Healthy People in Healthy Communities Conference, an annual event now in its 44th year, will be held on March 2 and 3, at the Drayson Center, and will present its First Annual Symposium on the Blue Zones and Science. Dan Buettner, founder of the Blue Zones® Project and National Geographic Fellow, will be on hand to offer the keynote address and lead several informative sessions on day one.  U.S. Surgeon General, Vice Admiral Vivek H. Murthy will offer the keynote address on day two of the conference. Alumni are encouraged to attend this exciting conference and should pre-register, as space will be limited.
The Centennial Complex located on Loma Linda University Health's campus, will host the 2017 'One Homecoming' Research Display: "Come Home to Discovery: Research at LLUH."  This event will run throughout Homecoming weekend, and will showcase research among all the schools, centers and institutes at Loma Linda University Health. Days one and two will feature research from all eight professional schools; days three and four will showcase research from Loma Linda University School of Medicine as part of the 85th APC Postgraduate Convention. APC is for all physicians, physician assistants and nurses. It is designed to reduce the gap between evidence-based medicine and practice. The APC event is organized by the Alumni Association of the School of Medicine, Loma Linda University.
The roles of other supporting services such as research affairs, advancement, and other components (global research and spiritual life) that are unique to Loma Linda University Health, will also be represented.
The fourth floor of the Centennial Complex will be transformed with a History of Research pavilion and a Museum of Discovery and Inventions, as well as individual research projects and areas highlighting projects within each of the schools by student researchers and faculty members.
Alumni are encouraged to register for Loma Linda University Health's  'One Homecoming' weekend at http://www.cvent.com/d/pvqfl9.
To register for offerings by a specific school, please see the "School Affiliation" tab on the registration page and select the name of the respective school. If not an alumnus, and you want to see all event offerings, go directly to the "Register for all Offerings" button.