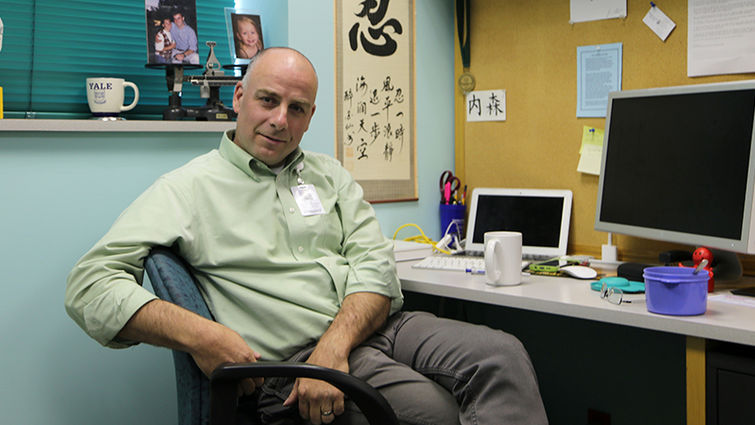 A Loma Linda University School of Medicine faculty member will soon be heading to Kandahar, Afghanistan, with the California Army National Guard's 40th Infantry Division in support of Operation Freedom's Sentinel.
Nathan R. Wall, PhD, MBA, MS, associate professor and director of the graduate program in biochemistry at Loma Linda University, will on October 7 deploy as the mission's Deputy CJ-4 and Chief Medical Operations Officer.
"We will have operational control of the 82nd Airborne Division," he said, referencing the Army's elite airborne infantry division from Fort Bragg, North Carolina. Major Wall describes his duties as, "deputy chief logistician, responsible for planning, developing, and directing the logistical operations, both medical and non, of the deployment."
The division will have boots on ground in Kandahar for nine months, with a total service time of nearly a year.
"Prayerfully, with the wisdom of the Holy Spirit, we will provide support, training and care for our soldiers and the people of Afghanistan."
Wall will go without his wife, Jill Renae Schoepflin-Wall, and their five children: Jose, 21, Victoria, 18, John, 15, April, 10, and Valerie, 9. He says his family is very supportive. "When I joined the military, we joined the military." 
"My wife manages the household with dedication and precision when I am gone to my military duties," Wall said. "She has taught the youngest children to respond when questioned about their Daddy's service, 'when he serves, we all serve.'"
Wall said he has been fortunate as a State Guardsman to have been able to serve here at home when the governor of California calls for his citizen soldiers. "I am however, looking forward to an experience like none I've ever had, serving in Afghanistan," he said.
Although Wall seems unimpressed to the danger he will face during his active duty in the war-torn nation, he admits to only truly feeling anxious for the soldiers within his command and to the level of his and their preparedness.
"I love these soldiers," he said. "They stand ready to do their country's business at a moment's notice. Being a part of this, a part of them, is an honor. However, ensuring that we all come home, and safely, is a priority.  I am proud to be a part of Operation Freedom's Sentinel and to support the amazing traditions and people of Afghanistan."
Wall said he hopes to be able to visit Wazir Akbar Khan Hospital in Kabul, where G. Gordon Hadley, MD, late dean of the Loma Linda University School of Medicine, and numerous other Loma Linda University physicians and health care workers have served for many years.
While Wall said he feels honored to serve his country in this fashion, he revealed where his heart truly is when asked what he most looks forward to about serving in Afghanistan.
"Probably coming home," he quipped with a smile.