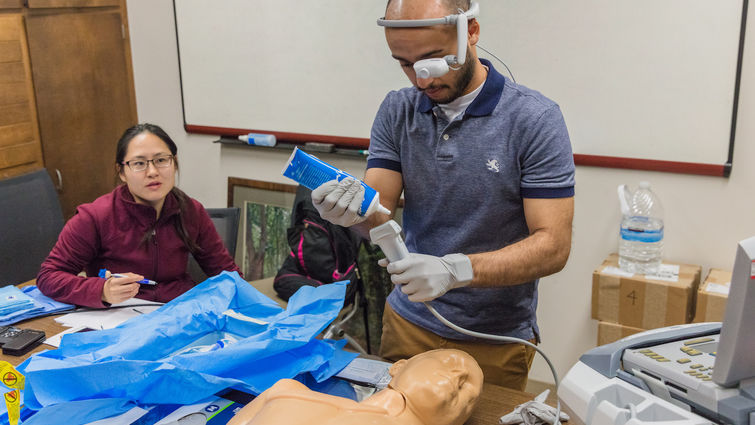 Loma Linda University is introducing augmented reality to healthcare education with the help of AR glasses. Students from the School of Medicine and School of Allied Health Professions have the unique opportunity to wear AR glasses for hands-on training of central line simulation-based learning. 
A central line is an invasive technical skill frequently used by healthcare professionals and placed in the neck, shoulder or groin area. It's often used to provide medication or fluids to a patient through the vein.
The classic teaching model for a central line insertion has centered around the concept of "see one, do one, teach one," but learning complex skills such as these often presents a risk to the patients, says Laren Tan, MD, FCCP, a critical care pulmonologist and obstructive lung specialist at Loma Linda University Health.
The proper use of intravascular devices and technique are strongly recommended for novice operators, according to the Center for Disease Control and Prevention and Healthcare Infection Control Practices Advisory Committee guidelines. Specific to central line insertion, Tan says simulation-based learning has shown to improve procedural knowledge and safety protocols. 
Three years ago, a team of researchers from Loma Linda University and La Sierra University in Riverside, came together and proposed the question: how do we provide innovative technology to the Inland Empire without spending millions of dollars? 
The answer was simple. Send a proposal to Brother, the company behind the product, to use their AiRScouter augmented glasses for use in central line simulation. The glasses would help determine if using AR in central line simulation by novice healthcare students would advance their skill set, and ultimately reduce complications to the patient. 
"It affords learners the ability to practice within a controlled environment, alleviating the pressure of real-life consequences," Tan says.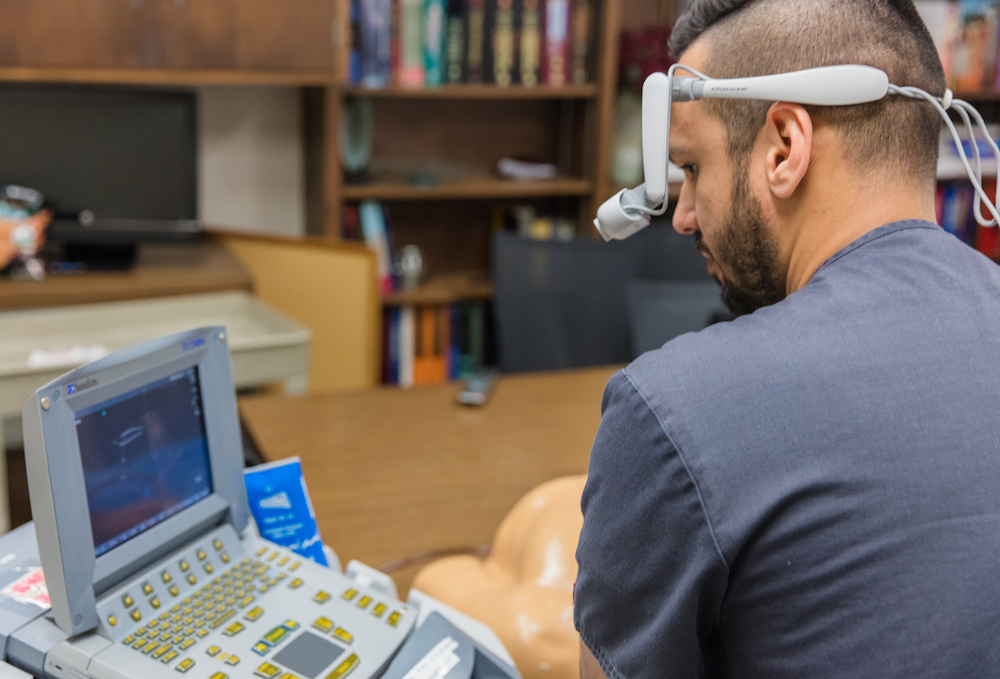 Augmented reality is defined as technology that merges the real- and virtual-world experience. It's quickly becoming an emerging technology in education and has been studied in teaching surgical techniques, Tan says.
Every year, as many as 5 million central venous catheters (CVC) are placed in patients for use in hemodynamic monitoring that measures blood pressure inside the veins, heart and arteries. According to the team's research, "The use of augmented reality glasses in central simulation," simulation-based learning allows for students to practice complex skills in a controlled environment without the anxiety or stress of disrupting the patient's comfort level.
"The unique part about AR is that it doesn't change the reality you are in, but adds on to what you are currently experiencing," Tan says. 
Students are able to read text, watch video or live chat while wearing the glasses. With the help of AR, students and healthcare professionals are staying compliant with safety protocols and securing the best outcome for the patient.  
There are many innovative ways augmented reality technology can be used, according to Abdullah Alismail, MS, MA, RRT-NPS, SDS, program director for the certificate in polysomnography program and the director of clinical education in the respiratory care program at Loma Linda University School of Allied Health Professions.
"It can be used for intubation, lung ultrasound, mechanical ventilation or arterial blood gas tests," Alismail says. 
A total of 32 healthcare professionals participated in the augmented reality research last year, including respiratory therapists, physicians, and sleep technicians. The goal of the research was to determine if the traditional model could stand up to a more advanced, comprehensive technique to applying a CVC. 
The AR glasses offer many opportunities for the next generation of healthcare professionals, says Jonathan Thomas, healthcare management and pre-med student at La Sierra University.
"Down the road, doctors will be able to customize what they see on the AR glasses," Thomas says. "If they don't need to see the checklists, then perhaps they can see the patient's vital signs or ultrasound images, while keeping their eyes on the patient."
Based on the postquestionnaire of students using the AR glasses, 80 percent believed that the information displayed was appropriate and not difficult to read. Loma Linda University currently possesses five AR glasses and is exploring additional uses within its healthcare programs. 
"We will continue to explore the use of AR in the classroom and provide our students with the hands-on training they need to be the best healthcare professionals," Tan says.