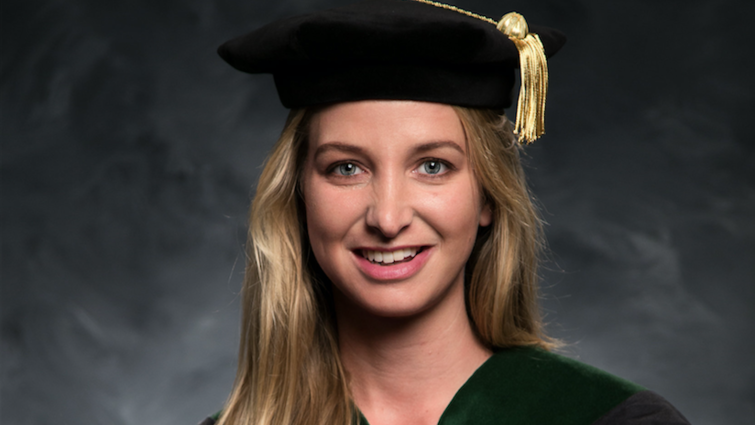 Emily Kutzner has received the 2017 Loma Linda University (LLU) School of Medicine President's Award.
An avid scholar, Kutzner compiled an outstanding record during her four years at LLU. She achieved Honors in 15 of 16 basic science courses in her first two years of medical school, followed by Honors in all seven third-year clerkships.
Based on her scores on the U.S. medical licensing exam (USMLE) and 99th national percentile ranking, she had the top score in this year's School of Medicine class.
While at LLU, Kutzner was active in research, producing several publications. 
Additionally, she is one of only three students that Alpha Omega Alpha Honor Society inducted in the junior year. AOA usually reserves that privilege for seniors.
Among her service activities while at LLU, Kutzner was a volunteer tutor to students in need in the nearby city of San Bernardino.
To keep fit mentally and physically, Kutzner enjoys a blend of hobbies including sports such as volleyball and playing the violin.
In an age when family members often struggle to find time to spend together, Kutzner grew up in a family that found many ways to bond. Among them were their faith, medicine and music.
Kutzner grew up near the town of St. Joseph on the shore of Lake Michigan. Her parents instilled in her a love of learning. Her father Mickey was an atomic theorist and professor at nearby Andrews University. Her mother DeAnn at the time was a physician at South Shore Women's Healthcare, specializing in obstetrics and gynecology.
The family played music together at home, and together they performed as members of the Riversong Music Society. At around six years old, Kutzner attended a music day camp. "That seemed to inspire her" to the violin, her mother DeAnn told the Herald-Palladium newspaper for a 1999 article about the family."
Kutzner will now enter an orthopedic surgery residency program with Grand Rapids Medical Education Partners in Michigan, near her hometown of St. Joseph.