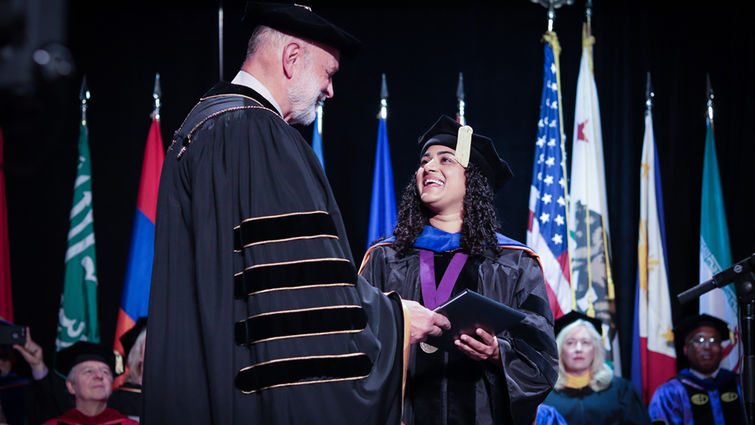 Elsie Lobo, PhD, is the 2018 Loma Linda University President's Award recipient from the School of Behavioral Health. She received the award during the school's commencement ceremony on June 10.
Lobo completed her PhD in the Systems, Families, and Couples program in the Department of Counseling and Family Sciences. She previously received a Master of Science degree in Marriage and Family Therapy from Loma Linda University's Canadian campus program offered in Alberta. 
Loma Linda University honors one student from each school every year with the President's Award, recognizing a student's individual accomplishments in scholarship excellence and community service within the framework of commitment to the highest ideals of the University.
During her academic program, Lobo worked with the Housing Authority of the County of San Bernardino, assisting with projects focusing on the needs of families and individuals receiving Housing Authority assistance. Lobo coordinated a number of multifamily groups that taught mobility through improved family functioning. She also collected and analyzed data that focused supporting underserved and at-risk families as they progressed toward self-sufficiency. She has also provided in-home therapy for children with autism, helping with skill development and supporting parents in working with their child. She also served internationally at a student behavioral health clinician in Cuba through Students for International Mission Services.
During her time at Loma Linda University, Lobo contributed to eight publications, presented at 16 professional conferences, participated in three grant-funded projects, was an instructor for eight courses, and has been a regular ad hoc reviewer for numerous professional journals.
"Elsie Lobo embodies the essence of what it means to be a scholar and community servant," said Zephon Lister, PhD, LMFT, director of the Systems, Families and Couples program. "Her excellent scholarship, professionalism, exemplary leadership and passion for her field are examples of what we hope for all of our students."