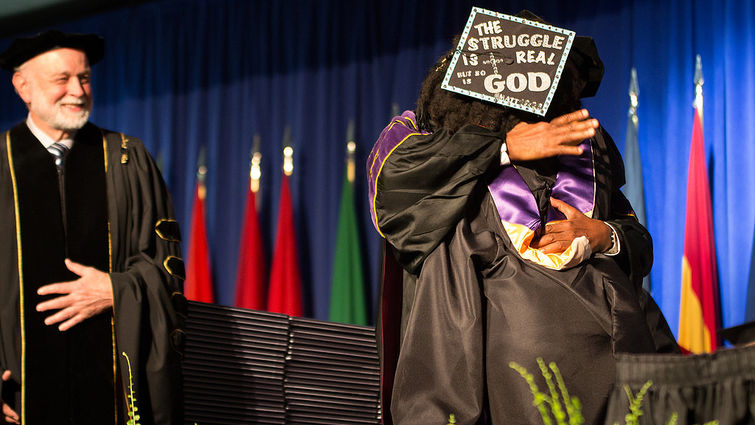 With four ceremonies, the Loma Linda University schools of Allied Health Professions and Public Health graduated 682 students in baccalaureate and commencement services held June 10 and 11. The baccalaureate event took place inside the sanctuary of Loma Linda University Church on Saturday and the commencement ceremonies were held in Opsahl Gymnasium at Drayson Center on Sunday.
The largest school at the university, the School of Allied Health Professions, required two ceremonies for its 554 graduates. The first, at 8 a.m., saw 298 students in Allied Health fields march down the aisle, while the second, at 10:30 a.m., saw 256 graduate from the departments of Occupational Therapy, Orthotics and Prosthetics, and Physical Therapy. The School of Public Health held a ceremony at 1 p.m. for its 128 graduates.
School of Allied Health Professions
Two students were honored at the first Allied Health ceremony Sunday morning: Lakshmi Vijanderan and Aurianna Anobile. Vijanderan received the Dean's Award, and Annobile (whose bio is listed at the conclusion of the article) received the President's Award. Vijanderan was noted for academic and spiritual leadership, and Dean Craig Jackson, JD, cited her involvement in a mission trip to Zheijang University Children's Hospital and her commitment to continued learning and personal growth. At the second service, Jonie Galvin received the school's Community Service Award. Galvin was commended for volunteering at orphanages and community outreach clinics, and was called "an exceptional leader" for living the values of Loma Linda University.
At both School of Allied Health Professions commencement ceremonies, Michael B. Kelly II, senior pastor at Mt. Rubidoux Seventh-day Adventist Church in Riverside, California, delivered the commencement address titled, "Turning the World Upside Down." Kelly encouraged graduates to be like the early Christians mentioned in Acts 17:8 who were accused of upsetting the world. "If we do not impact the world and turn it upside down, we are living mediocre lives," he said.
Kelly urged the graduates to adopt a zero-tolerance attitude when they encounter racism, bigotry, sexism, and lack of economic parity in the world. Quoting Popeye the Sailor Man from the legendary cartoon series, he said the right attitude to take is expressed in Popeye's words, "I have had all I can stands and I can't stands no more!"
He shared a mishap that occurred when he was 17 and on a date with his girlfriend. He was carrying two beverages back to her when he bumped into someone else and spilled his drink all over that person.
"In life, we will bump into people and whatever is in us is what will spill onto them," Kelly pointed out, admonishing the graduates to be filled with character, love, joy, peace, patience and other fruit of the spirit. Don't be satisfied with the things you see. Be filled with the right things and allow your difference to make a difference."
After citing the authority vested in him by the State of California and the Board of Trustees of Loma Linda University Health, President Richard H. Hart, MD, DrPH, drew wild applause when he asked the graduates to stand, and told them, "Congratulations! You are now alumni of Loma Linda University."
School of Public Health
At the School of Public Health commencement service, President Hart called attention to the fact that while the university is celebrating six separate graduations today, the School of Public Health ceremony is a special one because 2017 represents the 50th anniversary of the school.
Dean Helen Hopp Marshak, PhD, called Michael Bennett, who received an MBA degree later in the service, to the podium to be given the Dean's Award for MBA Programs. Marshak noted that Bennett was active in several professional organizations and had lent his talents to student ministries as well.
Next, she called Hazel Alvarenga up front to receive the Dean's Award for MPH programs. Marshak cited Alvarenga for academic excellence in both global health and epidemiology and said she has exemplified the commitment to mission, global service and compassion that reflects the mission and values of the school.
Edward Bitok received the Dean's Award for Doctoral Programs. He was on hand to receive his DrPH degree in nutrition. Marshak said Bitok was known for hosting hiking and social activities for students from other religious traditions, volunteering at a community food bank, and serving as the main clinician for a research project.
Kristi Cheng received the President's Award for reasons outlined in her bio, which appears at the end of this article. In addition to the award and a check, she also got a hug from President Hart.
Dorothy N. Nelson, the famed "Flying Nurse of the Philippines," was honored as the University Alumna of the Year. Nelson, who received her pilot's license at the age of 45, has logged more than 30,000 miles in mercy missions to evacuate wounded or seriously ill people of that nation. When her exploits came to the attention of the Commander of the Philippine Air Force, he gave her a special commendation and provided free fuel for all her subsequent mission flights. In presenting Nelson with the award, Ronald Carter, PhD, provost of Loma Linda University, cited Nelson's trailblazing work in international health and her passion for the education of women and children.
Provost Carter called Jerry W. Lee, PhD, chair of the department of health promotion and education, to the front to receive the Distinguished Investigator Award for his commitment to research, academic leadership, classroom instruction, and community outreach. Carter noted that for the last three decades, Lee has studied the relationship between religion and health, addictive behaviors, health behavior and cross-cultural research methodology. In citing the impact of Lee's global influence and continuing legacy, Carter pointed out that Lee has also either served on, or chaired, more than 70 doctoral dissertation committees.
Biographies of other honorees and awardees are listed at the end of this article.
Fred Hardinge, DrPH, associate director of health ministries for the General Conference of Seventh-day Adventists, delivered the commencement address, titled, "Three Hallmarks of Success." Hardinge is the son of the late Mervyn G. Hardinge, MD, DrPH, PhD, founding dean of the school. In his address, Hardinge outlined the three types of thinking that he believes will lead to a lifetime of meaning and service.
In citing the example of Apple Founder Steve Jobs, Hardinge adopted his motto, "Think Different," as the first hallmark of success. The second was, "Think Clearly," and the third was, "Think Biblically." Hardinge admonished his students to heed the counsel of former U.S. President Woodrow Wilson: "You are not here merely to make a living. You are here in order to enable the world to live more amply, with greater vision, with a finer spirit of hope and achievement. You are here to enrich the world, and you impoverish yourself if you forget the errand."
Hardinge also quoted Seventh-day Adventist Church co-founder Ellen White, who said God's ideal for His children is higher than any human thought can reach. He added that God is calling people to everything good and pure and noble and said God envisions higher goals for people than they have ever dared to dream.
Baccalaureate
A joint baccalaureate service for both schools was held Saturday, June 10, at 9 a.m. and featured a focus on mission that quietly upstaged the colorful robes and regalia of academic tradition.
Kenton W. Fritz, a graduating student from the School of Allied Health Professions, said his Loma Linda education had been a journey of growth and experience. Describing a mission trip to Honduras, Fritz noted that he became sick upon arrival and unable to serve. What astonished him was the way his classmates and the people, especially the children, of Honduras attended his needs with great love and kindness. Fritz described the moment as a changing point in his life, and added, "We need to heal each other and heal ourselves first by sacrificing ourselves to God every day."
Edward Bitok, a graduating student at the School of Public Health, revealed that studying at an Adventist college in his Kenyan homeland turned into the crucial transition of his life. Bitok's faith pilgrimage led to his baptism his second year at the college. He later received a scholarship to attend Loma Linda University, and said he considers himself blessed to have studied at this great institution. "I am proud to be an alumnus," Bitok disclosed.
Tevita Palaki-Muti, a student from the School of Allied Health Professions, described a student-led mission trip to wash the feet of the homeless in San Bernardino and provide them with clean socks. "I thought I was coming to serve them," Palaki-Muti observed. "But they were serving us. One of them said, 'I have never seen a Christian like you. I thought you go to that school up there and you think you're better than us. But you came here and washed my feet.'" Palaki-Muti drew a chorus of applause and heartfelt "Amens" when he announced, "I am passionate about ministry."
Randy Roberts, vice president for spiritual life and mission for Loma Linda University Health, in his homily said the answer to the question "What helps determine your destiny?" is found in 1 John chapter 4. "What you believe at your core about God will determine the kind of life you live," Roberts said. "First John 4:8 is the ground zero of your spiritual life: 'God is love.'" Roberts added that the conception of God taught and modeled at Loma Linda University is of a God far grander, greater and more gracious than many students understood before coming here to receive an education.
He went on to say that the image of Loma Linda University students kneeling to wash the feet of the homeless is one that defines the kind of God definition that leads to a meaningful life. "When I look at that image, I see that the one doing the washing is Jesus," Roberts added. "We serve an invisible God, but He is made visible in the acts of service of His followers."
Honorees
The following individuals were honored by the schools during their respective commencement services today:
School of Allied Health Professions
Aurianna Danielle Anobile — President's Award: Spiritual leadership, academic excellence and community service characterize Aurianna Danielle Anobile's contributions as a student at the School of Allied Health Professions. In addition to full-time studies, Anobile mentored high school students, ministered to low-income Hispanic families with special-needs children, served on a campus prayer team and participated in a research project investigating the effects of spirituality on the brain.
Marilyn R. Davidian, PhD — Alumna of the Year: During 30 years at the School of Allied Health Professions, Marilyn R. Davidian has educated health information professionals and advanced the profession. As chair of the Department of Health Informatics and Information Management, she also enhanced curriculum and programs. Davidian received the 2010 Educator Award by the California Health Information Association.
Donna Galuzzo, PhD — Trailblazer Award: As President of The Corridor Group, Donna Galuzzo is a visionary health professions leader. A 1984 graduate of the School of Allied Health Professions, Galuzzo has managed a transition company with more than two million cases throughout all 50 states. An advisor to presidents, queens and princes, she received a 2007 certificate of special recognition from the United States Congress.
Ernie Schwab, PhD — Faculty of the Year Award: In his role as associate dean for academic affairs at the School of Allied Health Professions, Ernie Schwab's passion for learning extends back to his early career as a middle school and high school teacher. Schwab helped develop the first anatomy and physiology course for the Department of Physical Therapy, served as a research advisor, and was instrumental in academic affiliations in India, Japan and Saudi Arabia.
Carol J. Appleton, MPH — School Distinguished Service Award: Unselfish service characterizes the career of Carol J. Appleton. Before becoming an assistant professor at the School of Allied Health Professions, she was a physical therapist and homeschooling mom. Since joining the Department of Physical Therapy in 1997, Appleton's enthusiasm and passion have characterized her roles as assistant program director for the physical therapist assistant program, and director of clinical education.
Steven D. Newton, DPT — Alumnus of the Year: Steven Newton's career blends academia, consulting, professional practice and entrepreneurship. Newton is founder and owner of PerformaX Physical Therapy and Wellness Center in Burbank, California, and assistant professor of physical therapy at the School of Allied Health Professions. He has served as field support staff and advisor for ESPN-Baltimore, and developed programs for the Federal Bureau of Investigation.
School of Public Health
Kristi Cheng — President's Award: An outstanding student, scholar and inspiring leader, Kristi Cheng graduated magna cum laude from University of California, San Diego, before transferring to the School of Public Health to study nutrition and dietetics in 2015. She worked as a research assistant for the Soy Study and Adventist Health Study-2, led a research project assessing farmer's markets and wrote a report that was commended by the San Bernardino County nutrition director.
Nona M. Grove — School Distinguished Staff Service Award: As practicum office manager and placement coordinator for the School of Public Health, Nona M. Grove brings her goal-driven, highly focused organizational abilities to the challenges of practicum strategic planning, promoting professionalism to students, working with external partners to improve student experience, and connecting students with job opportunities.
Gayle Hoxter — Alumna of the Year: Gayle Hoxter, a 1981 graduate of the School of Public Health, is program chief for the County of Riverside Department of Public Health, Nutrition and Health Promotion Branch. The $20 million agency serves over 100,000 residents per month. Concerned about childhood obesity, Hoxter launched the countywide Healthy Eating Active Living (HEAL) campaign, and created the the Riverside Nutrition Action Plan (CNAP).
Samuel Soret, PhD — School Distinguished Faculty Award: The late Samuel Soret — former associate dean for research, executive director of the Center for Community Resilience, and founder and former professor of the health geoinformatics program — was a beloved friend to colleagues and students. When he died unexpectedly on August 23, 2016, Soret left a legacy of unselfish service and optimism. His children, Carmen and Adam, accepted the award on his behalf.