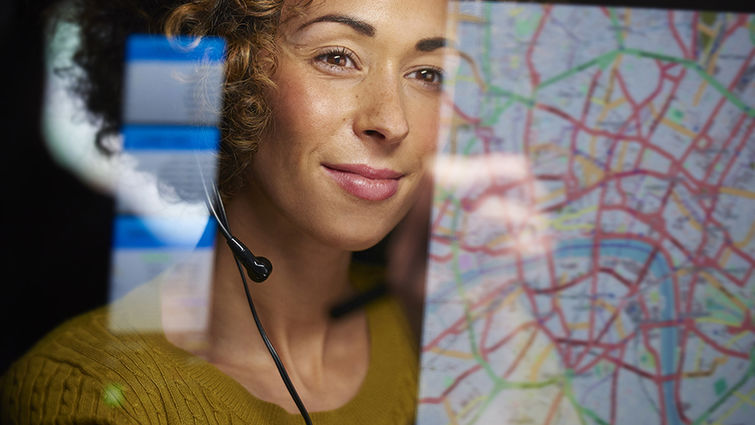 Two new programs at Loma Linda University School of Public Health aim to help public health professionals enhance their careers with sophisticated GIS technology.
The acronym, which stands for geographic information systems, describes a cluster of computerized technological tools that allow officials to map and monitor the geological coordinates of significant public health events locally and internationally. Examples range from helping strategists determine where to place emergency staging clinics during the Ebola outbreak of 2014 to helping local homeless shelters recover unused food from Inland Empire grocery stores.
The first new program is a certificate in health geoinformatics (CHGIS), and the second is a series of cognate courses in GIS technology and applications for students working toward a master of public health (MPH) degree. Both will become effective when the summer quarter begins June 18.
The first program, the CHGIS, was created to meet a growing need of public health departments and agencies around the nation. Seth Wiafe, PhD, MPH, director of the health geoinformatics program at the school, says most public health departments own GIS software, but few of their employees know how to use it. The 13-unit certificate program will allow working public health professionals to study online at their own pace.
The second program, the cognate courses for MPH students, was developed in response to recommendations of the Association of Schools and Programs of Public Health, which stipulate that MPH programs should prepare students in a rigorous, integrated public health core in addition to a focus on each individual program's defined area of expertise. As a result, Wiafe says the school has decided that the new public health core courses for all MPH students shall include an introductory GIS module as part of the curriculum.
"We have included GIS training in the public health core so students will have at least a basic introduction to GIS," Wiafe said.
Wiafe — who spent several years as an intern and employee at Esri, the Redlands-based international GIS supplier — cites another example, this one local, of the ways GIS benefits public health.
While he was teaching courses in GIS technology at the school, one of Wiafe's students used GIS to map the availability of nutritious food at a variety of impoverished locations in the Inland Empire. The study gave birth to the concept of food deserts, places where fast food outlets, liquor stores and convenience stores are the only places where residents can buy food. Other examples of the usefulness of GIS studies include a food recovery program and a community assessment tool.
Wiafe said he hopes other schools of public health will follow Loma Linda's lead in offering GIS classes to their students, adding that the school has several training videos and other instructional material to share.
"GIS technology represents great opportunities for the future of public health practice," he said. "We think these two new programs represent an innovative approach to educating our students."
More information about the new programs is available online here or contacting Wiafe by phone at 909-558-8169 or by email at SWiafe@llu.edu.